I've seen Moana and cried a total of 18 times. It's a deeply moving and beautiful film that celebrates it's main character, her culture and her self-empowerment. Moana tells the story of a young Pacific Islander girl, the daughter of the chief. She must leave her home and break the rules of her people in order to find her destiny, battle a giant crab, befriend a demigod and return the heart of the goddess and mother island Te Fiti. Moana, voiced with youthful energy and power by newcomer Auli'i Cravalho, is strong, brave, proud to be herself, proud of where she comes from and proud of where she's going. She is magical, powerful and Brown — a refreshing difference from the white Disney princesses we've seen in the past few years. Unfortunately, Moana also misses the mark on Pacific Islander and Polynesian representation, according to PI activists and scholars. Moana was written and created by white people who went on to cherry-pick parts of Pacific Island cultures to create a mashup one featured in the film. As a queer woman of color, I feel like Moana is a great start for more Brown representation in Disney films, but she could have been a lot more meaningful and authentic if she reflected and honored a specific Pacific Island culture.
One of the things I do love in the movie is the reverence that Moana has for her ancestors and her culture, even while she pushes it and challenges it to embrace the future. This is a reality that many POC, especially queer ones, deal with; where we're taught the importance of family and our traditions, but when we come out, sometimes those things aren't there for us. It's a common struggle, and one that Moana deals with wonderfully. She is raised to believe that she has everything she needs and could ever want through the wonderfully beautiful song "Where You Are," about being content with what you have and that you'll never need anything else. This song also celebrates all her people's traditions that she'll soon be a part of.
Like many Disney heroines before her, she feels a call to something else, to be her true self. She knows she's meant for something more. Like Mulan and Belle and Judy Hopps before her, she knows she's meant for greatness, and she knows that she's willing to do whatever she needs to make that happen. What I love is that she uses her people's history and traditions to break tradition and find her own destiny. She discovers her people's history of voyaging and wayfinding; she learns to sail, takes to the ocean and discovers new islands, just like her ancestors did. It can be hard to balance the importance of your family and your culture with being yourself, and that's a struggle that is at the center of Moana. But Moana does it. She looks more deeply into her people's past and finds other traditions, ones that have been forgotten and pushed aside, and she embraces those parts of who she is.
This reminded me of many elements of the lives of queer and trans people. We look to our past and see that many of our cultures embraced female leaders, or nonbinary genders, or trans people, or queer relationships, and we learn more about those parts of our cultures and we embrace them. We walk into the unknown future, but we use our ancestors to guide us. We go to our elders and ask them to tell us stories, just as Moana goes to her grandmother. We sing songs and set out on our own.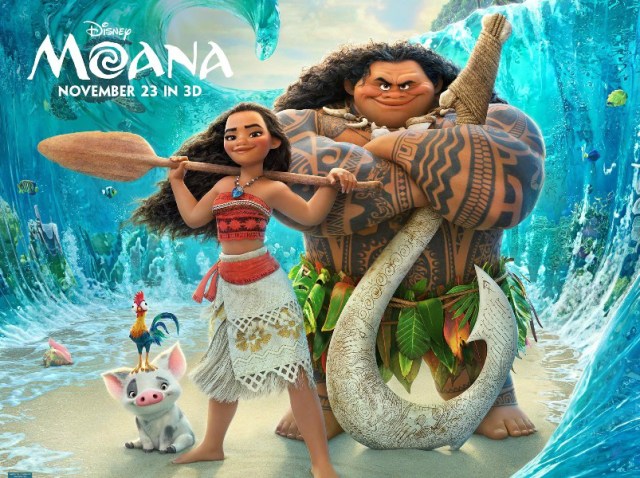 At one point in the movie, Moana sings "I am the girl who loves my island, and the girl who loves the sea. It calls me. I am the daughter of the village chief. We are descended from voyagers who found their way across the world, they call me. I've delivered us to where we are, I have journeyed farther, I am everything I've learned and more." This is it. This is what being a modern-day POC is like. Later when she sings, "the call isn't out there at all, it's inside me," she brings this idea full circle.
While Moana is very proudly "Moana of Motonui" (as she says many times in the film), and not another white protagonist like Belle or Rapunzel or Anna or Elsa, she's not the huge leap forward in representation that she could have been. Some Pacific Islander and Polynesian people have spoken out against the film saying that it picks and chooses from various cultures and combines many different PI people into one. Vince Diaz, a Filipino Pohnpeian professor with a background in Pacific Island studies said that in the trailers alone he saw "Fijian music, Tahitian drumming and Samoan tattoos." Additionally, many indigenous people say that the film perpetuates the stereotype that Pacific Islanders live life in paradise unaffected by white colonization. Anne Keala Kelly, a Native Hawaiian filmmaker and journalist said that the movie is exploiting PI people and that "Disney has reduced us and our world to a cartoon at a time when our political future is hanging in the balance" and that "the historical fact is that colonization in the Pacific, everywhere for that matter, has had catastrophic consequences for Indigenous peoples in every conceivable way." These problems cannot be ignored no matter how much I, a non-Pacific Islander WoC, enjoyed the movie.
This also brings to the forefront that, while it's great that Disney hired PI voice actors and consultants on the film, that's not enough. They also need to have writers and directors and producers who can tell the stories of their own culture. If PI people had been able to tell their own stories, the film would've been more accurate and even better for brown girls to see. Marginalized people need to be able to tell our own stories. Not only would the film have been better, but it would be supporting more PI people and it would give young brown people more real-life role models to look up too.
As a queer woman of color who loves Disney movies, Moana meant a lot to me. Seeing this proud, brown girl on screen as the hero of her people made me cry and made me proud to be myself. It took me on a wonderful journey where I was reminded that brown girls are magic and that we can become ourselves without having to completely abandon our culture and heritage. However, I'm not a Pacific Islander and I can't ignore the PI voices who are speaking out against the movie. I personally loved Moana but I can't be fully satisfied with half-hearted representations for any culture because they deserve to be seen in their truth. We should continue to demand authentic representations from media and filmmakers. I'm not going to lie, I'm going to keep rewatching this movie and crying every time, but I'm also going to keep on fighting for better representation. In a time like this, with all the things going on in the real world, it's important that we're able to do both. We need self care, and we need to take the strength that we get from the self care and fight the battles that are even more important than ever.