Welcome to the fifty-third installment of  Queer Your Tech with Fun, Autostraddle's nerdy new tech column. Not everything we cover will be queer per se, but it will be about customizing this awesome technology you've got. Having it our way, expressing our appy selves just like we do with our identities. Here we can talk about anything from app recommendations to choosing a wireless printer to web sites you have to favorite to any other fun shit we can do with technology.
Header by Rory Midhani
And! This is our first Queer Your Tech with a guest contributor! Please everyone welcome Laurie Stark!
---
I download a lot of apps, you guys.
I've historically been an iPhone user but my work phone is a Droid so I'm that asshole who has two smartphones – I'm basically Thurston Howell over here. The beauty of having an iPhone and a Droid is that I can sample all that the App Store and the Play Store have to offer.
At current count, I have 187 apps on my iPhone and 105 on my HTC One. I have apps for weather (5), apps for shopping (26), apps for e-learning (7) and apps for making photos of my coffee look like daguerreotypes (18).
I have a bit of an app problem.
But for all of my many apps, there is one category that was tragically absent. And that category was gay-themed games.
That is, until now.
I researched apps for both iPhones and Android devices, but  most of these apps are only available for iPhones. Apple is way more restrictive than Google in what apps they'll allow in their store, so the Google Play Store has a lot more apps with names like "Gay Cock" (which is about a rooster), "Gay Vibrator Pro" (which I downloaded for RESEARCH) and "Wet Lesbian" (which I didn't download because it only had two stars and I have standards), but Apple's App Store has way more legit gay-themed games. I know, I know – oppression, hipsters, the specter of Steve Jobs rules us even now.
But don't worry – both stores have approximately 470,000 hookup apps for gay men, so if you do a search for "gay," prep yourself to sort through many pages of tiny, shirtless men.
Anyway, enough with the preamble. Let the gaymes begin!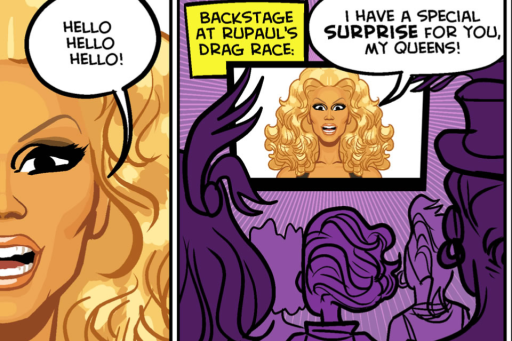 The premise: Backstage, before an episode of RuPaul's Drag Race, Ru presents a gift to her pit crew boys. Unfortunately, when the gift box is opened, inside is evil drag queen Apocalypstyck. She and her minions kidnap Ru's pit crew and threaten to end RuPaul's Drag Race as we know it.
The game: This is definitely the app with the highest production values on this list but the actual game is pretty repetitive. You basically just run in a straight line and jump and duck and slide to avoid various obstacles. The real fun is the comic book style storytelling and dressing up your character in Ru-worthy wigs and dresses. You can even superimpose your own face on your character.
The game itself is free but there are optional in-app purchases if you want to call on the powers of your favorite queens like Pandora Boxx and Manila Luzon.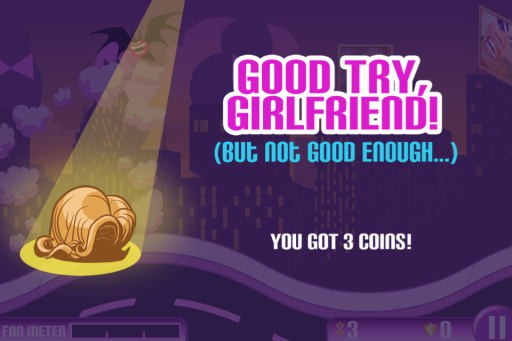 Don't spend them all in one place.
p.s. Do you follow RuPaul on Facebook? Because you REALLY should.
Steakhouse or Gay Bar – iPhone only
The premise: Based on the name, do you think it's a steakhouse or a gay bar?
The game: You literally just guess whether it's a steakhouse or a gay bar. It's kind of funny (for about three minutes).
I'm not very good at this.
The premise: You're two boys who are trying to make out without getting caught.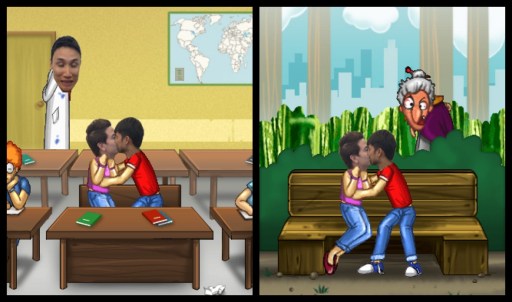 The game: This is kind of the weirdest/best game ever. In the first level, you try to make out in a high school class while the teacher paces in the back of the room. The challenge is that you have to stop kissing when he turns to look at you. In the second level, you make out in a park while a mean old lady paces behind you. It's basically a game of reflexes. It's also hilarious.
Do you remember Tamagotchis?
Tamagotchis were one of the first offerings in the "virtual/digital pet" fad of the mid-to-late 90s. They were little egg-shaped keychains that everyone had my freshman year of high school (most of you were probably still in utero). You had to feed your tamagotchi and care for it and play with it and never neglect it ever, not even for a day, or else it would get sick and die. It was all very stressful.
Kind of like being in a relationship.
The premise: When you start Mini Gay GF for the first time you choose the object of your affection. You even get to give her a name – but seriously do not name her after your ex. Or your crush. DO NOT DO THAT. It's weird. I named mine Ash but only after spending approximately two hours on baby name websites. Also weird.
It's important to note that once you choose a character, she is not automatically your girlfriend. You start out just flirting with her and trying to get her to like you. If you impress her enough with your flirting that she decides to go on a date with you, you then have to impress her on dates. Once you've dated a while, you can periodically ask her if she's ready to be your girlfriend, to which she can respond with yes or no.
This is a consent-based relationship, which I really respect, but also OMG IT IS SO HARD TO GET SOMEONE TO BE YOUR GIRLFRIEND.
The game: As I said, the game is broken into levels. In the first level you try to impress her with your hugging ability, your kissing prowess, even your winking aptitude.
If you make it past the flirting stage and she agrees to date you, you proceed to the next level which involves going on actual dates. In this level you are evaluated on new skills: how well you remember what she says during a deep heart-to-heart (I'm good at this), whether you can pass snacks in a dark movie theater without spilling them on her (I'm bad at this), and how good you are at making sandwiches (GIRL, PLEASE).
If you manage to pass the dating test, you can ask Mini Gay GF to be your mini gay gf. She might say yes, she might say no. If she says yes, then you level up to OFFICIAL GIRLFRIENDS.
In this level you're evaluated (and, might I add, heavily criticized) on your romantic ability. You try to finish each course in a fancy restaurant before the next one arrives. You try to eat breakfast in bread without getting crumbs under the covers. You run a bubble bath and try to remember to put in rubber duckies and not live seahorses.
This is around the time when I started to question my life choices.
Here's the thing: Mini Gay GF is REALLY hard to please. She can be really sweet when you're performing to her absurdly high standards and she's weirdly hot for a two-dimensional collection of pixels, but she's picky and irritable, and after a few months of beating my head against the wall trying to get her to love me, I started wondering why I was the one doing all the work. Is Mini Gay GF even worth it? What is SHE bringing to this relationship? Does she even care about MY needs?
Ultimately, I couldn't pull the trigger. It sounds crazy but I'd gotten weirdly attached to Mini Gay GF. Breaking up felt so… final. I wanted to keep my options open.
So I did what so many have done before me. Instead of breaking up with her, I just sort of… stopped checking in. I'd see alerts pop up on my phone and I'd feel a stab of guilt, then press Ignore.
I committed the cardinal sin of dating: instead of breaking up with her, I made her break up with me.
Ultimately Ash went to the big Ex-Girlfriends Menu in the sky. It wasn't meant to be. I've tried dating a few other mini gay gfs since then but my heart just wasn't in it, so things fizzled pretty quickly.
I could always go back to Ash and see if she'll give me another chance but I think I might need some time to focus on me, you know?
In summary, Mini Gay Girlfriend is the greatest gayme in all of app history. Sometimes I have to open my phone and look at it again just to make sure it's real. It's consent-based, lesbian-centric, adorable and hilarious.
It also made me delete my OkCupid profile.
---
Laurie lives in Chicago, IL where she spends her days pretending to know what programmers are talking about and spends her nights trying to find every queer dance party in Chicago. Read about her loves, losses, and ill-advised life decisions on her infrequently-updated blog, Your Ill-fitting Overcoat.