Welcome to the another installment of Make A Thing, where we make handmade gifts for people. Or ourselves. Who doesn't need something special in their life? Join in on the DIY fun and avoid the unnecessary consumerism of the world (and I promise you'll save a few dollars while you're at it).
Header by Rory Midhani
---
So, it's a week until I have to give people things and I have three major projects still waiting to be started. I have all of the stuff. I just… never… started on them. Well, shit. Maybe you're like me and you wait until the last minute to do things because having stress headaches is fun and sleep is for the weak.
Last night, I made these stockings in about an hour. We kept seeing stockings we liked and I'd say, "I could make that" (the favorite mantra of the crafty people of the world). Then we realized it's a week until Christmas and I have all of these stocking stuffers for my partner that will no longer be cute stocking stuffers if I don't have a stocking to stuff, you know? She made me get on it.
These stockings cost around one dollar and were so dang easy, you'd never believe me.
Striped Stockings
Supplies Needed: Three or four squares of felt (you only need one square in your stripe color), a sewing machine (or fusible interfacing would work for the stripes), thread, pins, scissors, a paper bag. Optional: embroidery floss for putting your darling little name on the top.
Level of Difficulty: Beginner sewing machine skills are recommended, but this will only take you about twenty minutes to be honest.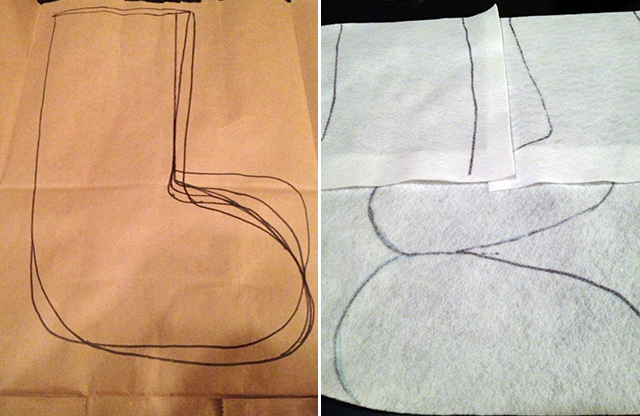 1. Draw a stencil onto a paper bag. You can also just tape two pieces of paper together. Don't worry about this looking good at all, you're going to be trimming a lot off of it, anyway. Make sure you make your stencil just slightly larger than you'd like your stocking to account for sewing seams.
2. Cut out your stencil and trace it onto your felt. I lucked out and was able to use one piece of felt for the bottom section.
3. Line up your felt pieces onto your stocking. Make sure your front and back line up. Trim up any extra on either side. Felt is a really forgiving fabric and doesn't shift around too much, so although you don't have to use pins, I recommend them just in case.
4. Cut out your stripes. I didn't make mine straight for aesthetic purposes as well as the fact that I can't cut in straight lines even with a self-healing ruled mat. But maybe you have a ruler and you want super straight lines. Do what makes you happy, okay?
5. Lay out the stripes on top of your stocking, making sure to line one up over the seam you'll be sewing between the top and foot of the stocking. Pin them in place, except for the one covering the seam. Remember to set aside two extra stripes: one for the back half of the stocking and another for the hanging loop.

6. Sew the foot of the stocking to the top part, then pin your stripe back on top of the seam.
7. Sew both sides of the stripes to your stocking. I sewed mine really close to the edge, but again, do whatever feels right.
8. Sew the foot of the back of the stocking to the top part of the back of the stocking, then the stripe on top.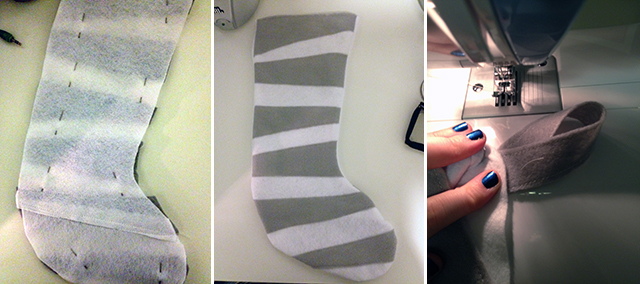 9. Put your stocking together right sides in and sew around the edges.
10. Turn your stocking right side out by pulling the toe of the stocking out through the leg.
11. Smooth out, pulling at the felt until it resembles something nice.
12. Take another strip of your stripe color and fold it in on itself to create something resembling the top of a ribbon. Sew the loop onto the back of your stocking.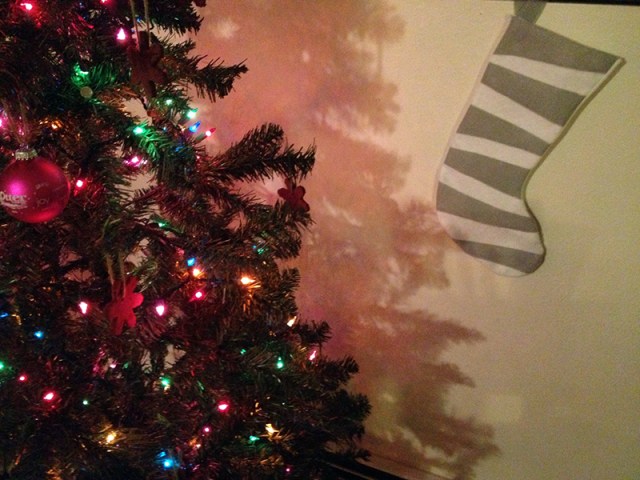 13. Optional: Embroider your/her/his/their name onto the top of your stocking.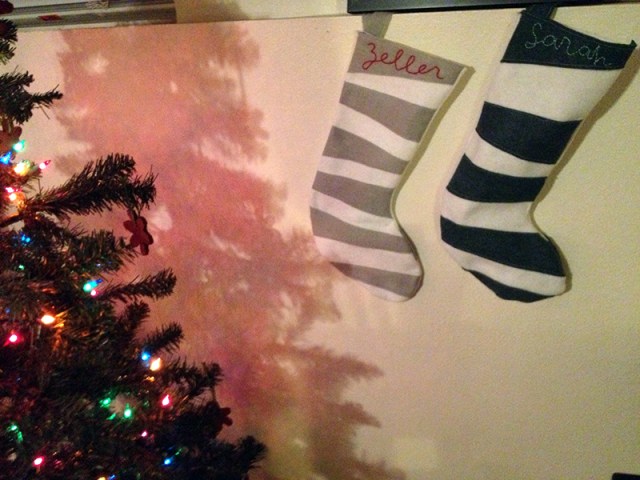 All done! So satisfying to make something for a dollar rather than buy it for fifteen.
---
Okay, now, if you're like me and your time to give presents is a week away and you still haven't started anything, here are some of projects that would be perfect for a last minute freak out crafting session.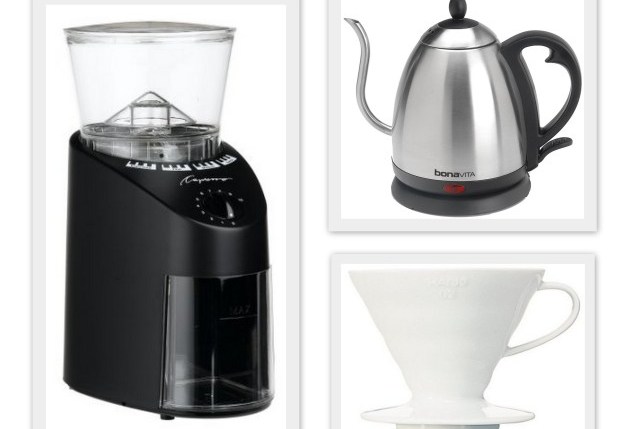 1. Make a hollowed out book for someone to hide their floppy disks/flasks in!
2. Mod podge your shoes with comic books so you can walk around with BAM! and POW! on your heels.
3. I'm in love with this really lovely and delicate feather necklace.
4. I'm embroidering a family hand portrait for my mom for Christmas with my niece and her hands. Moms love this stuff.
5. Teacup candles are so, so easy to make and they look adorable.
6. This quilt honestly looks a lot harder than it is and people will be so impressed if you make a quilt. I'm making two this week. The trick is to buy a sheet set for inexpensive and stress-free fabric.
Happy crafting! Next week: infused rum. You're gonna need it.