Welcome to the another installment of Make A Thing, where we make handmade gifts for people. Or ourselves. Who doesn't need something special in their life? Join in on the DIY fun and avoid the unnecessary consumerism of the world (and I promise you'll save a few dollars while you're at it).
Header by Rory Midhani
Did you know Valentine's Day is in less than a month? I don't even want to think about it. Let's think about it next week.
Instead, let's make a hollowed out book. A hollowed out book seems like such an easy thing, right? Except then, after four million hours of exacto knifing, you start thinking crazy and just stabbing at the paper because good golly, this takes a long time. So, I'm going to put a big disclaimer on this one. Disclaimer: For the patient people of the world, only. Warning: Do not lose patience while holding an exacto knife.
Hollowed Out Book
Supplies Needed: A hardcover book, mod podge (or white glue that dries clear might work), exacto knife, pencil, PATIENCE
Level of Difficulty: Wrangling an exhausted toddler who doesn't want to take a nap (seems a lot easier than it is)
1. Find your book. I bought mine at a thrift store, where I stood in line behind a woman who scowled at me until I smiled uncomfortably and she said, "There's your smile!" which is one of my biggest pet peeves. Hopefully your thrift store adventure goes smoothly. Find a sturdy book with a well-attached spine that doesn't slide when you push the cover back and forth. Does that make sense? It should make sense if you've found the right book. Also, find a book you don't care about destroying and also one that doesn't have gorgeous pictures. I originally bought Black Beauty but I just couldn't bring myself to cut it.
2. Open your book and flip to the third or fourth page. You're not going to cut from the very first or second page, but instead keep them separate until the end so the top is pretty.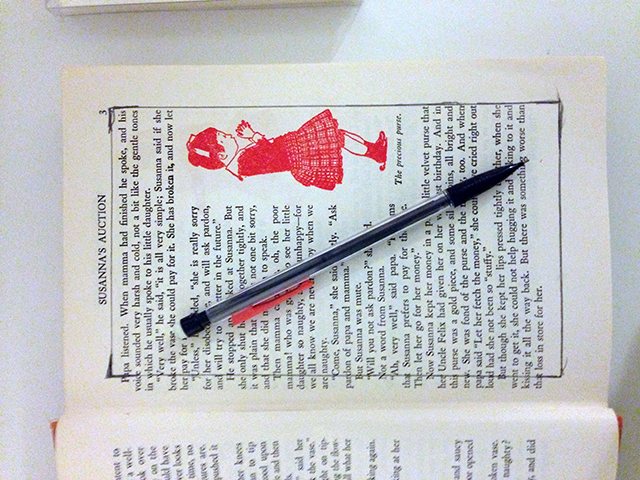 3. Line up all of the pages (without the top section) and find something that is the same size as what you'd like to cut out. You can also measure, but who has rulers these days? Not this guy, apparently. I just found some cards and traced around them.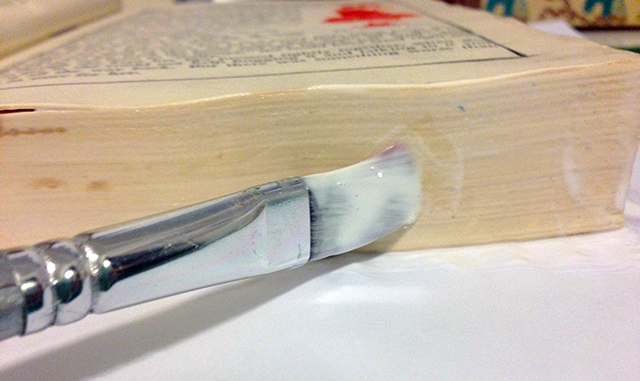 4. Start painting your mod podge or glue around the edges of the pages. Make thick layers so that the mod podge seeps in a tiny bit to keep your pages together while you cut. I did about three thick layers over the course of two days and let them dry completely in between layers, which might be overkill, but safety first. It would be so infuriating to be cutting and have your pages come apart. Just think of that. I put a piece of paper between the back cover and my pages, which ended up just sticking to the pages anyway, so don't worry about that in the pictures.
5. At the same time, mod podge your first few pages together.
6. You ready? Let's do this. Take your exacto knife and start cutting. At first, cut gingerly. You can cut deeper when there's a wall of pages to cut against. I got through about three or four pages at once throughout. You can save the pages you cut out for other crafts, too.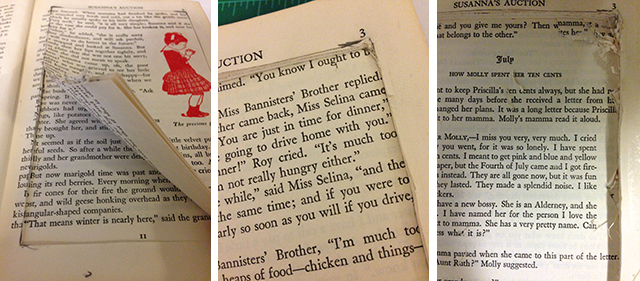 7. Keep at it, tiger. Make sure you're keeping your corners clean. Clean corners are going to save you a lot of time. Also, be prepared to have about six thousand million bazillion tiny paper scraps EVERYWHERE. Turn your book over and tap those out while you're going.
8. Once you're satisfied with the depth, clean up any tiny mess-ups around the edges and make sure your stopping page doesn't have cuts. Then, here's my trick: vacuum. Yep. That's right. Vacuum the inside of the book. It cleaned up my book really fast (and also my workspace that was making my partner's eye twitch every time she saw my desk).

9. Put another layer of mod podge inside of the hollowed out section. Mod podge the bottom page and the sides, just to clean up the appearance.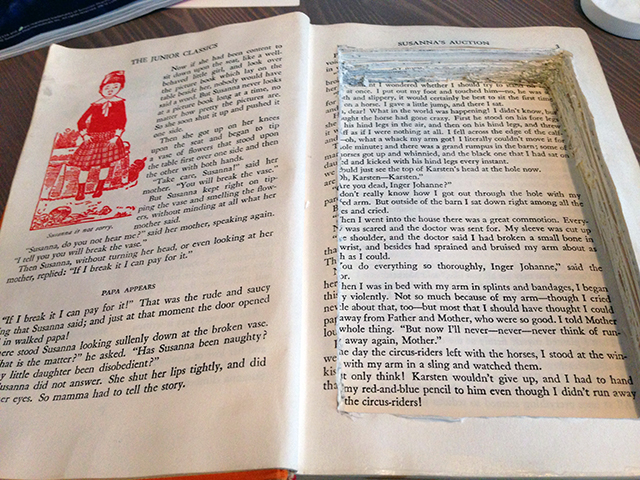 10. Put a layer of mod podge around the top of the hollowed out section, then press your top section down on top. This will create a little ceiling on your hollowed out section.

11. Cut through the first few pages that are covering your hollowed out section. Be really tedious about getting these pages nice, because they will be the ones that show the most.
12. Mod podge some more. Why the hell not.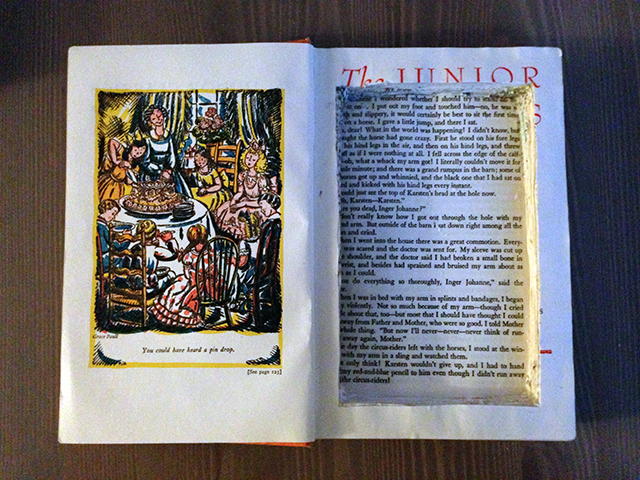 13. Let everything completely dry. When you think everything's dry, let it dry even more because you're probably wrong, and then close the entire book and put something heavy on top. Let that hang out overnight, preferably. This should flatten everything out.
14. You are DONE. Hide some shit in there and no one will ever know.