Welcome to yet another installment of Make A Thing,  where we make handmade gifts for people. Or ourselves. Or our cats. Mostly our cats, though…
Header by Rory Midhani
Mother's Day (which is May 12th, by the way) is the perfect opportunity to make your mom a macaroni necklace, sentimental card or a painted picture frame that includes a photo of yourself. Or maybe you're above the age of 8 and you still need a gift, but you want it to be from the heart. My mom asked for gardening gloves this year. That was it. Seriously, Mom?
Even if you want your gift to be something you can print out and give to your mom (I'm not judging you at all, I promise). Here's 15 of the best projects I've found around the internets that my mom would totally love, and maybe yours would, too.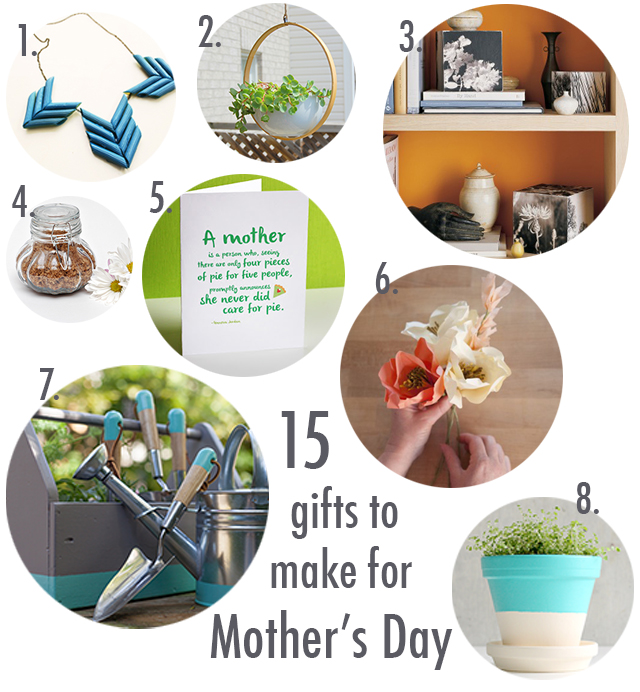 First half!
1. Who says you can't make your mom a pasta necklace? This penne necklace is really awesome. (tutorial via By Wilma)
2. This hanging planter is a nice upgrade from the ugly one your mom has on her porch. (tutorial via Northstory)
3. A photo cube lets you figure out who your mom's favorite is every time you visit. Just put your family pictures on each side and if your picture is facing the world, you win. (tutorial via Martha Stewart of course)
4. Sugar scrub. Spa items in a bottle. Enough said. There's also a few more spa item tutorials over here. (tutorial via She Knows)
5. A printable Mother's Day card. You now have no excuse to show up empty-handed. (tutorial via How About Orange)
6. Paper flowers last longer than real flowers and are considerably cheaper than the live kind. (tutorial via Creative Bug)
7. Painted garden tools are cute, still cute when dirty. (tutorial via Lia Griffith)
8. Painted terracotta pots are cute, still get dirty, become little houses for plants. (tutorial via Dellie)

9. Engraving a casserole or trifle dish makes a personalized gift your mom will never let you forget you borrowed that one time. (tutorial via Make It & Love It)
10. Wine with a personalized label. Enough said. (tutorial via Hello Lucky)
11. Brag books are a cute gift if your mom likes to kick it old school and doesn't just pull out her phone when talking about her kids and grandkids. (tutorial via Nalle's House)
12. Another printable card, but less pink and flowery than the others. (tutorial via Minted Strawberry)
13. Another sugar scrub, but this one smells like peppermint. (tutorial via Blah Blah Magazine)
14. A heart thumbprint necklace. It's almost too cute to give away. (tutorial via That's What Che Said)
15. Another printable card, but super flowery and girly. (tutorial via Elegance and Enchantment)
Make sure to check out the Autostraddle archives of Make A Thing, craft projects, and how-to's. What other craft ideas have you got for Mother's Day? Any ideas on dressing up these gardening gloves?