MADONNA:
Madonna knows she is too big to be contained by webcam so she kicked it up a notch and made a special Ellen appearance to add her voice to the It Gets Better Project.
"I wouldn't have a career if it weren't for the gay community. I feel like it would be incredibly remiss of me to not say something."
She also attributes the support of her gay ballet teacher to making her feel more comfortable in her own skin as a teen:
"It wasn't until my ballet teacher, who was also gay, took me under his wing and introduced me to a community of artists of other unique individuals who told me it was good and okay to be different and brought me to my first gay disco and ironically made me feel I was part of the world and it was okay to be different. There was no group that I felt apart of — I just felt like a weirdo. Everyone should have someone in their life that they can feel encouragement from."
.
.
Coincidentally, Sandra Bernhard brought Madge's name up on The Wendy Williams Show just yesterday where she mentions she and Madonna are no longer tight but "were a really good example of two women being friends."  Wendy probes asking "did she mess it up for you guys?" and Sandra doesn't get into it but I think we all know the dyke drama that went down back in '88 when Madonna stole Sandra's then-girlfriend Ingrid Casares, right?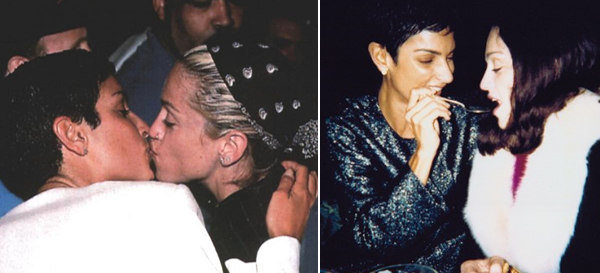 If you're still with me and haven't seen this infamous '88 Letterman appearance, drop everything and watch immediately.
SKINS
Sofia Black-D'Elia, who plays Tea (THE LESBIAN) (replacing the gay boy from the original Skins UK) in Skins USA has a video where she talks about her character, but there's no mention of lesbian sex. YET. Episode #2 will be Tea's, so you can look forward to heaps of girl-on-girl action, FINGERS CROSSED.
In this video, she holds a talking stick:
To be honest, I'm excited for Skins USA. Why? because I loved Skins (original) SO FUCKING MUCH that I would, literally, if asked, sit through a word-for-word re-enactment of Skins UK by the Skins USA cast without one single difference. Sometimes, when I can't sleep at night, I look at Skins-themed tumblrs or search "Skins" on weheartit and look at pictures of people from Skins.

.


GLEE:

Didn't think it was possible but Glee manages to out-gay itself each week and last night was no exception. Darren Criss made his smokin' hot debut last night as Kurt's maybe/probably/likely future boyfriend. Facebook Like!.

Elsewhere, Sue Sylvester is apparently getting married – to a woman? Como say what now? The cast is dropping hints to the affirmative all over the place.  I'm going to have many weird feelings if she winds up marrying Coach Beiste – how about you? (@eonline)
GLAAD:
A pretty critical look at GLAAD: Is GLAAD Hollywood's Latest Bully? The usage of the term "bullying" is almost ironically in poor taste, but the article makes some valid points. It has seemed lately like GLAAD has been screaming so loudly, so persistently, that it's only a matter of time before it falls on deaf ears. Thoughts.