Modern "Fashion Week" has turned into Fashion Month, with major shows in New York, London, Milan and Paris throughout September and October. We've so kindly made a fashion week recap, chock full of shows from each major fashion week, as well as sweet street style!
After gazing at (almost) all the shows from New York, London, Milan and Paris I've gleaned the highlights. Some important looks for Spring/Summer 2015 in no particular order: sheer stripes, mechanics' suits, Chuck Taylors, lemon yellow, white cornflower blue and co-ordinates/suiting.
---
Here are my five favourite shows from New York!
Chromat
photos via chromat
Chromat is a rad up and coming brand which combines a bit kinky with definite cheekiness. Created by Becca McCharen in New York, this label rides the delectable line between wearable and otherworldly. The Spring 2015 presentation featured one of the most diverse pools of models seen at Fashion Week, a testament to an aesthetic that exalts the wearer, rather than conforms them. In short: there were all sorts of babes wearing stunning exoskeleton-like forms, and some stellar beauty looks as well. Sign me up!
Adam Selman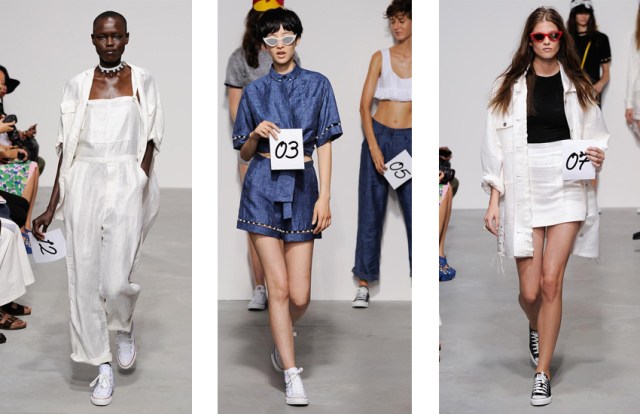 photos via style.com
With a crop of celebrity and notable fashion world attendees (Rhianna, Susie Bubble), Adam Selman's collection was heavy on streetwise wearability. Most notably known for dressing bad gal Riri (the sheer CFDA gown was
all him
), Selman's looks relied on denim, Chuck Taylors and much to my joy, crop tops! Oh and visors. Lots of visors. Luxe casual wear that looks perfect for whirlwind shopping spree in gay Paree.
Assembly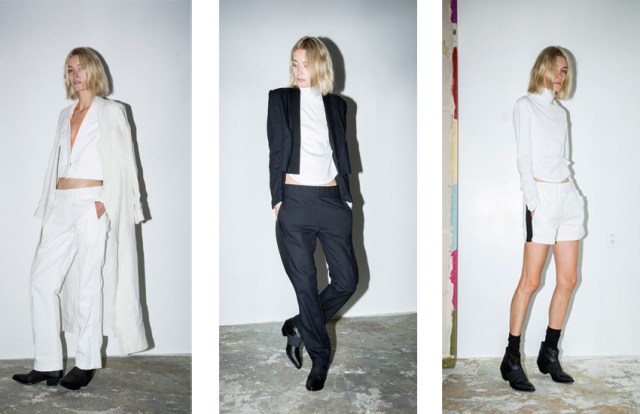 photos via style.com
For those of us who require something a little…austere, Assembly Spring/Summer 2015 features a minimalist palette with a focus on tailored, clean lines. A collection of updated basics perfect for updating the wardrobe of a creative professional. Turtlenecks a plenty and a suit worthy of Bette Porter, they've got me thinkin' that perhaps less is more.
Michael Kors
photos via style.com
Michael Kors is a steadfast purveyor of America prep, and this season was no different. With fuzzy v-neck sweaters, leather loafers and duffle coats, his looks are prime for the dapper among us. Sippin' on a tequila sunrise and cruising in a yacht is exactly what I want to do in this collection.
Kate Spade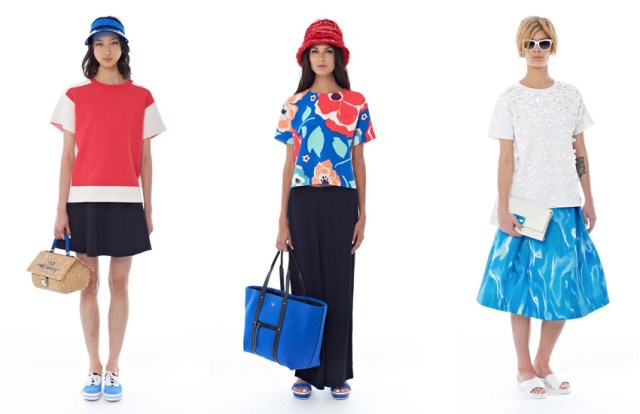 photos via style.com
Once the bastion of stuffy Upper East Side ladies who lunch, Kate Spade has emerged as a steadfast source of youthful exuberance. Playful minaudieres and oceanic clutches stood side by side with preppy top handle bags, and the clothes were phenomenal as well! Clean, sharp silhouettes were the perfect medium for punchy tropical prints. Verdant and fresh, the colors of the collection were vibrant without garishness. Invoking the femme minus the saccharine, these looks were the perfect amount of charming.
---
And across the pond we went! London Fashion Week is a personal favourite; the Brits seem to have a knack for off the cuff, innovative style. This season was no exception!
Simone Rocha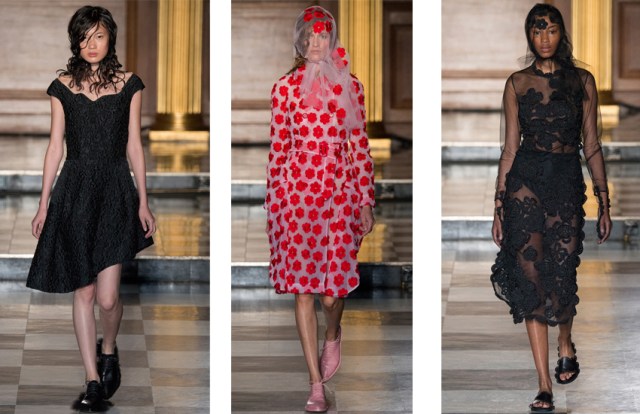 via style.com
Ms. Rocha has a talent for romance. This season, her view of love leaned towards the murky; the overwhelming, all consuming nature that love can sometimes take on. With dark tulles and pigmented florals, this is not a fluffy love, albeit sweet in it's own way.
Erdem

via style.com
Erdem's has made a name by a mastery of printmaking, and this season it was lush botanicals that served as the inspiration point. Taken with Marianne North, a biologist and botanical artist of the Victorian age, chaste collars and modest hemlines gave way to something more untamed and unruly. A meeting of Puritan and wilderness, if you will.
Whistles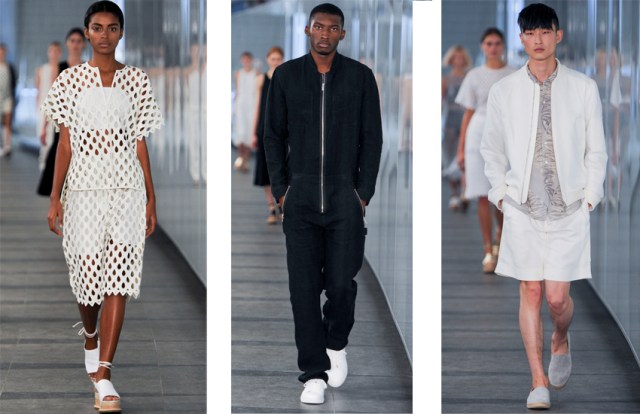 via style.com
Easy, of-the-moment and relaxed: Whistles Spring/Summer presentation made an argument for the chill life. With a nod to the 90's (like so many these days), the onesies and loose shorts brought to mind a court side hangout.
Christopher Kane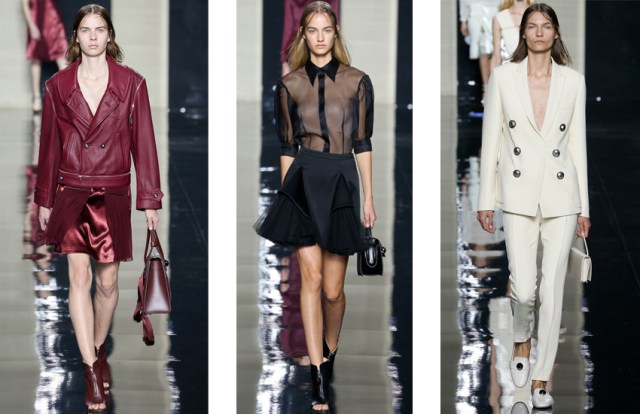 via style.com
Christopher Kane has a knack for creating a succinct and covetable look each season. The muse of SS2015 exudes youthful toughness; leather jackets and suiting meets floating godets on pastel skirts. Masculine or feminine, why should one have to choose?
Topshop Unique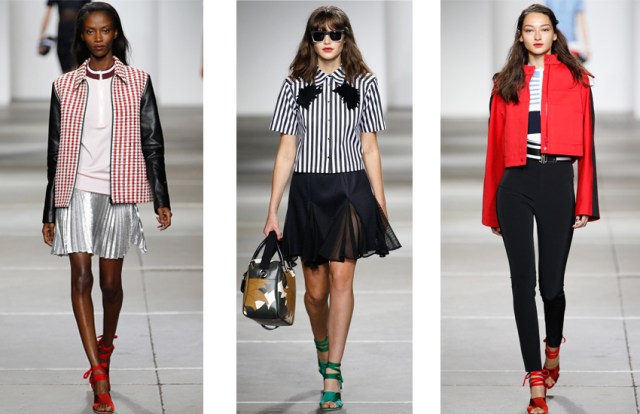 via style.com
As is to be expected from Topshop, their spring offering for 2015 is 100% fun loving! Inspired by the faded glory of the English seaside, the attitude was fancy free and tres sporty!
---
Just a stone's throw away from London — Milan Fashion Week! Colourful, exuberant and always luxe, Milan shows us what's up their sleeve for SS2015.
MSGM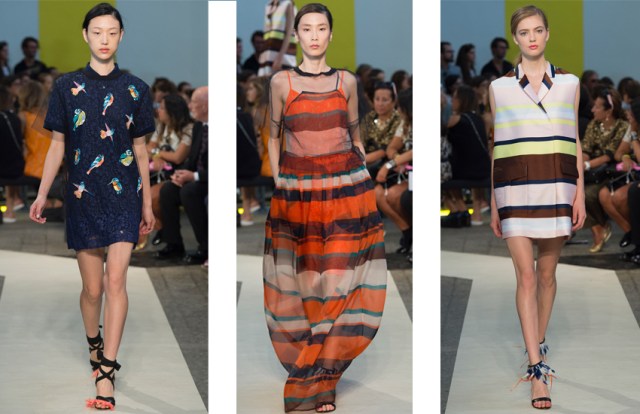 via style.com
MSGM is a surefire bet for prints and an array of hues. This time around, spumone colored stripes and topical birds gave a twisted view of "summer brights." Very fun indeed!
Iceberg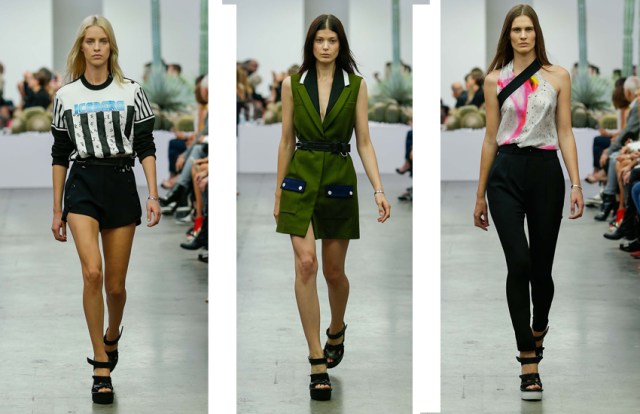 via style.com
Brisk and slightly aloof, Iceberg brought an athletic inspired tailored look to their SS2015 collection. Dense hues were present, but not overused; deep moss green here, boldly bright blue there. A splash of color, but never over the top.
Phillip Plein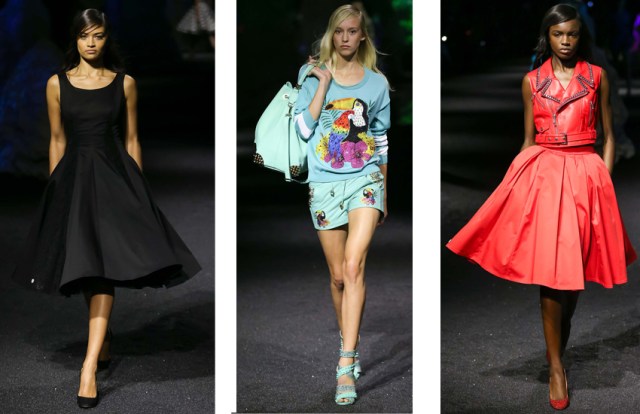 via style.com
I, for one, am a sucker for a fit and flare 1950's silhouette, and Phillipp offered a greaser girl who was a lovely combination of Sandy
and
Rizzo. A little sweet and definitely saucy, tropical colors had a hand in bringing a bit of bite to what could have been just another sweater girl.
Bally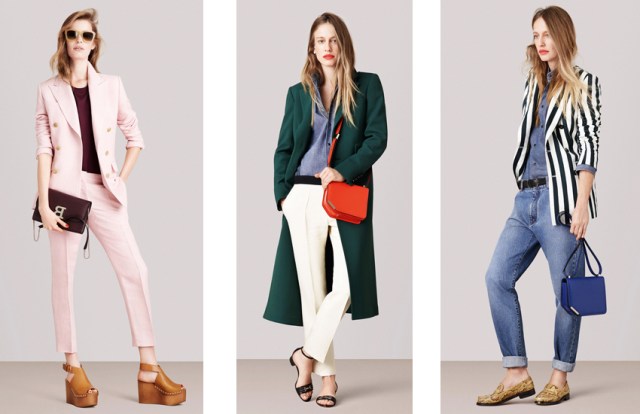 via style.com
Although they are known largely for their leather goods, Bally's lookbook for SS2015 featured delightfully preppy and straightforward styling. Stripes and candy floss pink offset structured and unfussy bags.
Marni

via style.com
Marni celebrated it's 20th year this season and instead of a retrospective, the designers decided to look forward. Throughly modern in it's execution, this collection is unhurried without sacrificing visual pleasure. Direct cuts and sillhouettes allow beautiful textiles and palettes to take the stage.
---
PARIS! The orgins of "haute couture" and Fashion Month's final stop. Here are my picks!
Miu Miu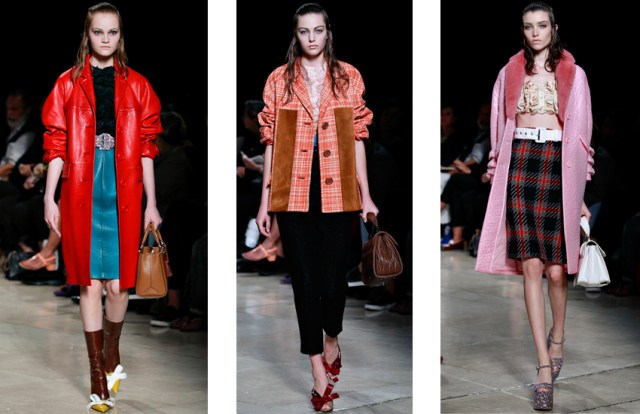 via style.com
Miuccia has my heart because she always delivers. Miu Miu this season it was a slightly kooky reconfiguration of the mid-century shape. Tartan pencil skirts, sparkly platforms and fur; only Ms. Prada could make sense of such a jumble of seemingly opposed sartorial ideas.
Christopher Lemaire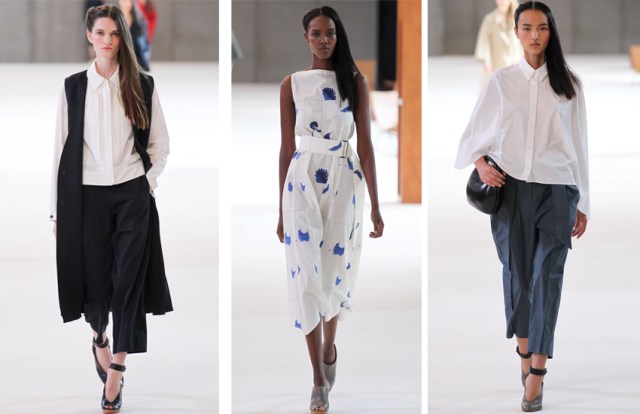 via style.com
Christopher Lemaire's spring 2015 collection manages to be minimal, tailored and sharp, without losing it's human-ness. It would function well as a uniform for the relaxed working human.
Kenzo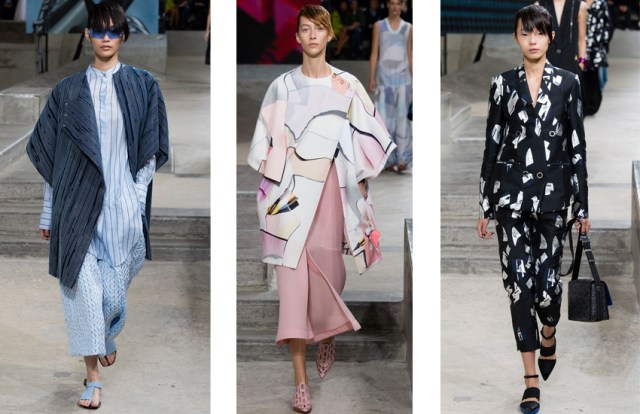 via style.com
With Carol Lim and Humberto Leon at almost cult status within fashion circles, the Kenzo show is one of the most anticipated each season. Tastemakers with a razor-sharp vision, this time around the collection was light tones, painterly pastels and brushstroke suits. Bold, modern and 100% trend worthy.
Cacharel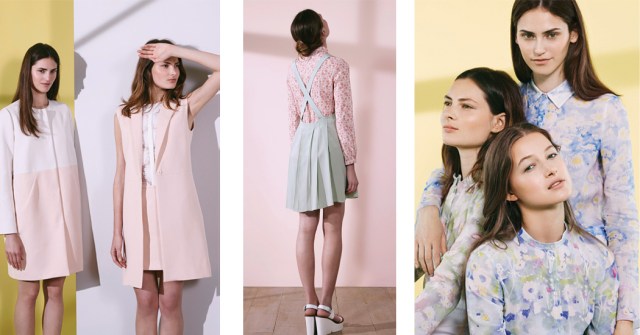 via style.com
Cacharel SS2015 is sweeter than a trip to the candy store. Jourdan almond tints lend themselves beautifully to lace shirts and schoolgirl jumper dresses. But modern iterations benefit from the sweetness as well, as proven by a sleeveless blazer and color blocked coat.
Celine

via style.com
Celine's SS2015 offering brought Phoebe Philo's finesse as per usual; her exacting vision of luxurious, minimal clothing that functions. No loud fanfare and no audacious detailing, just direct and gorgeous pieces.
---
Of course, we can't forget street style! At this point, fashion week is almost as much about who gets snapped outside the shows as the presentations themselves. Granted, a few fashion week attendees seem more interested in peacocking for the cameras than actually going to any shows, but it's always fun to see the fashion pack show off for one another.
NYFW Street Style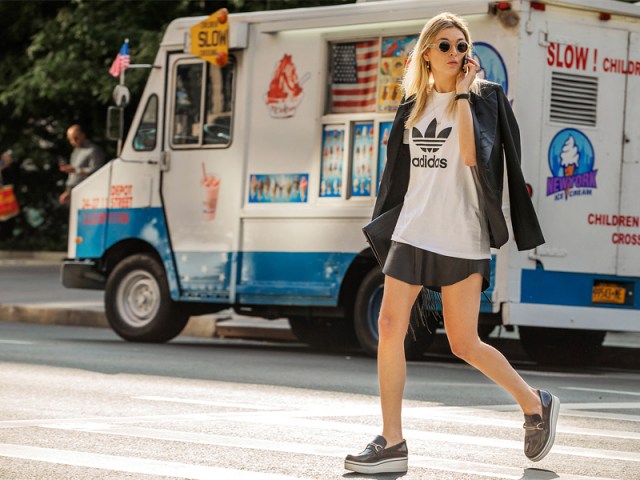 photos from Refinery 29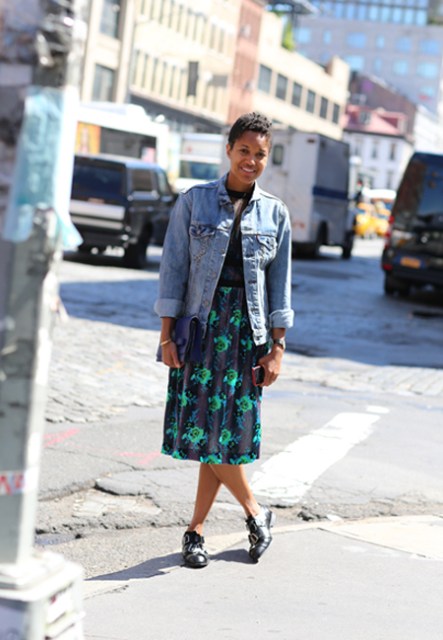 photo from All The Pretty Birds
LFW Street Style

photos from The Sartorialist
MFW Street Style

photos from Vogue UK and WWD
PFW Street Style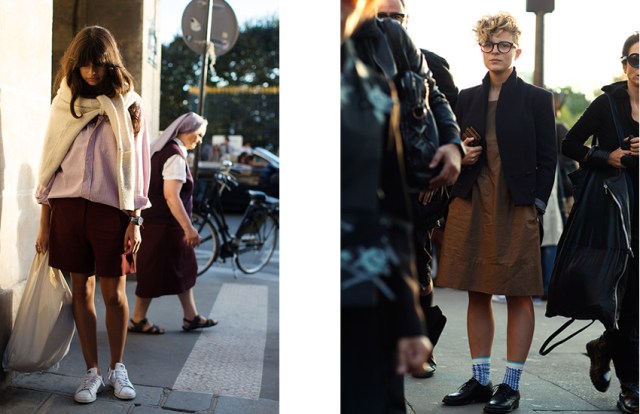 photos from The Sartorialist