Hey guess what, I'm going to Lollapalooza! Yeah, I know, three music festivals in one summer — Bonnaroo, Lilith Fair and now this. How does a girl fit it all into three months? Well, such logistical problems are the perks of volunteering your life to Autostraddle for a period of time. Perhaps you should apply.
Here's the basics: Lollapalooza happens in Chicago's Grant Park and will run from August 6 to 8. There are some three-day passes ($210) and some day passes ($90) left, so if you live near the city, consider picking one up. It's gonna be a fun time.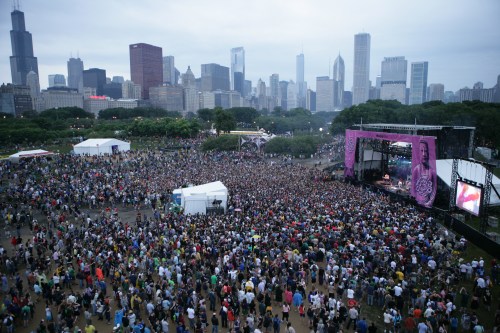 I will be road-tripping to Chicago on Friday with my friend Emily. She's the events reporter for Ink Magazine in Kansas City, and she'll be making appearances in my daily Lolla coverage. Luckily, Emily has roughly the same priorities as me this weekend: Gaga, Phoenix, sunburn (but not too much), hipster-watching, unhealthy food and maybe some beer.
Unlike Bonnaroo, Lollapalooza takes place in a real city with real Internet. Festival goers can take a shower every day, go out to bars at night, and eat food that didn't come from a truck. I'm sure there will still be plenty of shenanigans, and I'll give you daily updates about them!
Of course, the music is really the point of this whole thing, so let's talk about some bands. This is my first Lollapalooza, but I've been keeping an eye on the lineups for years. Lolla usually has one of the strongest tickets of any summer festival, and this year is no different. Lucky for me, this year's offerings are also the most in tune with my iTunes. Here are the bands I am most excited about:
[Friday]
Lady Gaga
Even though I just saw Gaga in St. Louis, a few weeks ago, I am still PUMPED about this show. I'm really looking forward to seeing how she changes her act for an outside venue. The real question here is how early we should show up and camp out at the stage…
Also: The Black Keys, Semi Precious Weapons
[Saturday]
Phoenix
I hear Phoenix is even better live, which is a very exciting prospect. They were at Bonnaroo, but they didn't play until Sunday after I was long gone. If it's possible that you've never listened to 1901, please do that now, kthx.
Stars
Seeing Stars is going to be a full-circle Autostraddle moment for me. I first started listening to them because Riese so ardently quoted them on This Girl Called Automatic Win. And now I will be covering them for AS! Old school Autowin, holler! I expect to have some #feelings during their set.
Also: Metric, Spoon, Cut Copy
[Sunday]
Miniature Tigers
This band is from Phoenix, just like Laneia, and she says they do not suck. After a few listens to them on YouTube, I concur. Also their name makes me unreasonably happy, and they are currently touring with Neon Indian. Because of all those things, I'm going to drag myself to Grant Park at 11 a.m. to see them. Here's "Cannibal Queen" (and I also like "Gold Skull"):
+
The Temper Trap
Laneia and I saw these guys at Bonnaroo, and they brought the tent down. It was possibly the best show we saw that weekend. Now, there are certain days when all I do is listen to "Fader" over and over. I'm really hoping they are even better at Lolla.
Also: Hockey, MGMT, Arcade Fire
So that's my plan for Lollapalooza adventures! Are you going? Who are you excited for? Do you have any tips on how to navigate Lolla?
Oh and one more thing, there will be a tattoo station in the press tent. If anyone comes up with a great idea for a tattoo in the comments, I just might get it.