I've got something I need to tell you guys. Early this morning, I'm going to Crown Heights to pick up a truck, and I'm packing up my apartment and leaving New York City. I'm U-Hauling with myself to Los Angeles, where I'm hoping to further my career in the live music business, contribute more regularly to Autostraddle, eat a lot of delicious Mexican food and be a generally happier human being.
To be honest, I never thought this day would come. New York City is fast-paced, aggressive and hostile, and its style has always suited me just fine. I'm a third generation New Yorker; my mom was raised in Astoria and her parents grew up in Harlem. I've never found another city that felt like home the way this has, and I've long held visions of growing old here, becoming one of those hunched-over little old ladies with the granny carts who still do all their own grocery shopping and somehow make their way up to their rent-controlled fifth-floor walk-up apartments all by themselves. New York doesn't take care of anybody; you have to take care of yourself. I've worked a thousand odd jobs to scrape by, lived off Goya beans and plain pasta, burned through my savings and felt very stuck most of the time. Leaving never seemed like a possibility; I just had to make it work, and I did. All that changed in the last year, when suddenly I started to grow very tired of fighting so hard to maintain so little. I take the J train to work every morning, and one day the view of Midtown over the Williamsburg bridge stopped being the most amazing thing I'd ever seen.
This wasn't an easy thing to wrap my mind around, and it turns out to be an extremely difficult thing to do on one's own. I've worked for the same company for seven years, and quitting felt a little bit like I was betraying my own family. I've lived in my apartment for five years, the longest I've lived anywhere save for the house I grew up in. My life is here, my family is here, and I've chosen to leave all of that behind and start over 3,000 miles away.
While I process all those delightful feelings, here are 17 weird things I've found while scouring through my entire life and packing it all into boxes:
17. Pair of "Happy New Year" sunglasses shaped like the Statue of Liberty's crown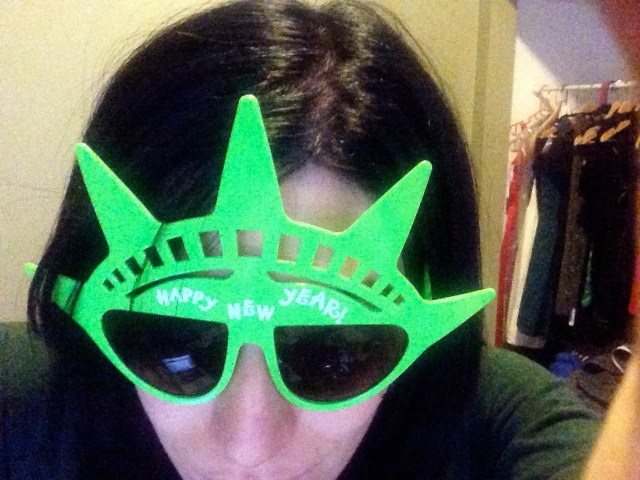 16. Refrigerator magnet with Trent Lane from Daria on it that says "I'm not a musician, I'm an interpreter of sound."
15. This "special style" maybe-problematic children's keyboard that my friends bought me in Morocco for some reason?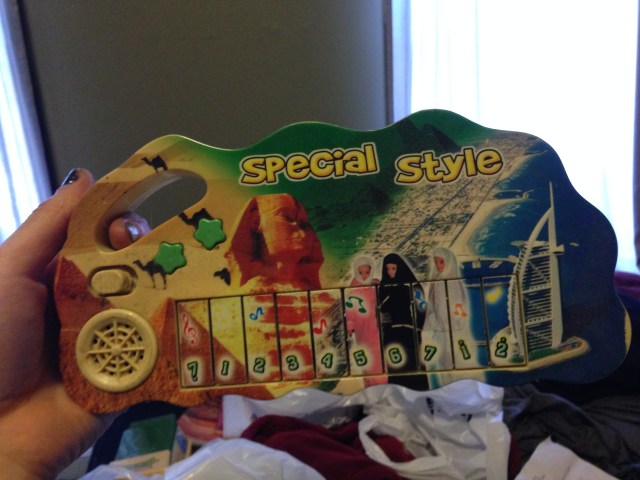 14. Riese's Auto-Insomnia zine from 2008, which I plan on donating to the library at A-Camp 5.0.
13. A LOT of fliers for Rodeo Disco, Autostraddle's baby Pride party, which we organized and hosted when we were just a little tiny infant website in 2009 and 2010.
12. I used to have this boyfriend who was in a sorta-famous band and he lived in Toronto so he sounded really made up (he was real, I promise!). One time he visited me and I had to work so I left him to wander the city alone all day. When I got home, he'd gone to the Halloween Adventure store and bought me this flute-hammer. He was very concerned that I might already own one, but I didn't, and I've kept this one ever since.
11. This CD (It's actually kinda good):
10. The letter I wrote to my first girlfriend a month after our breakup and did not send and oh my GOD I am so glad I never sent it. I'll never ever throw it out, but WOW.
9. A poster of Greg Sestero from The Room in his underwear, holding a football, autographed to me.
8. Book of "realistic whales" stickers.
7. I worked the door at a bunch of rock clubs during my tenure in New York City, and one of my favourite tasks was drawing up concert posters for my Tuesday and Friday night shifts at the Music Hall of Williamsburg. It's pretty funny to look back over some of them and notice baby opening bands who went on to be huge, or gigantic underplays that I was super privileged to be able to see in such a tiny room. Here's a small sample:
6. Bright orange novelty condom sold by the band Garbage as they promoted their single "I Think I'm Paranoid." The wrapper says "paranoid" on it. It expired long before I ever had reason to use it.
5. Incense purchased at a hipster Bushwick witchcraft store that's supposed to make my apartment smell like the moon.
4. Autostraddle contributor Katrina Casiño and this Penthouse magazine from 1993 with Marky Mark on the cover:
3. Stolen hotel soaps from the famed Chelsea Hotel, where my roommate and I stayed for like 3 days when the heat in our Spanish Harlem apartment had broken. We spent each night getting hammered and wandering the halls in search of ghosts. We found nothing.
2. "Syntactics," a board game about grammar and syntax from 1972. Found it in my parents' basement years ago; they had no idea where it came from.
1. VHS copy of the trivia movie/game I made about "The Rats of NIMH" in sixth grade, starring three actual rats I adopted and dressed up in outfits. I'm still single by the way.