Ugh. I'm moving at the end of this month. I've been in the same apartment for three years, which is a record in my adult life and I DO NOT WANT TO GO ANYWHERE. Alas, I live in University housing and must move. Right after this Liquor In The _____, I'll be packing up my bar and sending it to a faraway farm, where we'll be spending the summer before jumping back into city living in the Fall.
Packing up brings back memories of moving in. Of me putting my IKEA desk together and then crying when I realized I put the back of it on wrong and I'd already been assembling furniture for two days. To quote Doctor Who, I don't want to go. But that's not the only reason I picked the Monkey Wrench, the loose association with building IKEA — someone in the comments last month wanted something grapefruity that DIDN'T have gin in it. Ask and ye shall receive.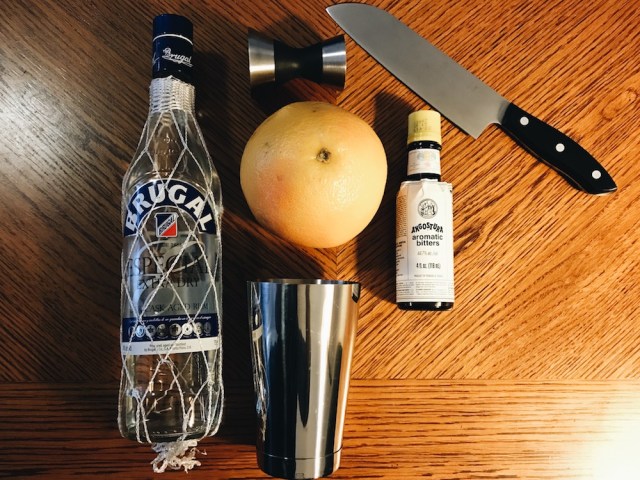 You will need: 
2 oz light Rum (I'm using Brugal)
4 oz grapefruit juice.
2 dashes Angostura Bitters
grapefruit twist to garnish. I'm using a cocktail sword to make it pretty.
First, juice your grapefruit. A couple people came through with science last time and busted my slice-the-citrus-lengthwise trick wide open. Now I'm usually all for science, but you have to slice it anyhow, so may as well slice it lengthwise and reap the benefit of one more ounce of juice.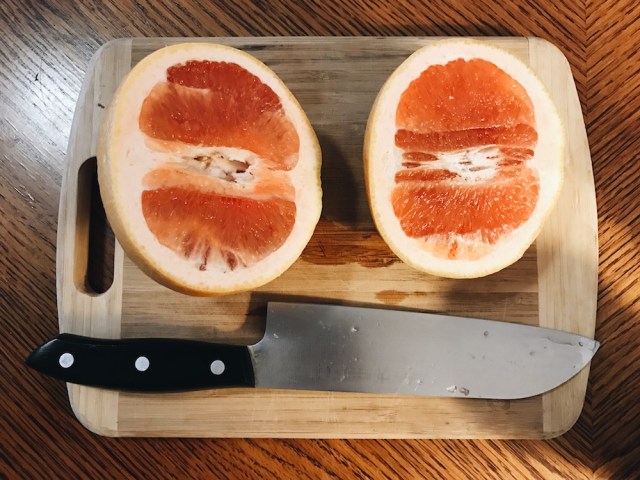 Fill your shaker halfway with ice and add the liquor, the grapefruit juice and the two dashes Angostura bitters. Some people put orange bitters in this drink, but I sometimes don't care for the way orange bitters taste in grapefruit juice, so Angostura it is. It gives the drink a little depth as well—not all sweetness. Remember, we're using a shaker because there's fruit juice involved.
A brief pause to advocate for bottle pourers as a thing you might want if you're regularly making drinks at home. On the days where I say, fuck it, I don't want to make extra dishes, and I DON'T use a spout, I wind up having to clean my bar and my dining room table. So yes—use a bottle pourer, friends. You'll be glad you did.
Shake your drink for 20 seconds or until your shaker cap is nice and frosty. Pour into a tumbler over ice. I'm using an ice sphere again because I'm obsessed with how they look.
For the garnish, peel a large piece off the grapefruit. Hold it over the glass and roll it up so that the oils get all over the rim. Then, once it's rolled, use a toothpick or a cocktail sword to skewer it so it looks a little like a rose or rolled ice cream.