I feel like 2016 is the year of the grapefruit for me. I just keep making you grapefruity things. My fiancée hates this — she doesn't care for grapefruit at all. But she's in Chicago for a whole month and I'm sad about it, so I'm trying to look on the bright side. I can make all the grapefruit cocktails I want in the next month, and not have to make something extra or different. It's a meager consolation prize, but I'll take what I can get.
The De Rigueur is a simple drink consisting of bourbon, grapefruit juice and honey. It also uses one of my favorite drink ratios — 1.5 oz. of the main liquor, 1 oz. of another sort of flavoring (could be liquor, could be fruit juice, the sky's the limit!), and 0.5 oz sweetener. You can put that ratio in your pocket and just apply it to any combination of liquid that sounds good. But I want to spend a little time talking about the most tricksome ingredient on our current list: honey.
We've made drinks with honey before, and it's notoriously difficult to work with. First off, it's sticky and hard to measure. Second, it doesn't dissolve into cold liquid, which means you wind up adding more honey than you need in hopes that enough of the flavor transfers when you shake shake shake it up. But on this day, I say no more! I say we figure out a better way to use honey in cocktails. Enter honey syrup—made almost the same exact way simple syrup is made, and for the same reason. Sugar doesn't dissolve easily in cold liquid either. So what do we do? Dissolve it in simmering water first. Simple syrup is made using a one-to-one ratio of sugar to water, and by most accounts honey syrup is made using a one-to-one ratio of honey to water. But I decided to go with a two-to-one ratio. Two parts honey, one part water. My exact measurements were 0.5 cups honey and 0.25 cups water. Simmer until all the sugar dissolves. You can stick this sucker in a glass jar and store it in your fridge for up to two weeks, which means you'll have the perfect excuse to make more than one of these. Here's how.
Before You Begin
Make your honey syrup and give it some time to cool. Otherwise you'll be like me, pouring it right from your saucepan into the jigger. And that's hard and makes a mess. Do better—get it made and in a jar first.
You Will Need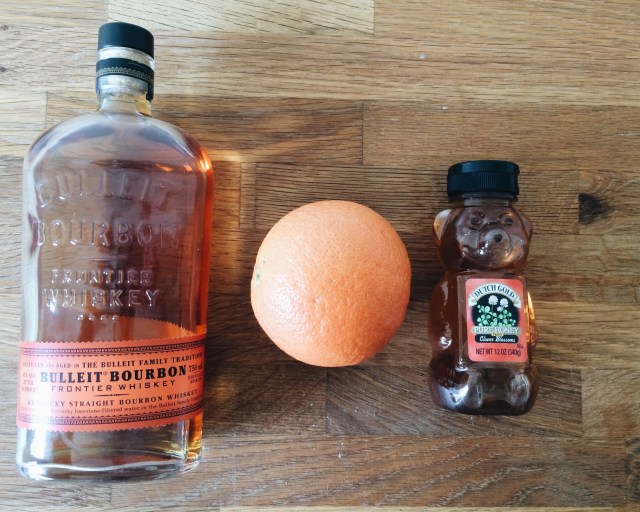 1.5 oz. bourbon (I'm using Bulleit)
1 oz. fresh squeezed grapefruit juice
0.5 oz honey syrup
a shaker and some ice
a jigger for measuring
a Hawthorne strainer
a fine mesh strainer
If you'd like ice in your final drink, choose a glass (I'm using a tumbler) and ice it up, then set it aside. I'm choosing not to do this step because, as you might know by now, I prefer most drinks neat. That's the beauty of making things yourself instead of asking a bartender to do it — you get to have it your way.
Next, fill your shaker halfway with ice. Pour the bourbon in, followed by the grapefruit juice and the honey syrup. DO YOU SEE HOW EASILY IT POURS? Gosh, honey syrup is my new favorite thing.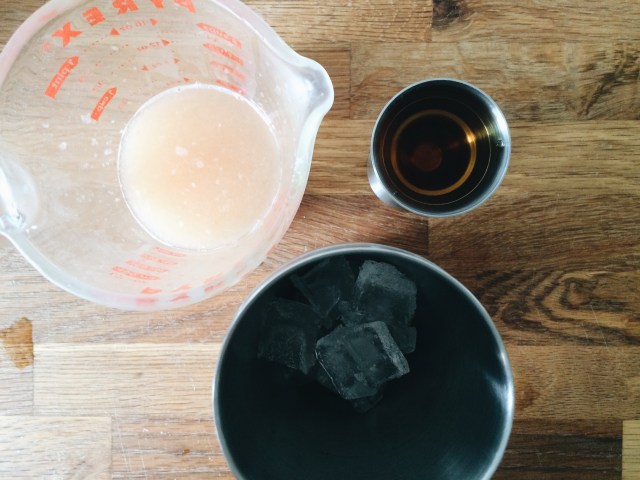 Shake it up until the outside of your shaker is cold. If your shaker is double-walled like mine, only the top of it will get cold. That's fine and normal. Remember that shaking drinks isn't just to mix things up or, in this case, emulsify the honey. It's also what makes your drink cold.
Then if your grapefruit juice has pulp in it, as mine did because I jostled my juicer, you're gonna wanna fine-strain it. That means using both a Hawthorne strainer AND pouring it through a fine mesh strainer. Double strained! No pulp! Garnish it with a grapefruit peel!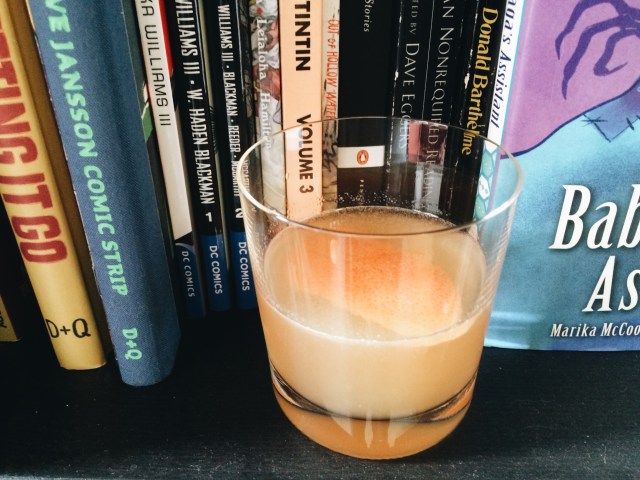 The finished product is a beautiful light-pink-amber drink that's perfect for lounging about on roofs or balconies if you're lucky enough to have such a space. I'm just over here in New York City, sipping on this cocktail and sweating in front of an AC unit in my tiny apartment. Somehow this drink makes me feel better about that? This is one of my favorite drinks and I highly recommend you try it out.
Cheers all!