I know next to nothing about rum. My knowledge-base is far more aligned with the whiskey, which honestly is a miss on my part. It's not as though I don't enjoy rum; I love rum. So when Flor de Caña rum reached out to me and said hey hey, we've got rum that's distilled at the base of an active volcano and we can tell you about science, I was like SCIENCE AND LIQUOR IS A PERFECT CONFLUENCE OF MY INTERESTS AND ALSO THIS FIXES A BLIND SPOT I HAVE. So I spoke to brand ambassador Ashela Richardson, who also happens to be an environmental scientist. And I asked her a TON about what goes into distilling rum! Here's a lil' bit of those answers, followed by a recipe, and then finally a little note from me. Because this is my last post as Staff at Autostraddle.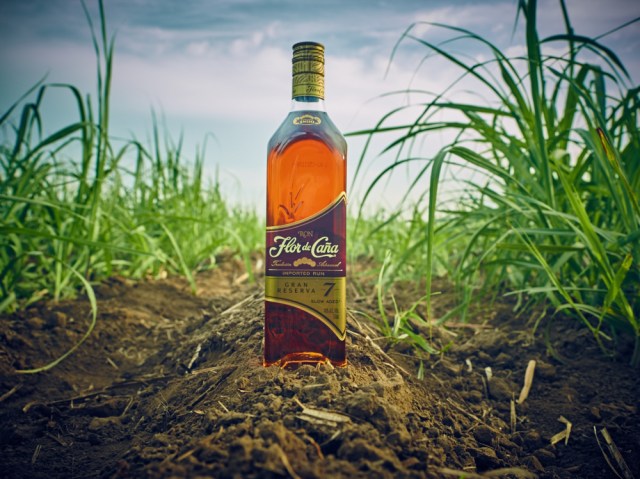 ---
What does the distillation process for rum look like? 
Rum can be distilled in a variety of ways; traditional pot stills, column, hybrid, or continuous column stills from a mash of either molasses or cane juice.
Sugarcane is the base ingredient of all rum and is biologically classified in the grass family.  Thus, the cane juice tends to be grassy in nature producing more vegetal congeners (flavors) in the rum.  Molasses, on the other hand, is a co-product of the processing of sugarcane into granulated sugar and has a caramel-like quality to it.
There are many unique flavors to explore in aged rums from heavier pot-distilled rums to lighter column distillations. Pot distilled rums tend to have a much more rich palate and oily mouthfeel compared to lighter more rectified column distilled rums. Both types of distillation produce premium rums that are then aged for varying amounts of time in wooden casks.
So I'm looking at the Flor de Caña website and I'm reading this: "The fertility of its soil, the enriched water and the volcanic climate to which the barrels are exposed during the aging process contribute in creating a singularly smooth and deliciously balanced rum.wp_postsScience me! What about these conditions make for a unique rum?
Nicaragua is one of the most seismically active places in the world, with 19 active volcanoes along the Pacific coast! The San Cristobol volcano is near the Flor de Caña distillery and erupts on a small scale frequently. All of our rum is aged a minimum of 4 years before being blended with other higher age statements and bottled. The heat in this volcanic area warms our Rickhouses and casks of rum. The American Oak ex-bourbon barrels have beautiful congeners (flavors) that impart on the rum over time and the hot environment catalyzes the process.
The oak maturation process is very complex, with many reactions happening simultaneously. Alcohol reacts with organic acids in the wood that produce new esters (aromas, flavors) in the liquid. The warm barrels release more of the embedded bourbon flavors out of the wood, adding more flavors to the rum. Also, as liquid vapors escape from the porous wood of the cask, the headspace of oxygen in the barrel increases and that oxygen slowly dissolves into the liquid, oxidizing certain compounds, softening the palate. Some of the vapors that escape are thought to be pungent, unwanted Sulphur compounds. It's really a combination of our perfected process and 126+ years of family tradition combined with the unique volcanic ecosystem that makes the aging process so impactful on Flor de Caña. All of our barrels are kept as a single age statement until blended with other age statements for balance and flavor. This means that we have great control over the flavor profile of each bottling.
What are the hallmarks of a good "sipping rum?wp_postsI'm quite into whiskeys, and I know a lot about what sort of notes I'm tasting in those—but I don't have the same knowledge-base for rum.
Put simply, a good sipping rum has been aged in oak casks for long enough that a bouquet of oak, vanilla, baking spices, roasted nuts, dried and tropical fruits, orange peel and maybe some tobacco or cacao are present, but not in a way that anyone aroma or flavor dominates the liquid. You should also be able to perceive the base ingredient of the distillate, whether it was molasses or cane juice. Molasses-based rums tend to have a more caramelized array of flavors, whereas cane juice rums are much more floral and vegetal.
How does one go about tasting rum and talking about rum, in your opinion? What are some good rum words to know and use?
I think it is important to understand the differences in styles of rum. Most importantly molasses or cane juice. The flavor of molasses is caramelized; brown sugar to resin depending on how much sugar is extracted. The flavor of cane juice is green and vegetal, like the grassy nature of the sugarcane plant.
Know the difference between flavoured, spiced, unaged and aged rum. Rum has very few rules of production, resulting in a category filled with different styles to try.  Also, note the origin of the rum to develop a deeper knowledge of the variety of flavor profiles (like the flavor of Jamaican rum vs. Nicaraguan vs. Barbados)
Tasting rum is the same as getting to know any other spirit. Go slowly, nosing as much as you can, try to perceive the flavors first on the nose. Banana, roasted nuts, dried red fruits, orange peel, baking spices, oak, caramel, molasses maybe?
---
Third Rail Recipe
This recipe is called a Third Rail and I got it from the book And a Bottle of Rum: A History of the New World in Ten Cocktails. Basically it's a Bronx cocktail, but with rum!
You will need: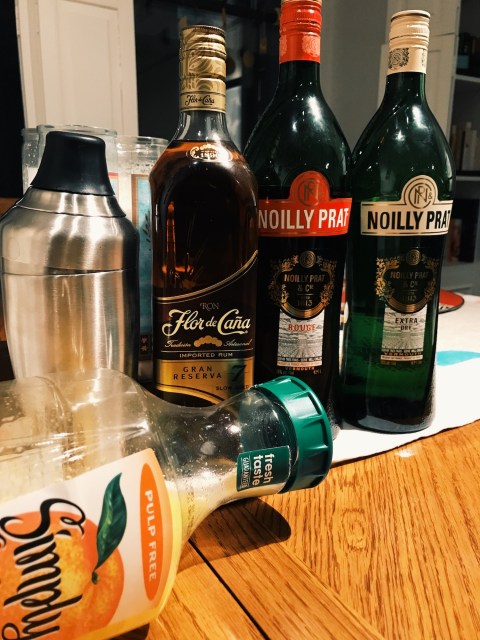 2 oz of medium body rum, I'm specifically using Flor de Caña 7 year

0.5 oz of orange juice (I'm using store-bought instead of fresh squeezed because I just came from the gym and I actually hurt too much to juice an orange, please don't make fun of me I'm made of spaghetti)

0.25 oz sweet vermouth

0.25 oz dry vermouth
This is a shaker drink, because any time there's juice, you wanna shake. So fill your shaker halfway with ice and dump basically all of this in. Give it a shake shake shake, making sure no one is standing behind you and no antique vases are in your vicinity because that's asking for misfortune.
Strain it into a tumbler with some fancy fancy ice and serrrrrve. Or, if you're me, serve it to yourself and cry a bunch while you write a farewell paragraph.
---
Well y'all. Well. I've been here almost six years. This is the longest running job I've had, and the longest time I've called a community home. I still hope that second thing will be true as I leave to get deeper into my Professorial duties! I'm going to miss all of y'all terribly, but I'll still be at A-Camp and you can certainly still find me on Twitter, Instagram and my own damn website. See you all on the internet. I love you dearly.