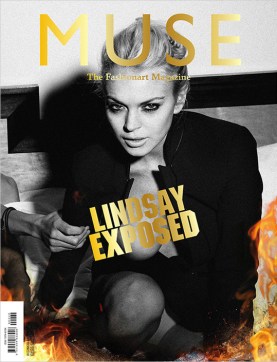 LINDSAY LOHAN: First comes Marilyn Monroe, then comes Madonna, then comes a "raunchy new ménage à trois magazine photo shoot inspired by Kate Moss and Johnny Depp's fiery relationship" for MUSE magazine. I actually thought at first the cover [right] might be a parody. I don't like it, though it's basically guaranteed a spot on next year's Hot 100. I also thought that Lindsay was shooting a racy new ménage à trois magazine photo shoot for Purple Magazine with Terry Richardson this month, which further goes to show that Winter 2009 is Threesome Season. Also, the article claims Lindsay has been "linked to a string of men" since her breakup with Samantha Ronson WHICH CANNOT POSSIBLY BE TRUE BECAUSE LINDSAY + SAM = FOREVER END OF STORY.
"The three of them were very sensual and provocative, but Lindsay understands this piece was created not for any sensational value other than artistic integrity," Yu Tsai said. "There was never a discussion about pushing the boundaries. She was totally comfortable with the nudity as long as it had artistic integrity … When you see her nipple, it just happened in the moment. She was playing the role of Kate Moss — you're at a party and you are with a guy you really love and another girl." It's a good thing LiLo is such a good actress and can pretend to be in love with someone other than her ONE TRUE LOVE.
VENICE: First episode is UP UP UP! Queerty asks: What Soap Opera (and The Hills) Stereotypes Will Lez Series Venice Adopt?
GAGA: Shady lady: The truth about pop's Lady Gaga. The reporter from the Times Online seems sort of aloof about spending time with our favorite human being. Clearly today's theme is "no one understands our favorite bisexual lady idols but us."
"Gaga insists on explaining the concept of her show, which is on the wildly original theme of evolution. "It's part pop show, part performance art, part fashion installation. It came about because as an artist, as a writer, as a woman, I feel I've evolved so much.wp_postsBut then she goes on: "My evolution is from the beginning of time, so I start as a cell [she shows me a costume like a geodesic dome], and then I become a vertebrate, and then I become a full animal, and there's the birth of the economy, and trade and war, and then it's the Apocalypse." (@timesonline)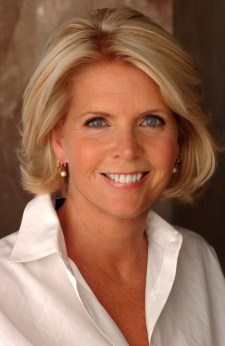 MEREDITH BAXTER: Ah yes, we cannot possibly have a good coming out story without its requisite companion piece, the "women coming out in mid-life" trend piece. Oprah did it like three times already this year, and now The Washington Post is cashing in:
"It's extremely common," "sexual identity researcher Lisa Diamond says. "The standard narrative that folks are used to hearing — if you have same-sex attraction, you got it when you were 9 and either acted on it or repressed it — is an oversimplification."Some women will say, 'I had attractions to friends over the years,' but not necessarily interpret that as homosexuality." When it finally dawns on those women, Diamond says, "It's like, 'Oh, my gosh, that's what that is!'"
In fact, she says, sexual desire isn't always the driving force for women moving from heterosexuality to homosexuality. "Later-life transitions are often tied to a strong emotional bond," she says. Women may feel "I love my friend so much, it makes me wonder what's the difference between this and romantic love."
Groan.
LESBIANS LOVE SEA MAMMALS: The New York Times does a semi-fascinating profile on Ryan Seacrest [who's "peculiar ambition and accomplishment is to be both everywhere and nowhere"] you might genuinely find moderately interesting. "He's like a lifeguard, or a doorman, always present, never obtrusive." (@nytimes style)
GIRL 'ZINES: In her new book, Girl Zines: Making Media, Doing Feminism, feminist author and women and gender studies professor Alison Piepmeier tackles the historical significance of women and do-it-yourself publishing. Zines, Piepmeier explains, are much more than '90s riot grrl staples. MUST OWN RIGHT NOW! (@afterellen)
SCRUNCHIE THIS: "Ron Livingston, who ruined Sex and the City for nearly a season by playing whiny Jack Berger, is suing an anonymous Wikipedia author who keeps updating Livingston's stub to say he's not only A Gay, but A Gay who is dating someone named Lee Dennison." While I defo agree that we need some repercussion for anonymous online people who talk smack, this seems kinda REDIC, and besides, "courts have stopped ruling that being called gay — whether you are or are not — is defamation." GAY MEANS HAPPY, PEOPLE, GAY MEANS HAPPY! (@queerty)