Hey did you hear that Lindsay Lohan was sentenced to 90 days in jail for violating the terms of her 2007 DUI arrest? Apparently, in 2007, Lohan was sentenced to three years probation, one day of jail time, a fine and 10 days of community service after the arrest, and she's missed 9 alcohol education classes since, which is a problem. God do you even remember what you were DOING in 2007? I don't. I feel like I was cuter then, though. I look weird now.
Anyhow we have this inexplicable obsession with covering Lindsay Lohan but I'm just going to copy-paste from TMZ, so that you don't have to go to that website, because going there will make you feel gross and we won't make you feel gross ever, promise/promz:
Judge Marsha Revel sentenced LiLo after an incredulous prosecutor, Danette Meyers, told the judge that Lohan has been thumbing her nose at the court.
The evidence was loud and clear today — Lindsay violated probation by failing to attend her alcohol ed classes based on the schedule set by the judge.  There were lots of excuses, but ultimately they didn't fly.
The judge said there was a pattern of violations since Lindsay was placed on probation in 2007 following her plea bargain in her DUI case.
Lindsay broke down as she addressed the court, telling the judge, "I did the best I could."
Lindsay dissolved into tears when the judge imposed the sentence.
Lohan must surrender on July 20 in Judge Revel's court.
UPDATE: Sheriff's spokesperson Steve Whitmore just explained … generally, a female inmate in  Lindsay's situation only serves 25% of their sentence … which means LiLo will most likely spend around 23 days behind bars.
We are sad about this because it hinders her chances of getting back together with Samantha.
Anyhow, we can't say if Lohan's "getting what she deserves" — I guess we have to assume that she is, 'cause that's what the ruling says — but this "ding dong the witch is dead" attitude all over the freakin' internet is so gross.
Anyhow, there are lots of gay ladies in jail, for example:
+ Lady Gaga in "Telephone"
+ Everyone in The L Word in that one episode of Season One
+ Helena in The L Word in Season Five
+ Characters in Lesbian Jail pornos
+ Bad Girls, the BBC series about lesbians
Also, someone let Michael Lohan near the courthouse, and he delivered a letter of some sort about it being her last chance to save on car insurance or her last chance for a last dance or her last dance with Mary Jane. I don't know, every time I hear that man's name in a sentence followed by a verb, my head goes into some kind of psycho-panic and I can't read straight, which I hope is also his excuse.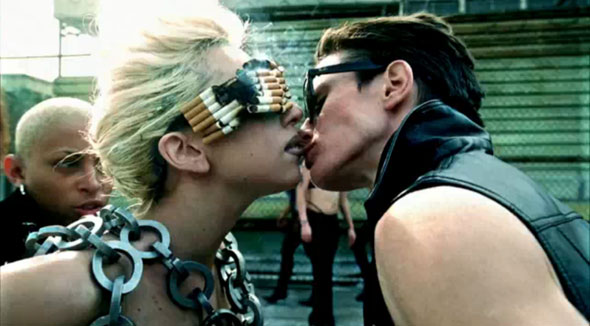 No, in all honesty, we were rooting for Lindsay Lohan, and for some reason so beyond us that it must somehow be written in the stars, we felt a slight & distant tinge of sadness for this human because she has something special in common with us, something unique, and she spoke freely of her relationship, no matter what the consequences. We wanted redemption on a few levels, including political. (We do not, in any way, condone drunk driving!! DON'T DRINK AND DRIVE. Seriously. People die, don't fuck around.)
For all her failures (which we saw, no matter how much we tried not to — as a gay website, this shit flies across our radar each day, and the relentless negativity is ASTOUNDING), Lindsay Lohan was a girl who did what she wanted to. She was bad. She fucked up, she relapsed and rehabbed and she spilled her feelings to a room. She resisted her father's attempts to control her, she dated girls, for f*ck's sake. When yelled at, she yelled back. When hurt, she cried. A while after she'd started dating Samantha, she wrote an indignant MySpace blog all about gay marriage and how unfair it was that the laws weren't equal and  you could tell she'd never thought/known about it before, and that newness and earnest desire to impact the world suddenly was sort of cute and inspiring, as much as it was tepid. When her career was in the shitcan, Lindsay went to fucking India to help people and said she was making a documentary there, when it was perfectly obvious the media would find a reason to hurt and insult her there, too. We never have any idea what's really going on with her because most of the stories we hear are imaginary, so it's like a fill-in-the-blanks game of celebrity bingo. But she is a woman who everyone is yelling at all the time, and she is not evil. She has not spilled oil on you or started a war. Yet it's relentless: the attacking, the judging, the cruelty. She is a woman who everyone is yelling at all the time and who nobody knows, and nobody should yell at a person all the time!
Oh also, she's not dating the Israeli girl, Eliat, 'cause Eliat already has a girlfriend.
Anyhow, anyone who thought about her having sex with a girl in jail when you found out, take a drink, and then go read a book.