by carolyn & riese
Books! They are really great. You just won't believe how great they are. You may think that the Internet's great, but that's just peanuts compared to books. Welcome to Lez Liberty Lit, our new column about literary shit that's happening that you should probably care about. We're aiming to put one of these together twice a month.
The name "Liberty Lit" was inspired by the short-lived literary journal produced by Angela Chase at Liberty High School in 1994.
Header by Rory Midhani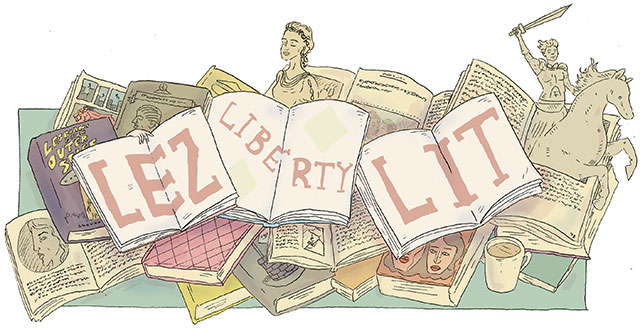 ---
Literary Internet Place of the Week: Bookslut
Founded by Jessica Crispin in 2002 because she hoped publishers would send her free books, Bookslut is a lit blog that talks about the types of books that you may or may not have heard of. Recently, it published: an interview with Naomi Alderman, a defence of short books and a piece on restlessness and sleep. Read it for: irreverent reviews, excellent recommendations and any of its columns.
The 100 Best Lesbian Fiction and Memoir Books of All Time
We've decided to break into the list-making industry by having you — YES, YOU! — vote on the best lesbian fiction & memoirs of all time. Go to Goodreads to nominate books and vote on books that have already been nominated. Feel free to add a lot of books to the list! If you don't have a Goodreads account, it's pretty easy to register — you can sign up and vote and never return again, if you so desire. Wanna jog your memory? Check out our many lists of LGBT books.
On November 25th, voting will cease and we'll publish The Autostraddle Readers' List of The Top 100 Lesbianish Fiction & Memoir Books Of All Time. You definitely want to be a part of it.
Lit Links:
At Racialicious, Thea Lim discusses Junot Díaz, race and gender. Lim argues that the idea that Díaz is beloved because of his gender rather than his writing overlooks the fact of his race, and that suggesting he would not be as acclaimed if he were a woman is not a way to solve unfairness in publishing.
Natalie Samson writes about the evolution of queer YA and how, though there's more of it, publishing it remains a political statement. She also talks to Mariko Tamaki (author of Skim and (You) Set Me On Fire), Michael Harris (Homo), Paul Yee (Ghost Train and Money Boy) and Ivan E. Coyote (One in Every Crowd).
Chris Colfer's new book Struck by Lightning: The Carson Philips Journal is coming out next week. A companion to Colfer's forthcoming film Struck by Lightning, the book is about what happens when you blackmail people to get into a school literary journal to get a fancier college application so you can be the editor of the New Yorker.
Ann Bannon's lesbian pulp fiction classic Odd Girl Out has been turned into a play. And it's getting good reviews.
In honour of National Novel Writing Month, the Awl has a series on the novel I never wrote.
The Lesbrary posted reviews of Madeleine Lycka's Night Weaver, an erotic lesbian vampire romance; Val McDermid's Trick of the Dark, a psychological thriller, and Paulette Mahurin's The Persecution of Mildred Dunlap, historical fiction that addresses the impact of Oscar Wilde's conviction for indecency.
At Lambda Literary, Amy Scholder, editorial director at the Feminist Press, discusses transgression, freedom and editing Pussy Riot! A Punk Prayer for Freedom. Brandford Nordeen interviewed Chris Kraus about her new book, Summer of Hate. Anna Furtado reviewed Radclyffe's Crossroads, a new medical romance. Theodore Kerr reviewed Urvashi Viad's Irresistible Revolution: Confronting Race, Class and the Assumptions of LGBT Politics, which questions the idea of queer progress to date and argues that moving beyond acceptance, holding queer organizations accountable, eliminating racism and misogyny and better organization are essential.
Maria Popova wrote about My Ideal Bookshelf, a collection of illustrations and interviews about the ideal bookshelves of famous creators. She quotes Pico Iyer:
"What more could one ask of a companion? To be forever new and yet forever steady. To be strange and familiar all at once, with enough change to quicken my mind, enough steadiness to give sanctuary to my heart. The books on my shelf never asked to come together, and they would not trust or want to listen to one another; but each is a piece of a stained-glass whole without which I couldn't make sense to myself, or to the world outside."
At the Rumpus, Jennifer Bowen Hicks interviews Nanette Vonnegut, Kurt Vonnegut's daughter, about her work, her family and her dad.
Famous authors' first author photos look exactly as awkward as you'd expect.
In recent releases: T Cooper's Real Man Adventures is a memoir about masculinity, gender and identity. Monica Transandes' Broken Like This is a novel about a secretly pregnant comatose woman. Born this Way: Real Stories of Growing Up Gay is a new collection of queer childhood memories.
The first 20 books in the Baby-Sitters Club will be released as ebooks on December 1.
For your weekly "future of print" fix, check out Marginal Revolution on the dark future of Apple Penguin Random House and Maddie Oatman on Robin Sloan and low-tech.
The National Book Awards were last night! The winners were William Alexander for Goblin Secrets (young people's literature), David Perry for Bewilderment (poetry), Katherine Boo for Behind the Beautiful Forevers (non-fiction) and Louise Erdrich for The Round House (fiction).
Meanwhile in Canada, the winners of the Governor General's Literary Awards were announced Tuesday. Recipients include Linda Spalding for The Purchase (English fiction) and Ross King for Leonardo and the Last Supper. Canada Council has the full list.
Don't forget to check out all the awesome book-related things we published recently: the absolutely epic Q&A with Emily M. Danforth, author of The Miseducation of Cameron Post, for the Autostraddle Book Club; Hansen on Ivan E. Coyote's One in Every Crowd; and Carmen on Rae Spoon's First Spring Grass Fire.
I Work At The Public Library is a fun and hilarious blog from a person who — you guessed it! — works in a public library where patrons call to see if she's wearing tin foil.
The Guardian is running a new short story by Alice Munro. This is how it starts:
"When I was five years old my parents all of a sudden produced a baby boy, which my mother said was what I had always wanted. Where she got this idea I did not know. She did quite a bit of elaborating on it, all fictitious but hard to counter.

Then a year later a baby girl appeared, and there was another fuss but more subdued than with the first one.

Up until the time of the first baby I had not been aware of ever feeling different from the way my mother said I felt. And up until that time the whole house was full of my mother, of her footsteps her voice her powdery yet ominous smell that inhabited all the rooms even when she wasn't in them."
Books And Events To Watch Out For:
Now to November 18, Miami: The Miami Book Fair (Miami Dade College, Wolfson Campus) is featuring queer authors such as Susie Bright, Jeanne Cordova, Emma Donoghue, Camille Paglia and Justin Torres (South Florida Gay News has the whole list). Tickets are $10 for evening events and $8 (or, on Friday, free) for the street fair.
November 17, San Francisco: The Godless Perverts Story Hour, an evening of stories and tutorials with Maggie Mayhem, Greta Christina, David Fitzgerald, Chris Hall, M. Christian, Dana Fredsti, Anthony O'Con, Loren Rhoads and Simon Sheppard, will be at the Centre for Sex and Culture this Saturday (1349 Mission St., 7:00 p.m.). There is a suggested $10-$20 donation but no one will be turned away for lack of funds.
November 17, New York: The Lesbian Herstory Archives is holding a reading to celebrate Audre Lorde and Adrienne Rich. Events start at 12 p.m. and all go to 2 p.m. (484 14th St., Brooklyn).
November 22, Ottawa: Ivan Coyote and Rae Spoon's show, Gender Failure, is coming to the Kailash Mital Theatre (1125 Colonel By Drive, at Carleton) at 7:30 p.m.
November 26, San Francisco: Ellen Forney, author of Marbles: Mania, Depression, Michelangelo, and Me: A Graphic Memoir, is reading at 7:30 p.m at the Booksmith (1644 Haight St).
Now to December 16, San Francisco: The New Conservatory Theatre Centre is running The Submission, a play about a gay author that explores affirmative action and bias in literary contests. Saturdays at 8 p.m., Sundays at 2 p.m., $25-$45 (25 Van Ness Ave. at Market, lower level).
Now to January 31, New York: Strange Loop Gallery is collaborating with the Bureau of General Services, Queer Division, to create a pop-up bookstore and event space at Strange Loop Gallery (27 Orchard St.). The grand opening is Nov. 15 from 6 to 9 p.m.