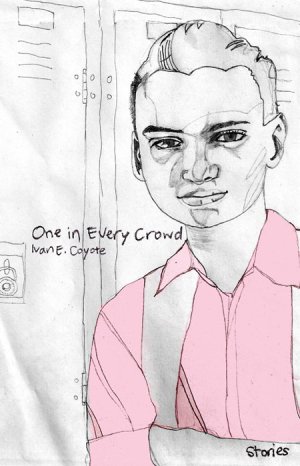 Ivan E. Coyote (who you may remember best from that video we all love around here about femmes) has a new book for LGBTQ youth, One in Every Crowd. The best part about One in Every Crowd is that it's not just for youth, it's for every person in the world who has ever felt left out, bullied, weird or out of place. So, basically everyone in the world can relate to this book to some degree.
The book is divided into six sections, weaving together an overarching tale about Coyote and their family: Coyote's childhood in the Yukon ("Kid I Was"), Coyote's family ("Family I Have"), a boy named Francis ("That Boy"), other kids who have inspired Coyote ("Kids I Met"), the aptly-titled section about ignorant people ("Folks I Felt It Necessary to School in Some Way or Another, with Varying Degrees of Success") and to round it all out, "Wisdom I Found, Learned, or Was Given". The short stories (emphasis on short; most of the stories are only about three pages) follow Coyote's childhood, starting from them passing as a little boy at swimming lessons through to adulthood, focusing a lot on their experiences as a storyteller in high schools and their familial relationships.
Although the promotional materials labels this as a book for queer youth, it seemed as though it was actually more of a compilation about Ivan E. Coyote's queer youth. One in Every Crowd could easily be read as an extended It Gets Better story. Childhood hardships, compassion for youth going through crises, a success story in the end about getting married to an amazing woman — One in Every Crowd hits all the bases. In fact, Coyote has a story in the It Gets Better book.
Sidenote: the story about how Coyote proposed to their new wife is in this book and it's really sappy and adorable.
The book's strengths lie in the way you, as a reader, become so connected to the stories and interested in the entire group of family and friends because you know these intimate details about all of their lives and the same characters come up over and over again. You empathize with Coyote's cousin Christopher as a clumsy, awkward kid, you become invested in their father's wellbeing, you worry about the way Francis might turn out — you honestly feel as though you are catching up with a friend over coffee who just happens to tell amazing stories and gesture wildly and gush about the woman they're going to marry. The level of connection this book forms with the reader is unique and not easily achievable, but Coyote does it effortlessly.
My favorite stories in the compilation are the ones about Francis, the child of Coyote's friend. We first meet Francis as a three year old, prancing around a log cabin in the middle of nowhere, wearing red socks and a tube top. Coyote is amazed that anyone can think gender definitions are something everyone is born with if a young boy, having almost no contact with society, can be so flamboyant and feminine and wonderful. Over the course of four stories, we follow Francis up until he is eleven, kicking a soccer ball on a playground with friends, wearing jeans and a t-shirt, calling his friends "faggot" just like the rest of them. It's heartbreaking to watch Francis go from telling Coyote "I like to wear dresses" to seeing him change out of his favorite dress when he learns someone from school might be at Coyote's reading that night. Coyote's heart breaks for Francis, too, hoping he finds some way to fit in without completely losing his incredible sense of self. This is a recurring theme through the book: Coyote connects with LGBTQ youth, wanting them to be safe and happy and able to openly be who they really are.
This is the book I wish I had when I was fourteen, having feelings for a girl for the first time and lying in bed at night, hoping I wasn't weird and gay. This is the book I want to give to my best friend's younger sister, who just carved a girl's initials into her leg when they had a fight. This is the book I want school libraries to promote, in hopes that one lost kid can feel less alone.