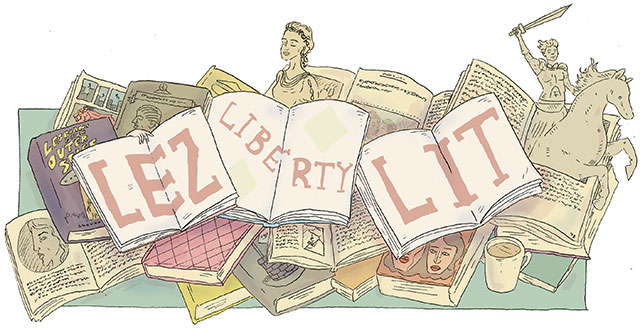 Hi and welcome to this week's Lez Liberty Lit!
Things About Queer Books (And Other Books Relevant To Your Interests)
No women won the Nobel prize this year. In its 115-year history, only four black women and 48 women total have won. For some reason Bob Dylan won for literature, probably so a bunch of white men could congratulate themselves on pretending to be groundbreaking.
Some of the biggest literary news of the last few weeks is the doxxing of Italian writer Elena Ferrante, because I guess why respect someone's right to privacy even though she's made it clear over and over how much she values her anonymity when instead you can broadcast information about her taxes and how her family did in the Holocaust because you, a man, essentially want to punish her for being successful. No I am not linking to the NYRB piece itself. But Ann Friedman wrote about the similarities between Elena Ferrante and Kim Kardashian, and explores "the bigger picture of privacy — and how women are punished when they are perceived as revealing either too much or too little about themselves." (Notably: 'The writer Laura Snapes summarized the worst reactions: 'Elena: so private she 'deserves' to get doxed. Kim: so public she 'deserves' to get robbed at gun point.'") Jia Tolentino also drew conclusions about the intrusions both women have experienced, noting, "The problem is larger, I think, and trickier, and located earlier in the formation of a woman's ambitions. As it relates to non-celebrities, at least, the problem is not so much about what happens to women after they become established and successful. The problem is that a woman retains so many obligations to so many people that she must, almost always, strip-mine her selfhood to achieve that success and security in the first place." Hannah Gold writes about how the situation illustrates "an instructive distinction here between one who has something to say, and one who merely wants to be the person to say it." I also loved Charlotte Shane's series of tweets about it.
What we write about when we write about witches:
"When we write witches into our stories, that is what we're writing about: power. When we write witches, we are writing about our expectations of women, and what we hope—and fear—they would do if they had access to power. Fictional witches act as ciphers that help us understand something that seems at once mysterious and brilliant and sinister: a woman's ultimate, unlimited potential… realized."
Queer YA book covers often walk a line between subtle and not. At Book Riot, Tirzah Prince discusses what's out there right now and "all sorts of covers for all sorts of readers." Plus, 10 hilarious gay book covers from the 1990s.
We need more trans stories.
There are only a few queer YA books by or about Asian people but here are five to add to your reading list.
Upstream, a recent essay collection from Mary Oliver, contains "meditations on inescapable, physical life and the world beyond any screen." At the Millions, M. Sophia Newman notes: "This book is thought-provoking, and it does go somewhere. Where it goes is ultimately up to the reader — whose mind, after all, is the soil in which Oliver's contemplative turns of phrase will bloom. Oliver expresses clearly that nature is our equal, if not our better, and that the nonhuman world offers a wellspring of insight to those who pay careful attention to it."
Mary Gaitskill was profiled at the LARB.
An unprecedented number of people want to visit the Smithsonian Institution's National Museum of African American History and Culture, in some cases lining up at 4 am to get passes.
Reading is physically good for you.
Check out these personal narratives from women's prisons.
"[B]eing queer in the library is not as safe as it should be."
What if a map of New York paid homage to women?
Shirley Jackson's work should be seen as proto-feminist.
Queer books are often banned.
Book Things To Do
31 October, online: Submissions for #Trans, an anthology about trans and non-binary experience, are due.
Know of a queer event with literary merit? Send it to us! The Liberty Lit is bi-weekly.
---
Books! They are really great. You just won't believe how great they are. You may think that the Internet's great, but that's just peanuts compared to books. In Lez Liberty Lit, we talk about queer books and literary shit that's happening that you should probably care about.
The name "Liberty Lit" was inspired by the short-lived literary journal produced by Angela Chase at Liberty High School in 1994.