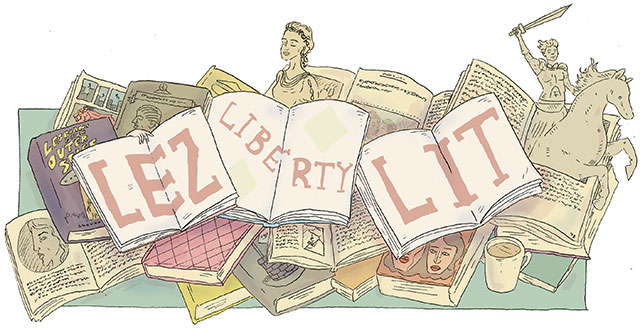 Hi and welcome to this week's Lez Liberty Lit! Actually my fever is literal so a short one this week. Maybe use the extra time to get a flu shot.
Things About Queer Books (And Other Books Relevant To Your Interests)
"There is absolutely no how-to guide for the perfect tomboy," says Ivan E. Coyote, author of Tomboy Survival Guide, in an interview at the Los Angeles Review of Books:
"I have always loved manuals; to me they were a way to gain knowledge and competency about often male-dominated interests of mine. Mechanics. Rope. Carpentry. Electricity. Music. Archery. Knives. Tools. Scouting. Fishing. How to build a booby trap. Survival. I spent a lot of time in the shop and on jobsites with my dad and my uncles, too, but I sometimes had to fight a lot of sexism and weird shit around being a girl and wanting to do those things, and there was even sometimes a weird pushback if I was too good or showed a natural ability with certain skills. Manuals circumvented the patriarchy and allowed me to learn without that hassle."
At LitHub, Gabrielle Bellot asks, what counts as transgender literature?: "Transgender literature need not be bound by any strictures of form; it is often subversive, whether or not we want it to be like this, simply to be openly ourselves, and a literature that can be as formally open-ended, as stylistically fuck-you as it wishes, is a fitting one, indeed. Let our books be as conventional or genre-expansive as they like."
2016 was mostly a trash fire, but it was actually really great for fiction from writers of Asian descent published in English:
"The obvious examples are Viet Thanh Nguyen's The Sympathizer and Han Kang's The Vegetarian, 2016 winners of the Pulitzer and Man Booker International Prizes, two of the best-known anglophone literary awards. But there's been a profusion of less high-profile books by Asian Americans that merit celebration as well. I'd like to tell you about them, though I find I pause over the words I've just used: bonanza. Profusion. What I really mean is that it's a relative bonanza, a profusion compared to the more usual lack."
Graphic designers picked the best book covers of 2016. And Bethanne Patrick picked 10 overlooked books by women in 2016. And here's the year in library news.
Plus, here are six audiobooks to listen to by trans authors. And here are six YA novels to read by indigenous women.
There's weird stuff in old books.
"Telling stories about young women who are in charge of things still seems as urgent as it did thirty years ago," writes Brooke Hauser, chronicling the feminism of the Baby-Sitters Club at the New Yorker:
"The books, while primarily intended to entertain, packed in more than a pinch of kid-friendly feminism. They pass the Bechdel test—adapted here to mean a work of fiction featuring at least two girls talking about something other than a boy—and arguably pass the more recently conceived and more loosely defined DuVernay test, a similar metric for racial diversity. (Though most of the sitters were white, Jessi, a club member introduced two years into the series, is black, and Claudia is of Japanese descent.) 'I wouldn't say that I had a feminist agenda, but I certainly had a feminist perspective,' Martin told me. 'I think of myself as a feminist. I wanted to portray a very diverse group of characters, not only from different racial backgrounds, but from different kinds of family backgrounds, religions, and perspectives on life. I just really wanted a group of girls who were very different from one another and who became very close friends.'"