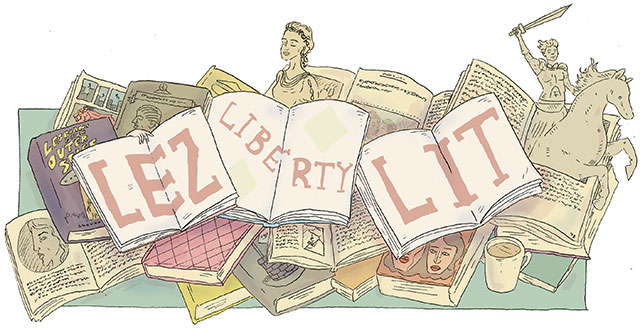 Hi and welcome to this week's Lez Liberty Lit!
Jenny Odell talked to the Creative Independent about her creative process, birdwatching and paying attention differently:
"I realize that not everyone can go outside right now, but as an example, I've been going on the same walk over and over again. I live at the bottom of a hill, and on maybe the fourth or fifth time walking up this hill, I just started wondering, "What's the deal with this hill?" Since then I have been obsessively looking at Google Maps, trying to grasp the shape of this area. I started reading this Oakland Geology blog and exploring questions like, "Why is there this canyon here?" Or, "Why, when I stand here, can I see this view?" I don't think I would've thought about that stuff otherwise. So it's about paying attention to that—the thing that was right under your nose the whole time—and just really examining it. This type of noticing can be very grounding."
Two Black queer writers have won 2020 Pulitzer Prizes.
"Quarantine has shut down the part of ourselves that is constantly unsatisfied because we can't live out all the possible lives we're told are available if we just work hard enough. Quarantine enforces strict guidelines to live by. Ironically, I find it freeing, and I'm nervous to leave the bubble," writes Mica Lemiski on the urgent need to rethink the relationship between productivity and wellness.
In an interview with Electric Literature, Jenny Zhang discussed being baby, language, dreams and more:
" I'm really interested in the ways human beings are doomed to repeat and how each time we repeat something it's never the same, it's actually transformed with every repetition and with every cloning of that instant. So maybe it's some kind of spiral and not just a circle you're retracing, even if it feels like it. I think there's also a way we repeat things to convince ourselves of something that's not true, like I'm fine I'm fine I'm fine, and over time it sounds like a cry for help. But there's also a way in which people of color and LGBTQ people have to keep saying the same thing over and over and over again. And it's very fraying to say the same thing over and over again. It's also very enraging."
Larissa Lai has won the 2020 Jim Duggins, PhD Outstanding Mid-Career Novelist Prize.
Read these Black feminist perspectives on Covid-19.
Why not take a Studio Ghibli virtual tour?
If you've ever had a long-distance relationship, especially one that ended epically disastrously, I invite you to join me in feeling a little fucked up at this excerpt from Stephanie Danler's Stray, out earlier this week: "Every meeting we're trying to reclaim that brief minute we believed love weighed more than timing, geography, or the limits of each other's character. The same sharp intervals of time, the same inane text messaging, the same replaying and rewriting what we've done, regurgitating excuses for how much pain we've caused, then, the same someday, soon maybe. I have never wanted to die more consistently than when I sat through evenings like this, loving him down to his eyelashes and teeth, bludgeoned by that love, while knowing we were rotten."
"The white literary establishment handed her California but I propose we wrest it away from her. The Mexican presence haunting her work could do so if those of us living outside Didion's prose lend a hand to the diaspora trapped inside of it," writes Myriam Gurba on why it's time to take California back from Joan Didion.
Allegedly Zoom plant backgrounds are the new Zoom book backgrounds — discuss. Here's some further reading. Personally I zoom (not Zoom) in when people post photos that casually have books in them, and would prefer everyone cut to the chase and just post clear photos of their shelves if they must. (But also personally most of my books are spine in because I know what and where they are so I might as well make 'em monochrome.)
Why do writers burn their work?
Check out this time capsule of queer Los Angeles.
Today is a good day to buy A Quick and Easy Guide to Sex and Disability.
This private home is also a public library.
Read these books out in May and these and these and these and this poetry. Read these poetry collections by queer women poets. Read these diverse books set in the American west. Read these new queer women romances. Read these queer books when you can't see your queer family. Read the Best Translated Book Awards 2020 finalists.