Feature image by Ryan McGuire via imcreator.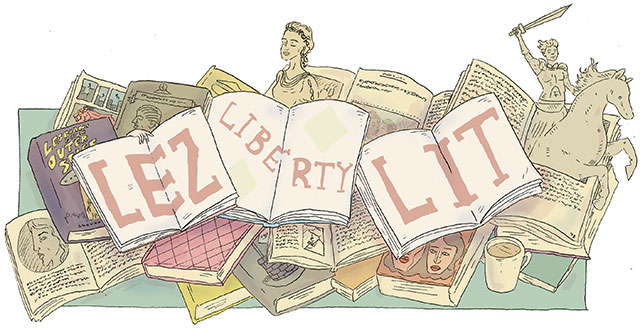 Things About Queer Books (And Other Books Relevant To Your Interests)
At the Toast, Nicole Chung talked with literary agent Linda Z. on diverse representation in publishing, the recent Lee & Low survey that looked at who actually works in publishing (mostly white straight cis people), class and more and it's really good:
"Publishers need to commit to reaching audiences beyond the core group of rich white women and Republicans who we think of as the 'book buyers.' It's about sales reps saying, 'This story broke my heart and you'll love it' to their accounts, without mentioning that it's about an [identity], so it doesn't get segregated in the bookstore. It's about editors reading outside of their immediate experiences. It's about having diverse staff who are reading in their experience to say, 'Hey, this is true to me and many people, and we can break it out to an even wider audience.' It's about putting money toward those investments."
New releases and news in trans literature include What the Fresh Hell, ~yr various hairlessnesses~, Desire and the Scent of Guava and more.
It's hard to find 1,000 books about black girls (but this list helps).
Dirtbag Hera is a gift.
At Lit Hub, Morgan Jerkins writes about writing while black, saying: "The written beauty of a character is political, even more so for a black woman in prose who, as a character, has traditionally existed in the margins. In the American imagination the black woman, whether light skinned or dark, is already a sexualized entity, a character upon which so many stereotypes are projected. But as a black woman writing these characters, I need to write beyond the stereotypes, expose their idiocy one page at a time."
What does your 2016 book budget look like?
Here's what writing with a partner is like: "You don't get there by only liking your own ideas. And you certainly don't get there by getting upset by every 'meuh.'"
Iris Murdoch wrote some beautiful letters to her gal pal Brigid Brophy:
"I cannot think that (unless you throw me out, out that is of whatever and whenever I am in) I shall ever stop wanting to see you, and when I see you, being moved and affected in deep ways by you. I love receiving letters from you (and love writing to you, which is quelque chose as I detest letter-writing in general). I know I am unsatisfactory and that I must just ask you (and earnestly, because this matters to me) to put up with me as I am. (After all I put up with you as you are: or is this a Jesuitical argument?) Dearest girl, just that. I embrace you."
Maggie Cooper reviewed Ask A Queer Chick by Lindsay King-Miller, calling it "clear-headed, humorous, and thoughtful advice for queer chicks and the people who love them."
Here are 25 recent books by African writers to read right now.
There's a new "clickbait-free" newsletter for teenage girls.
The Oxford Dictionary is being reviewed for sexism.
Crazy immersive literary binge reading makes a lot of sense these days.
Queer books for middle graders include The Accidental Adventures of India McAllister, Drama, Wandering Son and more.
"Even now, with this maze of steel laid bare, it is difficult to appreciate its immense capacity for the shelving of books. A bookcase holding three and a half million volumes means a series of shelves that if laid together, end to end, would measure over eighty miles." The New York Times fangirls the New York Public Library in 1905.
Time for a Didion thinkpiece.
Read these biographical zines.
Vida has a list of women-owned presses.
It's really hard to earn a living wage from writing fiction.
When books have blank pages, it's not a mistake.
At Autostraddle, Mey wrote about Peritale and Xena and also Balderdash!. We're all obsessed with Gabby's book Juliet Takes A Breath. And Rachel wrote about sort of lesbianish books made into sort of lesbianish movies.
Book Things To Do In Person
15 February, New York: It's time for literary queer lady speed dating night at the Strand (828 Broadway), 7 p.m. Registration is required.
6 March, Los Angeles: LA ZineFest is back! (650 S. Spring St.), 11–6.
1 April: Submissions for Best Women's Erotica are open until April 1. The editor is looking for more queer stories, looking for stories starring trans women and open to a wide variety of stories featuring queer sexuality as long as they fit the guidelines.
Ongoing: Help Glad Day Bookshop in Toronto build a library for Canada's first LGBTQ2S youth shelter.
Ongoing: For Books' Sake is looking for unpublished short stories from self-identifying women (especially women of color, queer women, women with disabilities and other marginalized voices) for its weekly Weekend Read. Submit any time.
Know of a queer event with literary merit? Send it to us! The Liberty Lit is bi-weekly.