Feature image by Melissa Zhabotynska.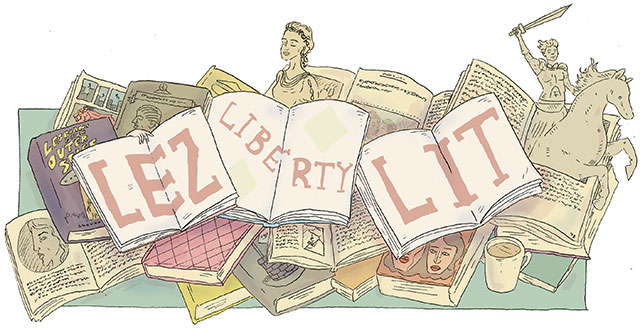 Meredith Talusan discussed writing across platforms, trans identity, race, poetry, advocacy, what she's reading and more at the Toast:
"Now that it's happened it feels strange that I had to wait so long to feel like I have things to say, because I can't seem to stop talking and I don't have time to say all the things I would like. I've ended up writing personal essays, opinion articles, and investigative pieces, partly because I feel like there just aren't nearly enough people to do the necessary work of representing trans people from our own perspective, maybe because so many of us are still too busy figuring ourselves out. I'm fortunate to have transitioned early enough to have the fortitude and perspective to represent our lives and I do feel a keen responsibility, as someone who survived the difficult experience of transition, to represent us so that I can contribute to making the world a more hospitable place for trans people and other marginalized groups."
This National Poetry Month, you should check out work by Claudia Rankine, Saeed Jones, Patricia Lockwood and these other rad poets.
At Best American Poetry, queer poets highlight the people who helped them become the writers and humans they are.
Elisha Lim, author of 100 Crushes, discusses highlighting queer people of color in their work, community, language, jealousy and more.
Teka-Lark Fleming, founder of the Blk Grrrl Book Fair in South LA, discussed why she created the event and more at the LARB.
Casey the Canadian Lesbrarian has a few recommendations for books featuring trans teens that aren't about transition, including Lost Boi by Sassafras Lowrey (also recently reviewed at Lambda Literary), Just Girls by Rachel Gold and The Butterfly and the Flame by Dana De Young.
Weetzie Bat is going to be a movie.
An eight-year-old in Quebec was told to stop reading on the school bus because the driver considered it a safety risk: "He suggested they might stand up to see what she was reading, or she might poke herself in the eye with the corners of the book."
Scholastic is getting better about gender-neutral kids' books.
Mother Jones interviewed Toni Morrison on her latest novel, God Help The Child, as well as identity, magical realism, childhood trauma and more. Saeed Jones reviewed the novel at NPR, calling it "an opportunity to meditate on the tension between the idea of the artist and the reality of the artist herself."
After the publication of its annual report on women and diversity in writing, VIDA made some recommendations on what to do to change things. At the Millions, Anna Boyd Rioux argues that just having women write more and teachers discuss diverse authors and books aren't going to really fix things:
"According to the VIDA website, the organization began with an email from Cate Marvin that asked, in part, 'Has anyone else noticed all these incredibly accomplished women writers whose work seems to go consistently unnoticed and unrewarded by the American literary establishment?' The roots of the problem are deep, as many have indicated. Some have pointed to the largely male cadre of editors running the major magazines and thus assigning book reviews. Others to the classification of women's literature as 'chick lit,' or to its relegation to what Meg Wolitzer called, almost exactly three years ago, 'The Second Shelf.'

The real issue, of course, is not the numbers, although they are important. The underlying issue is how we decide what writing has value. For so long as the lives and experiences of women and people of color are undervalued, so will their writing be."
Black historical romance writers Kianna Alexander, Piper Huguley, Lena Hart and Alyssa Cole discuss the future of the historical romance landscape, what drew them to write historical romance featuring people of color, the current publishing climate and more.
Michelle Tea talked to the Rumpus about her new memoir, How To Grow Up, vices and recovery, travel, beauty, queer family and more.
Apocalypse Baby was Emily Books's April pick and now is as good a time as any to get on it.
Cheryl Strayed read Adrienne Rich's homage to Marie Curie, "Power," and added: "Adrienne Rich … did not die a woman who denied that her wounds came from the same source as her power. In fact, she spent her life making power from those wounds [but] Marie Curie… didn't have that luxury — she had to deny that in order to be who she was in her time. But we don't."
A new biography of Mary Wollstonecraft and Mary Shelley looks at them together in a new light.
At Lambda Literary, Daphne Sidor reviewed The Argonauts by Maggie Nelson (also reviewed at the LARB), and also interviewed Nelson, who discussed fictional ambivalence, queer anti-capitalist movements and more.
At Autostraddle, Audrey wrote about where the poetry and queer movements intertwine. Mey wrote about Lumberjanes #13 and how it is super awesome. She also interviewed Jillian Tamaki (also recently interviewed at Bitch and at the Hairpin.). Carmen reviewed She Speaks Poetry.
You do not need an MFA.
Book Things To Do In Person
1 May: The deadline for Biyuti Publishing's fundraiser is 1 May so if you want to support a press run by a trans woman of color that publishes other trans women of color, do it now.
May 7–8, New York: Queers & Comics "will spotlight the veterans of LGBT cartooning in North America and internationally, and will examine how queer comics reflect and critique queer culture." Centre for Lesbian and Gay Studies, The Graduate Center, CUNY (365 5th Ave.).
May 15, Stanford: An intergenerational conversation about and celebration of This Bridge Called My Back: Writings by Radical Women of Color will be held at Lathrop Library, Bishop Auditorium (518 Memorial Way). Signing and reception at 5:30 p.m., reading and presentation at 7 p.m.
May 16, Stanford: Part two of an intergenerational conversation about and celebration of This Bridge Called My Back: Writings by Radical Women of Color will be held at the Black Community Services Center (418 Santa Teresa St.). Bridge Artists' Panel at 10 a.m., "Theory in the Flesh" — Activism and/vs. Academia, Student-led Intergenerational Break-out Sessions at 1 p.m., Feminist of Color Organizing Panel at 3 p.m.
May 19, New York: Roxane Gay is reading as part of Girls Write Now's 2015 Chapters Reading Series at the Scholastic Auditorium (557 Broadway), 6 to 8 p.m.
To 30 May, lots of places: Poet Andrea Gibson is on tour! And is going to a lot of places across the US and Canada, and to a few places in the UK. Maybe somewhere near you?
6 June: If you're a girl between ages 12 and 18, you should submit your writing to Grlhood by today.
7 June, New York: Imogen Binnie is leading "Why Would Anyone Even Read This? Writing Compelling Trans Fiction," a workshop associated with Bindercon, at the Powderkeg Writer's Space in Brooklyn (33 Flatbrush Ave.), 2–4 p.m. Register online.
19 June, New York: Quiara Alegría Hudes is reading as part of Girls Write Now's 2015 Chapters Reading Series at the Scholastic Auditorium (557 Broadway), 6 to 8 p.m.
1 December: Submissions for Topside's short speculative fiction anthology by trans writers are due.
Know of a queer event with literary merit? Send it to us! The Liberty Lit is bi-weekly.