by carolyn & riese
Header by Rory Midhani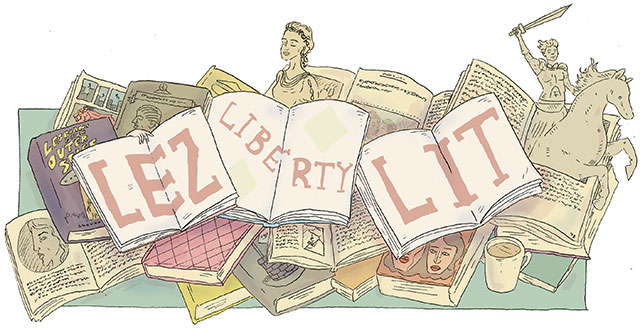 Lit Links
The Millions has a preview of the most anticipated books of 2013.
Last year, Slate's Jeff Ryan read 366 books, and he's doing it again:
"If you're like me, the list of books you want to read is a hydra. Cutting one head off (that is, reading a book) just scribbles new titles onto the list. I'm never ahead. My whole life I've been fighting this hydra tactically, trying to bleed a head dry by reading, say, one of Bob Woodward's or Neal Stephenson's books every year. But they keep writing more books! Time for a new solution: overwhelming firepower. Force-feed my eyeballs like every tomorrow was a final exam. By year's end, my 366 books would have that hydra on its knees.

And, believe it or not, it worked."
Ryan did it by reading multiple books at the same time, reading shorter books, listening to audiobooks and spending less time on Twitter. (Lifehacker has a ton of suggestions for reading more faster.) If you want to track how many books you've read this year, social media style, Goodreads has a Reading Challenge for that.
The season of end of the year book lists is over, but NPR's best heroines of 2012 features books by Sophie Calle, Susan Sontag, Lisa Cohen, Carol Anshaw, Anne Carson and Bianco Stone to add to your to-read pile. And at the Atlantic, Emily Temple proposes ten additional heroines.
Malinda Lo reviewed Daughters of the North, Sarah Hall's novel about a dystopian England in which women are forcefully implanted with IUDs. The novel features a queer main character, allusions to 1970s lesbian feminist separatist utopias, a compelling setting and beautiful writing, and Lo highly recommends it.
The Reconstructionists is a new year-long collaboration between Maria Popova and Lisa Congdon that will celebrate remarkable women in art, literature and science. To start, they featured Gertrude Stein, Anais Nin, Agnes Martin and Hedy Lamarr.
Feminist scholar and author Gerda Lerner died last Wednesday at age 92.
Fuck Yeah Lesbian Literature has a roundup of books that feature Asian lesbians. The list includes Red Azalea by Anchee Min, Cereus Blooms at Night by Shani Mootoo, Exile and the Heart by Tamai Kobayashi and more.
At the Rumpus, Thomas Page McBee interviewed Zadie Smith, author of White Teeth and most recently NW.
Abe Books has a catalog of bookstore cats that is, frankly, adorable.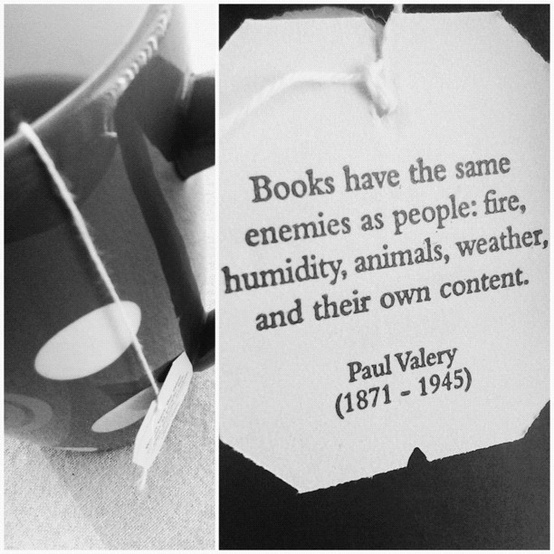 It would take 2.4 million seagulls to lift James's giant peach, according to physics students from the University of Leicester. (Roald Dahl only wrote about 501.)
The Logos Hope is the world's largest floating bookstore. Carrying over 5,000 books and at more than 430 feet long, the ship visits areas that otherwise don't have cheap access to books, and its volunteer crew take on community projects, help to establish libraries in local schools and host educational programs.
Cheryl Strayed wrote about poet Adrienne Rich for the New York Times Magazine: "She dreamed, famously, of a common language, and that is what she has left us with: language that made what was true, truer; what was small, bigger; what was silent, heard; what was fleeting, eternal."
There are 21 emotions (at least) that there are no English words for. Using a linguistics model, design student Pei-Ying Lin mapped them out.
Richard Blanco, a gay Latino poet and author of Looking for the Gulf Motel, has been picked to be the fifth inaugural poet.
Scott Lynch responded to criticisms of Zamira Drakasha, a black female middle-aged pirate with two kids in his novel Red Seas Under Red Skies, by completely decimating them:
"Zamira Drakasha, leaping across the gap between burning ships with twin sabers in hand to kick in some fucking heads and sail off into the sunset with her toddlers in her arms and a hold full of plundered goods, is a wish-fulfillment fantasy from hell. I offer her up on a silver platter with a fucking bow on top; I hope she amuses and delights. In my fictional world, opportunities for butt-kicking do not cease merely because one isn't a beautiful teenager or a muscle-wrapped font of testosterone. In my fictional universe, the main characters are a fat ugly guy and a skinny forgettable guy, with a supporting cast that includes 'SBF, 41, nonsmoker, 2 children, buccaneer of no fixed abode, seeks unescorted merchant for light boarding, heavy plunder.'

You don't like it? Don't buy my books. Get your own fictional universe. Your cabbage-water vision of worldbuilding bores me to tears."
Jane Austen's Pride and Prejudice turns 200 this month. At the Smart Set, English professor and essayist Paula Marantz Cohen explains why it's still so popular: it has good visual potential and fanfic (and pastiche) potential, bridges high and low art, is fun for critics, is fun for book clubs and is fun to read.
Sistahs on the Shelf reviewed Inside Out, a mystery novel by Juin Charnell featuring a black lesbian prison investigator. They also reviewed Living with 3 Strikes Against Me: Life Through My Eyes as Black, Female and Gay, a memoir by Ericka K.F. Simpson.
At the Lesbrary, Lena reviewed Something in the Wine, a lesbian-in-love-with-a-not-so-straight-girl romance novel by Jae. Casey reviewed The Last Nude, Ellis Avery's novel about a queer artist and her model set in 1920s Paris. Danika reviewed Silhouette of a Sparrow, another historical novel set in 1920s America that is partly about coming out and partly about coming of age.
For writers: taking a hike can help make you more creative. At the Awl, Choire Sicha asks, "How should a writer be?" H.P. Lovecraft has advice for young writers. So does Jeffrey Eugenides.
At Lambda Literary, Amy Gall interviewed Ayana Mathis, author of The Twelve Tribes of Hattie. Cathy Camper reviewed Spit and Passion, a graphic memoir about the closet, queer identity and music by Christy C. Road. Julie Harthill Clayton reviewed Art On Fire, a novel by Hilary Sloin. Lydia Harris reviewed Ask the Passengers, by A.S. King.
Don't forget to check out all the awesome book-related things we published recently: Rachel wrote about her eight favourite authors. So did Vanessa. Cara wrote about Dissent magazine's new feminism issue and about the word "queer."
Books And Events To Watch Out For:
January 8 Susan Steinberg's Spectacle: Stories, a collection of short stories with female narrators, was released earlier this week.
January 11, New York: Writeous, an event celebrating lesbian writers, is this Friday. (Read our coverage.) Greene Space (44 Charlton St), doors at 6:30 p.m., $20.
January 17, New York: A discussion on Writers vs Commerce will be held at Housing Works Bookstore (126 Crosby St.), 7 p.m.
January 21: Sarah Weddington's Roe v. Wade 40th Anniversary will be released.
January 23, St. Paul, Minnesota: Catherine Lundoff will read from Silver Moon, her novel about menopause, lycanthropy and coming out. SubText: A Bookstore (165 Western Ave N.), 7 p.m. CST.
Now to January 31, New York: Strange Loop Gallery is collaborating with the Bureau of General Services, Queer Division, to create a pop-up bookstore and event space at Strange Loop Gallery (27 Orchard St.).
Know of a queer event with literary merit? Send it to us.
What We've Been Reading:
Riese: I've been in Canada since the last edition of Lez Liberty Lit and therefore regretfully have no reading to offer you besides an issue of frankie magazine, an issue of Inc magazine, a lot of articles that will show up in TIRTL and the last story in Alice Munro's book Too Much Happiness which I felt kinda "meh" about. I won't tell you what I'm reading now until I finish it and it will be a surprise!
Carolyn: Alison Bechdel's graphic memoir, Are You My Mother?, is a meta, cyclical examination of her relationship with her mother narrated largely through a series of therapy sessions, dreams and symbolism. I read it partly because I loved Fun Home and partly because I'd wanted to read it since reading Rachel's review, and my high expectations left me disappointed. AYMM is good, but even though Bechdel talks a lot about specificity translating to universality, the book never quite gets there. The next things I read will be Rae Spoon's First Spring Grass Fire, for my queer feminist literary in-person book club, and Martha Grover's One More For The People.