The cover of Mary Gaitskill's Bad Behavior pictures a woman in tight white pants and a white t-shirt, her forearms on the floor, palms splayed, knees bent, the soles of her feet bare to the air. Her hair is in a ponytail. You can't see her face but I imagined her eyes open, because I'd always thought this was a picture of a woman who'd intentionally thrown herself to the floor. She'd given up, but she'd given up with gusto! She'd had enough, this woman. She'd had just about plenty. But there was restraint, too, in this mostly theatrical gesture and so, instead of laying her whole cheek and torso against the floor she'd been careful about her landing and was suspended in something akin to the "girl push-up" position. You know the one.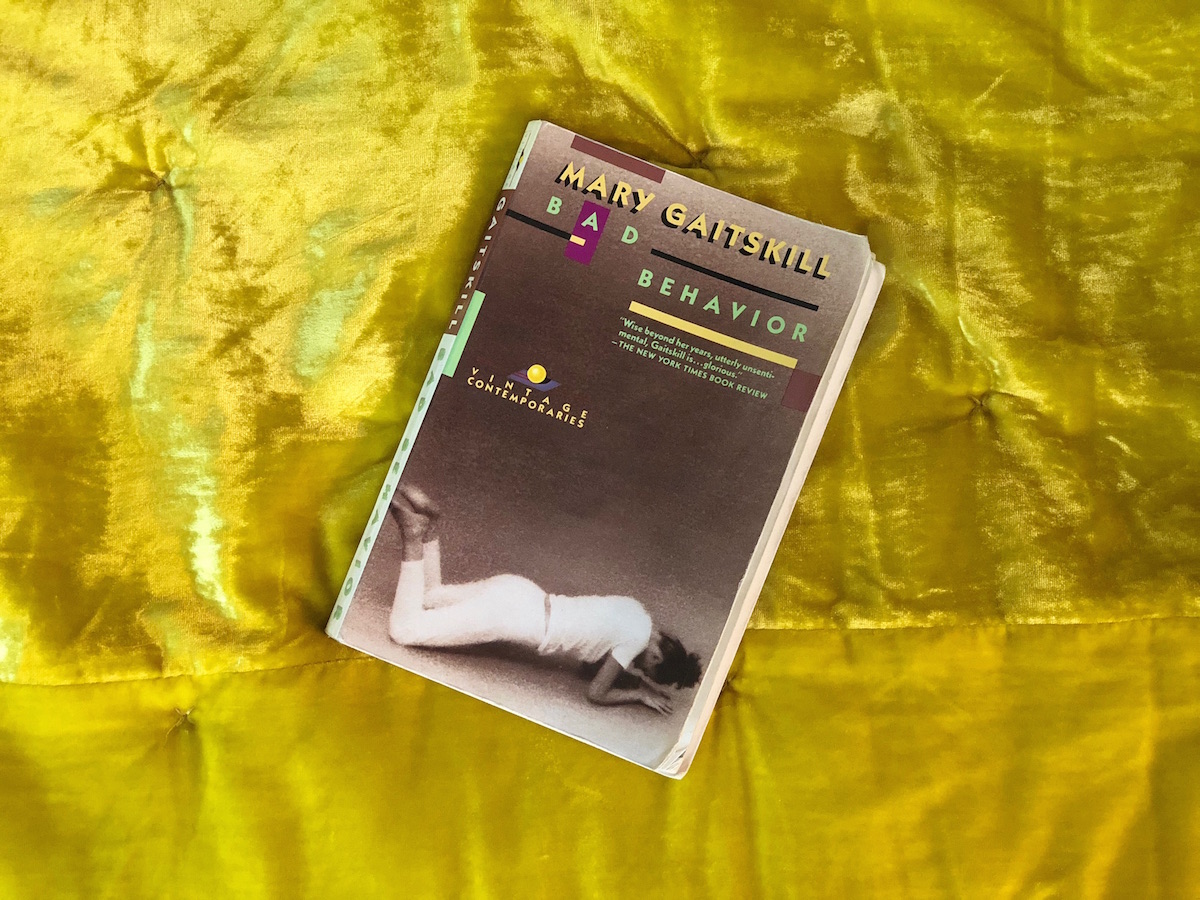 So just now I asked Sarah Sarwar what she thought the woman on the cover was doing and she said "getting humiliated." Sexually, is the implication there.
Anyway, last month, when we were methodically scouring Shutterstock for suitable imagery with which to announce our Call for Submissions for Bad Behavior, we couldn't find anything quite like that picture, which was all we wanted. Sarah even emailed the photographer, Benno Friedman, who told us he didn't own the rights to the photo and therefore couldn't sell them to us, although honestly we can barely afford our own rights. It seemed like the universe was entirely void of photos that captured the essence of "Bad Behavior" like that photo did. Everything else felt too literal, like somebody smoking a cigarette in a middle school parking lot.
Then I remembered a photo we already owned, from Erin Sullivan's "How To Cure Your Consumption By Laying In A Ditch and Other Witch Home Remedies," in which Erin had photographed herself gamely following consumption-curing advice she'd garnered from an exhibit on "The Frontier" at the Tennessee State Museum:
"Every morning cut up a little turf of fresh earth, and lying down, breathe into the hole for a quarter of an hour."
Sure it was low-res, but it'd do. It captured that spirit of a woman who had considered giving herself to the sea, which would be romantic, but instead chose to give herself to a hole in the ground, which was ridiculous and honest.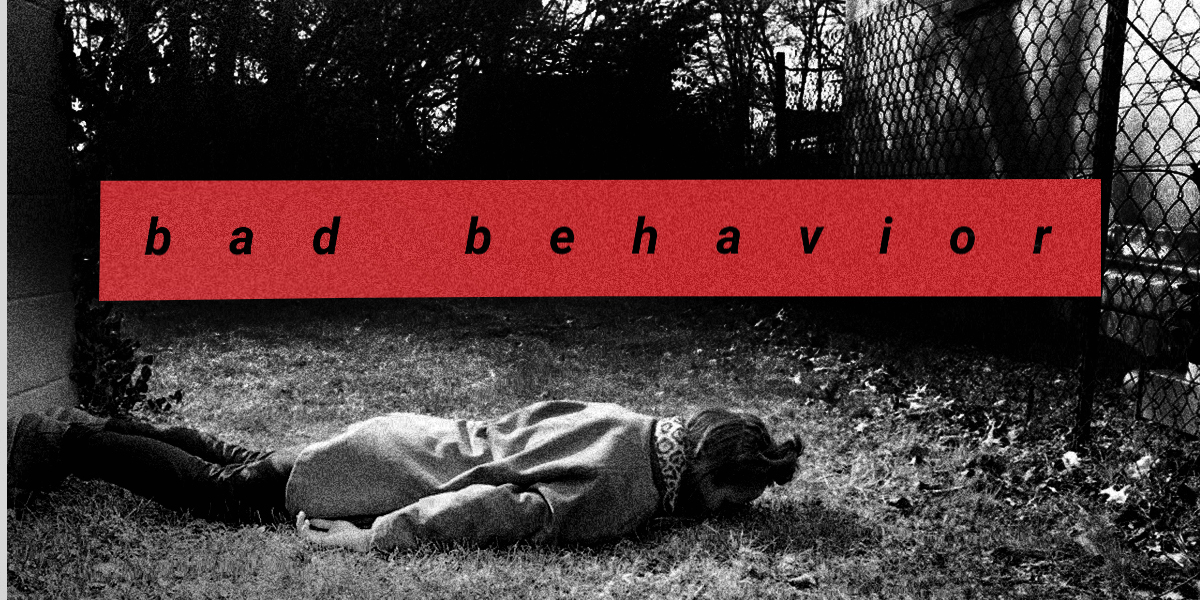 Sarah and I were both wrong, though, about why the woman was on the floor, which you've maybe already realized, although Sarah was more right than me. Earlier today I read a Los Angeles Review of Books piece about Mary Gaitskill in which the writer, Courtney Zoffness, notes "in the aftershock of Bad Behavior and its cover image — a woman lying facedown waiting to be bound — it's easy to overlook the collection's more tender terrain."
A woman lying facedown waiting to be bound.
Now I can see her face more clearly, the eyes shifting between anticipatory serenity and low-level panic, waiting. You know, like when you're about to get a massage and you twist your neck ever-so-slightly, open one eye, just checking to see if she's there yet or what.
I'd thought she was a woman closing up shop at the day's end with a strong face-plant, but she wasn't that at all. She was a woman opening up, in a way, because getting tied up is surrendering power, making yourself vulnerable in pursuit of some kind of transcendent pleasure if everything goes as planned. Although I guess things rarely do, especially not in Mary Gaitskill stories.
I was introduced to Mary Gaitskill and specifically the Bad Behavior collection in the fall of 2005 by my editor at Nerve.com, for whom I was writing a personal essay about sex work for their "Secrets and Lies" issue. I published it under a pseudonym, "Stephanie Serizy." My "work name" was Stephanie. "Serizy" I got from Belle Du Jour, a 1967 french film starring Catherine Deneuve as a woman who moonlights as a spectacular prostitute while her shitty husband is at work.
I had to protect myself, of course — my hypothetical writing career, my family and friends. But also the girls I worked with and worked for. They had boyfriends and roommates and families who thought their loved one knew me in a certain way but not the actual way. I changed numerous relevant details, too, hoping to keep it foggy. I'd always been bad at lying about it, but eventually I got better. I tend to get lost figuring out what's okay to reveal about yourself and what isn't, what's truly "bad" and what's just bad because it's not what "good girls" would do, which is another thing I've never been good at.
Perhaps you relate. Being a lesbian, or queer, or trans, or all or some of those things at once, means to be in some sense inherently "bad," at least according to some people. We were born wrong or we chose wrong. There's a scene in my Nerve.com sex work essay where I'm on the phone with "Emily," talking about why our studio had so many girls who were gay or bi and, oddly, also; four girls with lesbian Moms.
"Why is that, do you think?" I say on the phone to Emily one painfully slow day.
"There's always been a lot of dykes in sex work," Emily says.
"I know." I didn't, but I want her to think I know everything. I doodle over the schedule, drawing breasts that look like bowling balls. "I think it's just like — we're already stepping out of the sexual norm? We have to be more flexible from the get-go, 'cause we're already classified as deviants?"
The reason my editor recommended Bad Behavior to me, which changed my life forever, is because its stories cover deviant terrain, including sex work. I mean, after all, the cover is a woman lying facedown waiting to be bound. Oddly, the story "Trying to Be," which spoke to my experiences so authentically I had to lie on the floor for an hour after reading it, is about a sex worker named Stephanie who has a regular client named Bernard (my last name). From the intro to an interview with Gaitskill in The Slant:
In a self-help saturated culture that zealously pursues sanitized versions of happiness and personal growth, Gaitskill's Bad Behavior remains a refreshing departure. In much of her work, she dares us to tread the dark underbelly of human relations to confront deeper truths, as well as salvage—and dignify—outré, sometimes brutal, experiences from the wreckage of Judeo-Christian morality.
That's what I wanted from this theme issue. A refreshing departure. In a way, picking this theme may have been my last-ditch effort to force myself to finish and publish a new and improved essay about sex work I've been working on for Autostraddle since launching A+ in 2014. But mostly, we wanted your stories of deviance. I didn't want heartwarming grandmothers or an analysis of Taylor Swift, I wanted the band-aid you left in the shower.
I picked "Bad Behavior" because I didn't want to write about good queers getting stylishly married or having babies — which, don't get me wrong, are both things that I myself would like to do one day. But so much public-facing LGBTQ identity over the past several years has been about proving ourselves to be "good" and just like everybody else. We've had to prove ourselves worthy of sweet love stories on television shows, of wedding cake vendors and well-attended baby showers, of admission to the military and church, of H&M Pride Collections and Condé Nast. I'm glad we have those things, most of them at least, I mean we've advocated for most of those things ourselves here and will continue to. But part of what makes us special is all the ways that we're not "good" at all, and hopefully never will be.
By the way, Mary Gaitskill hated the title Bad Behavior and hadn't chosen it. "I didn't like it because I didn't think most of the behavior in the book was so bad," she told Slant. "It's more confused and ridiculous."
Over the next two months, we will be getting confused and ridiculous, giving up to the floor or giving in to be tied up. In addition to publishing roundtables, essays and other features from the Autostraddle team, we have 18 essays from writers of vastly divergent backgrounds, coming to you with topics including but not limited to "the delicious ho'ing, beauty and connection that can come out of crossing borders within the QWOC community," "begging doctors to sterilize me," being non-binary in the '50s and '60s, and "how to behave in boarding school." There is, I must admit, a grandmother in there somewhere. But her first line is, "You whore, you're back home from work?," so.
We'll also be publishing a lot of A+ content as we continue advocating for our ongoing existence, which is presently in peril. I'm so proud of the work we've done and will continue to do on this issue, and I hope you will be too.
Love and Other Indoor Sports,
Riese