We only do this a couple of times a year, and rarely do we discount our merch so high! But if you shop in the Autostraddle Store between now and February 2nd, you'll get 30% off absolutely everything using the code LOVEWINS30 at checkout.
---
The Autostraddle Store is full of some of the best gay merch you'll ever lay your little gay eyes on. From t-shirts to enamel pins, we've really got the market cornered on saying your gay by, either explicitly or covertly, saying you're gay. I proudly display the merch that I have, taking every opportunity to explain a sticker or a sweatshirt. I've even bought merch for friends as gifts. If you're looking for the perfect treat for yourself or someone you love, look no further. I've even made it easy for you by outlining what lesbian stereotype select pieces of merch represent.
This sweatshirt is the dyke that will defend scissoring until her last breath. She will even perform a tutorial using her fingers to show you how it's not just an invention of the male gaze, but one of the many ways two women can have sex. The Seasoned Dyke has been out for quite some time and she certainly won't let you forget that you are a baby queer in her eyes. Oh you've only been out for five years? You can't talk to her unless you endured school dances as someone out of the closet navigating dancing with other girls for the first time. The seasoned dyke would wear this sweatshirt anywhere, even to work. And when asked by her straight colleagues "are you into crafting?" she'll give a sly smile and answer "No." from the corner of her mouth. Is the seasoned dyke just me? Probably.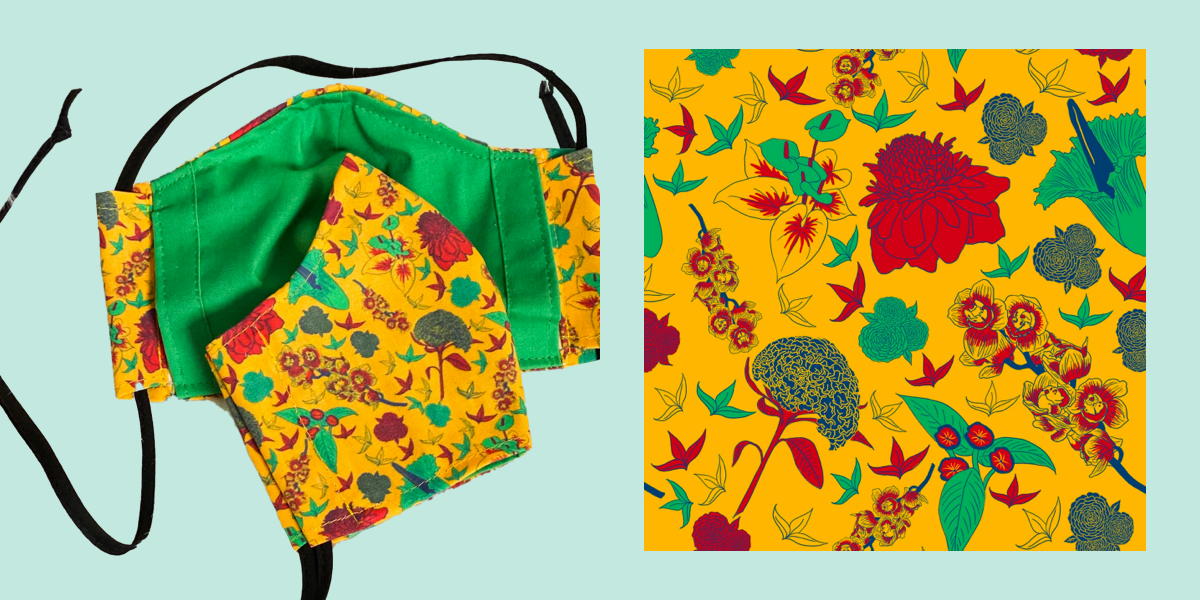 The Baby Queer has, as the name suggests, been out for less than 2 years. This mask screams baby queer because we all know flowers are very vulva-like, and you can get away with wearing a vulva on your face if it is hidden as a flower! Not quite in your face and playing with gay pride, the Baby Queer is the kind of lesbian who's heart is racing as she merely asks you to go on a masked walk to the park. She's unassuming and kind. Still probably afraid to talk to women, especially femmes, and will tweet about how she's attracted to every woman that has walked the planet and maybe one guy. Flower Mask is an artist for sure, and lately their art has been leaning more nude and NSFW as they explore their queer identity.
This kit is not one person, but a group of people: the queers down the street from you living in an intentional community equipped with chickens and cats galore. None of them are poets, as you might assume, but they do "write for personal reasons" and never show their little dalliances to anyone. This community is probably vegan, and if not, they are totally very ethical about where they get their meat. Someone definitely works at Whole Foods but is staunchly anti-Amazon. The Commune Queens have probably all slept together at different times and that's created some tension between them so the lovey-dovey surface is a mere facade for the festering cauldron of resentment underneath. But, they live together and are committed to being relationship anarchists in a capitalist world.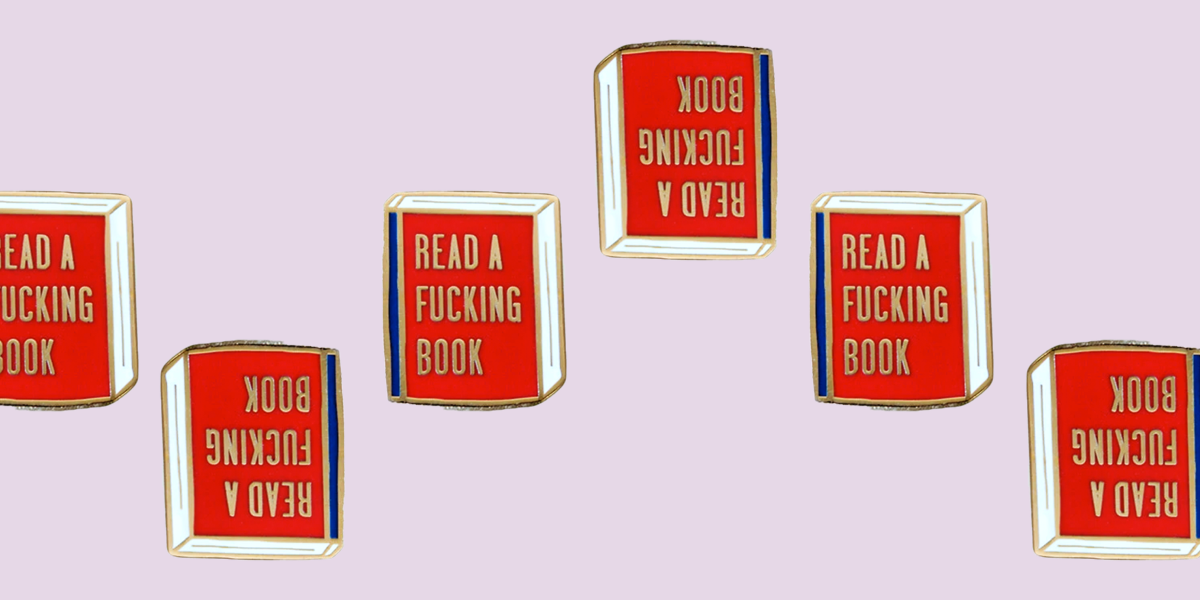 Yes, she's well-read. Yes, a little mean about it. But the anti-intellectual administration we've lived through has had her on EDGE for four years! This dyke has read more Susan Sontag than you and she will tell you all her thoughts about "Notes on Camp" in terms you don't really understand. At her core though, she just loves books, she loves being granted permission to enter another person's world and become so intimately acquainted with their mind and heart. The Literary Dyke definitely has a book deal on the shelf and will have her book launch at her favorite small, locally owned bookstore or an art studio nearby. When she isn't buying books she's buying expensive coffee and fine tip pens for a perfectly curated writing experience.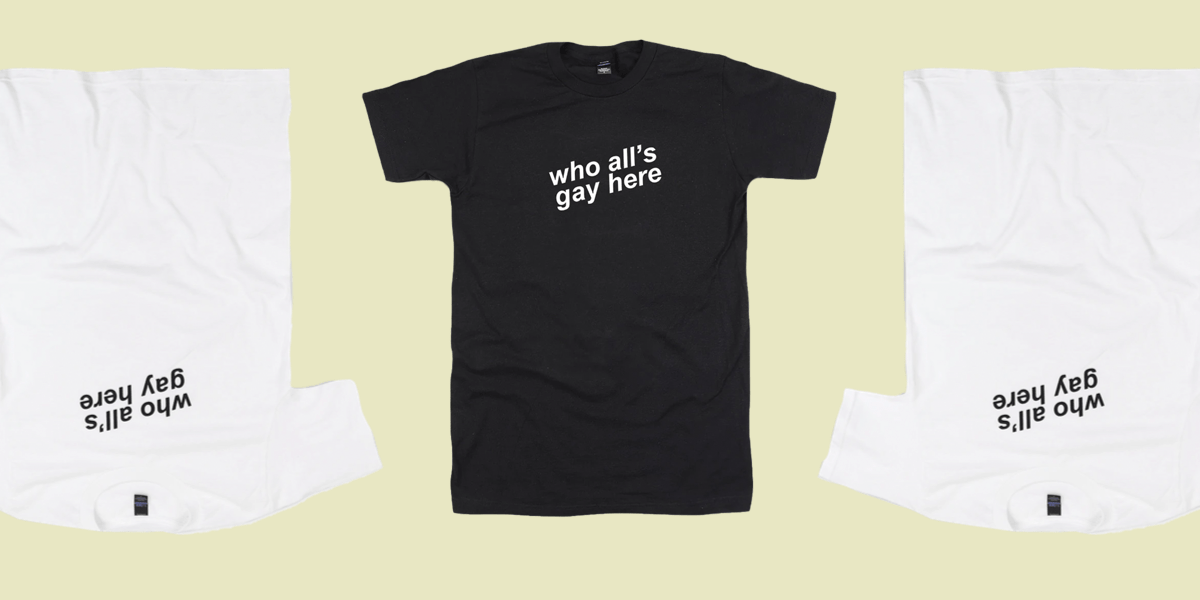 You might think Rich Gay Aunt wouldn't be caught dead in a simple t-shirt, but here's where you're wrong. First, this tee can be dressed up or down depending on the right accessories. The Who All's Gay Here white tee with a black or red leather jacket, black jeans, and some bottom stomping boots? She's the coolest Gay Aunt on the scene in that fit. The sentiment is what makes this match. The Rich Gay Aunt is not showing up to the function if it's only populated by a bunch of boring heterosexuals talking about Game of Thrones. Or the Steelers. The Superbowl, whoever and whatever team that has nothing to do with the WNBA. Rich Gay Aunt lives by the phrase "catch flights, not feelings" and can often be seen taking a window seat selfie on a plane to some sunny destination. If she's not single and playing the field, she is definitely married and living the most enviable life with her perfect wife.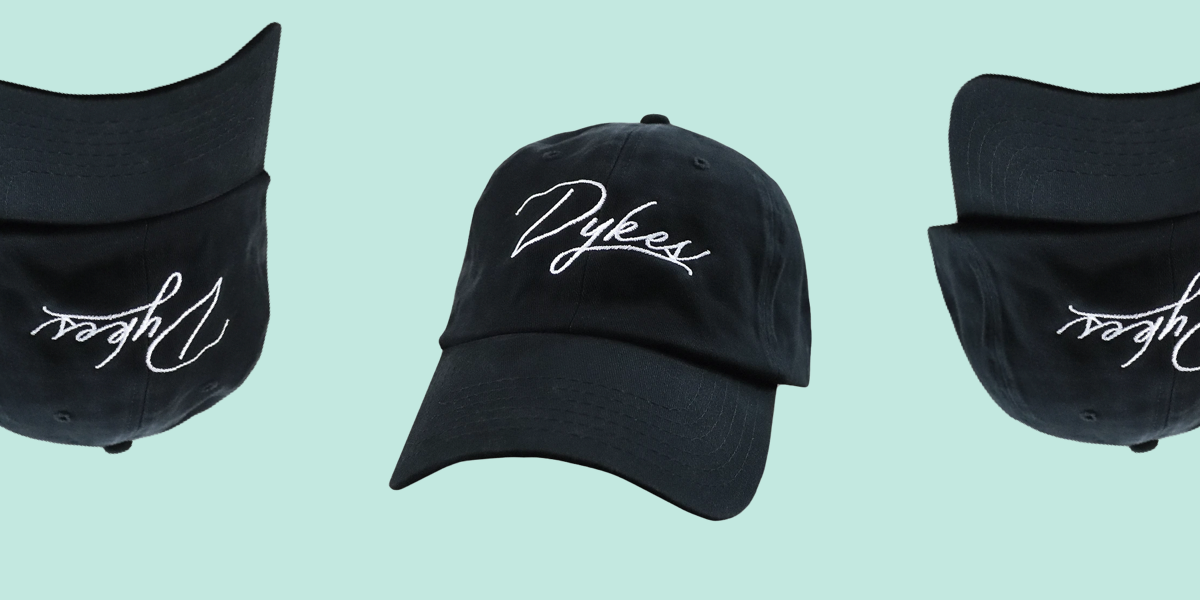 This lesbian is all about consuming media. She's a film buff, she's a lit dyke, a food critic, and she's secretly into watching bad reality television and speculating which housewife is licking another's box. Dyke hat is probably very loud, in her fashion and her general volume. The side of herself she shows to the world is the one that is constantly writing whip-smart social commentary about what everyone else is talking about, and the things that everyone has overlooked. This season she's probably got some nuanced take on Bridgerton. She's one of the funniest people you'll ever meet, hands down, she's bold and in your face about her dykeness and her politics. The Culture Critic has a keen relationship with gay history, which is why she is this hat. She knows which old-timey celebrity was actually a huge homo and will run down the list of her lovers and films in seconds. When wearing this hat, she'll probably sip a fun cocktail and tell you about which celebrity has been spotted hanging on Kristen Stewart's arm lately. She's always putting you on to new music, the latest book, a cute little vegan spot in a neighborhood a few miles from you. She's the best person to hang out with because even her silence is intoxicating. You can't help but wonder what sharp, intelligent thoughts are swimming in her head.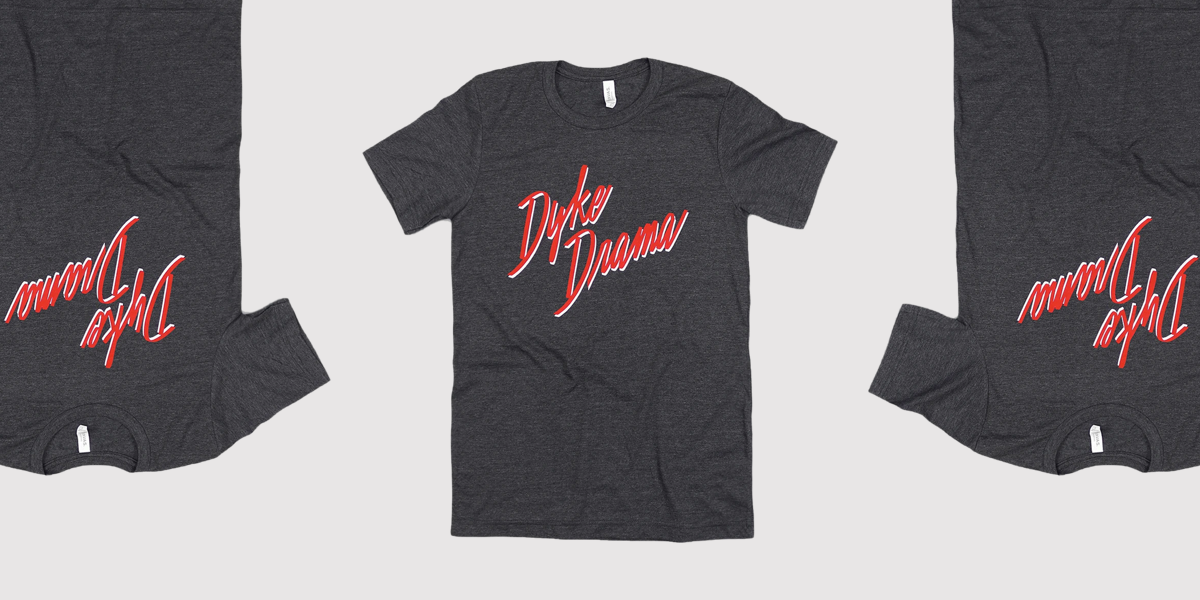 This tee is the dyke that is a miracle in bed. The ones involved in the most drama always are. They draw you in with good sex and suddenly you're caught in a web of exes and allegations. The Bed-Wetter is a sexual wonder but she's probably not the most emotionally ready or available, which is also why you're drawn to her. That elusiveness is kind of sexy when you allow yourself to be a little messy. The Bed-Wetter is probably a long-haired butch, but could easily be someone that doesn't want to tie herself to butch or femme. They are most likely very into playing with gender and might even be a drag king in their spare time. She misses gay bars and the laughter of women, dancing with women, going to Folsom and watching people get flogged in the streets. Oh, Dyke Drama Tee is definitely a freak, but you love her for it.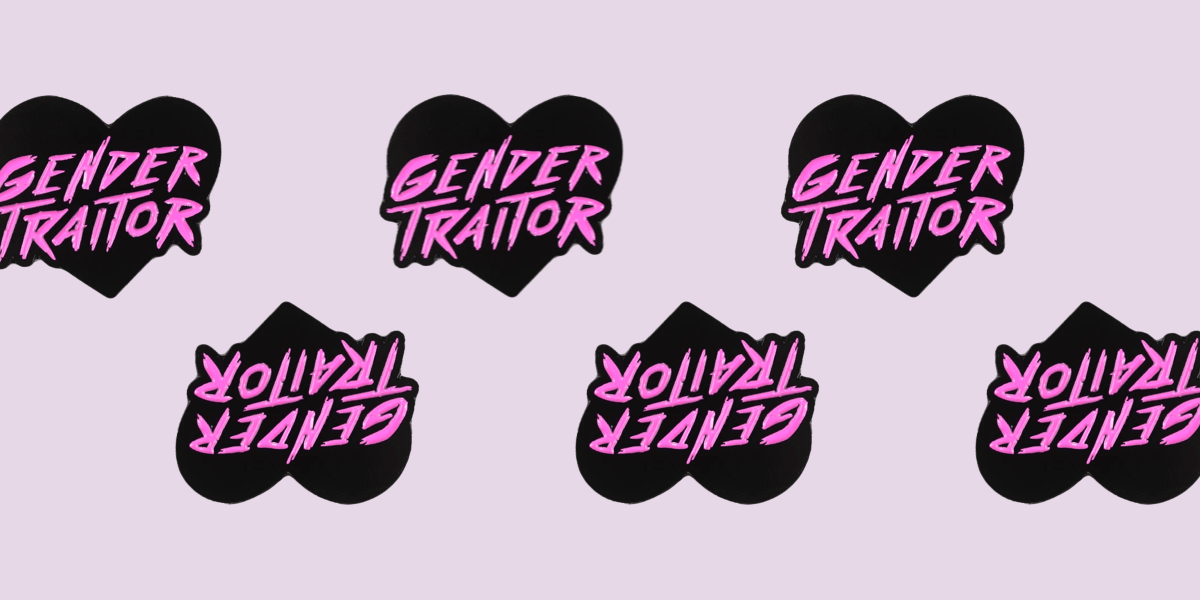 Gender Traitor pin has to be your Non-Binary Crush. You're obsessed with them, their holographic fanny pack, and matching pastel hair. They probably have facial piercings and a split tongue or something. They are hot in a way that defies all sense and reason. They also have a fat ass that you just can't help but marvel at. They are committed to dismantling the gender binary and living outside of the confines of masculinity vs femininity thinking. They are probably super into softcore indie rock and swaying side to side at a show, making eyes at you across the bar. They are so hot, I just want to reiterate that. Can you tell I have someone in mind that I really wanna kiss, is it obvious?? They probably went to Sarah Lawrence or Smith college and were radicalized once they left and started hanging with other out queers and going to therapy. They definitely hang in an anarchist crowd but will pen sentimental poetry/letters to the person they love.
---
What's your go-to piece of Autostraddle merch in your closet? Mine is my trusty gal pal sweatshirt, for cheeky dykes that love to be warm and love to explain an inside joke to ignorant straight people. Don't forget about our merch sale, use that code LOVEWINS30 to get shirt/pin/sticker of your dreams in place of a girlfriend this season!