I'm not sure if you've heard, but um, Orange is the New Black comes back this weekend. And what better way to ring in the occasion than marathoning the entire hot mess with a bunch of queer chicks? This is where HER, The Lesbian App On Your Home Screen, comes in. They're hosting six OITNB Lezathons across the country – and they're gonna give one lucky Autostraddle reader a pair of tickets to the event of their choice!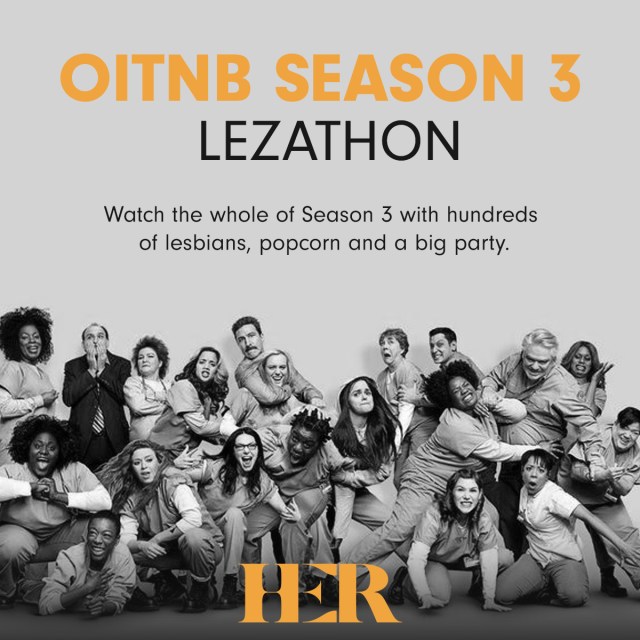 You're not hallucinating. This is not a drill. I am dead-ass serious when I say that if you live in, around, near, or within traveling distance of Chicago, Los Angeles, London, New York, or San Francisco, you could spend this weekend surrounded by hundreds of lesbians armed with tequila and probably their favorite homemade OITNB votive candles. There will be prizes, snacks, and I'm assuming a lot of camaraderie and shared sighs of longing. It's gonna be so much better than my plan to watch the new season all at once in bed without moving! It's gonna be the BEST!
How To Win A Pair of Tickets to an OITNB Screening Party
In order to win two tickets to a lezathon of your choice, simply comment on this post with your chosen city (Chicago, Los Angeles, London, New York, or San Francisco) and your fave Orange Is The New Black GIF! We'll select a winner TOMORROW and will announce it right here before we go to bed, so keep your eyes glued to this screen!
If you're so into the idea that waiting one more instant to snag a seat makes you feel like you're going to explode, have no fear! You can buy presale tickets via the links in this here post and support a local LGBT charity in the process. Folks who buy tickets also get discount tickets to pride after-parties in their city! This is like, a QUINTUPLE WIN. Remember that movie, Quints? That was a weird fucking movie.
OKAY. Let's do this thing, y'all. Get GIF-in'!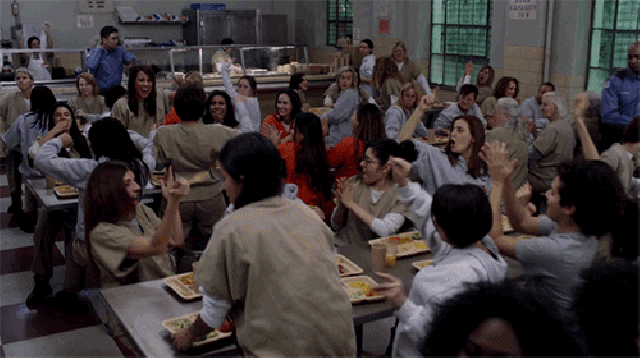 ---
UPDATE: Our winner is @likeaduck!