A couple of times a year a journalist from a mainstream media magazine/website asks to interview me or Riese about the history of lesbians in film. That's been especially true these last few months as theaters have opened their doors to not one, but two movies with lesbian leads — and with a third one on the way. Lily Tomlin's Grandma, Ellen Page and Julianne Moore's Freeheld, and Cate Blanchett and Rooney Mara's Carol: Has the landscape of lesbian cinema changed forever?? (Considering the fact that only 12% of the top grossing films last year featured female leads, full stop, I'm gonna say probably not.) Recently I was doing an interview for a graduate student at NYU's Tisch School of the Arts and she asked me something no one's ever asked before: But what movie do lesbians watch when they want to feel, you know, happy?
That's valid. Lesbian cinema is a relentless graveyard of ruined lives. With a few notable exceptions, the moral of most lesbian movies over the past 30 years has been: The price for a moment of happiness is a lifetime of misery, or death. (Alternately: lesbians are deceitful, perverse predators who deserve their horrific comeuppance.) The question of where lesbian film is going is a good one. When the Supreme Court of the United States and the American military and critically acclaimed, money-making TV shows have stopped punishing gay women for being gay, will Hollywood follow suit? Even Freeheld — while really important and wonderfully made — already feels a little dated to me.
One of the best ways to peek into the future of lesbian movies is to dig into festival films. This week, NewFest, New York's LGBT Film Festival, kicks off and seeks to answer some questions about the direction we're heading. Carol is the spotlight, of course, and I'll write a full review for you after I see it, but NewFest is screening dozens of other films with queer female leads. Dozens! When LGBT film festivals offer me screeners, I usually ask them to just send over the ones with lesbian/bi women, but NewFest had so many choices I knew I couldn't watch them all, so I tried this new thing this year where I looked through the list and chose the films I thought would make me happy.
Happiness isn't synonymous with Good Art, but I've done my time watching lesbians fling themselves off of buildings. Sometimes I just want to laugh, you know? Here's how the films I chose fared.
---
Girls Lost
Alexandra-Therese Keining, 2016, Sweden, 105 min, In Swedish with English subtitles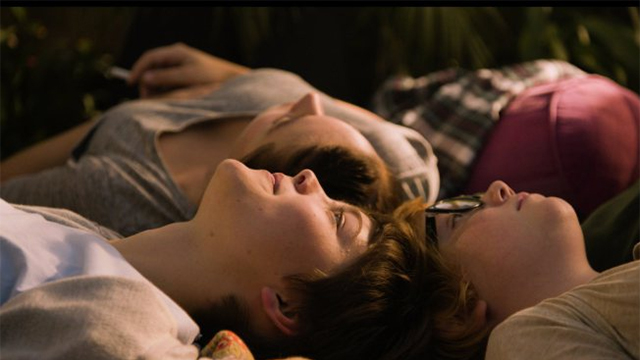 Girls Lost is a supernatural body-swap drama, kind of like Freaky Friday, only instead of a teenage girl trading places with her mom and engaging in zany empathy-inducing hijinks, three girls at the very bottom of their high school's social ladder find themselves inhabiting the bodies of boys and living with all the privilege that entails. Director Alexandra-Therese Keining manages to capture the humor and heartbreak of Jessica Schiefauer's YA novel while infusing the film with an intoxicating, otherworldly atmosphere. Kim, Momo and Bella respond very differently to their gender-flipped identifies. Kim, especially, has a hard time dealing with the fact that she wakes up in a female-presenting body every morning after the nectar from their magical flower — not a euphemism, it's a literal magical plant that allows them to transform — wears off. The ending of the film is hopeful, if ambiguous. It asks big questions about the fluidity of gender, the burden of femininity, and nature of queer love. It's not necessarily happy, but no one gets beaten to death either.
---
Liz in September
Fina Torres, Venezuela, 2015, 100 min, Spanish with English subtitles
Based on Jane Chambers' heartbreaking play Last Summer at Bluefish Cove, Liz in September is an indie star vehicle for Patricia Velasquez. The cinematography is lush, the lesbian love story is organic and crackling with on-screen chemistry, and the ending is chair-kickingly sad/familiar.
---
Portrait of a Serial Monogamist
Christina Zeidler & John Mitchell, Canada, 2014, 83 min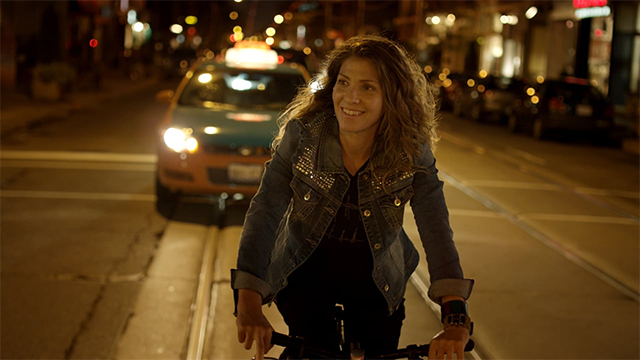 This movie! I wish it were a TV show! I wish this is what The L Word had been! Elsie is a forty-year-old lesbian who— after getting her heart broken at the tender age of 12 — has bounced from serious relationship to serious relationship throughout her life, and has perfected an exit strategy as an adult. The film opens with Elise breaking up with her current girlfriend of five years and, for the first time in her life, finding herself unable to walk out the door of one monogamous situation and into the arms of another one. She looks for answers (for what's wrong with her, for how to date casually, for how to be a better person) from her queer friends, all of whom are so familiar. There's the sworn singleton with her ladykilling ways, the longterm couple with the cat, the best friend Elise didn't slept with, and the best friend she did. And there's Elise's Jewish family. The city of Toronto, also, is an excellent character in this film.
This is one of the best-written lesbian movies I've ever seen. It's incisive and very, very funny. The climax happens at one of the most hilarious funeral scenes I've witnessed in my life, and I have watched a lot of British TV. Either the ADR is a little wonky or the screener I got was a little off, so the sound wasn't exactly synched up in the version of this I saw, but it was still very worth the investment of 90 minutes and I will watch this movie again.
---
The Girl King
Mika Kaurismäki, Finland, Canada, Germany, Sweden, 2015, 106 min, in English, French, and German with English subtitles
If you don't know the tale of Christina, Sweden's Virgin Queen, here's a solid introduction! For starters, she's only a virgin in the 17th Century "not sleeping with dudes" sense of virginity. Christina was gay as a window, and this film doesn't shy away from it. In fact, it embraces her lesbianism full force. She wore pants! And hats! And detested the idea that women should ride horses side-saddle! And she seduced a lot of ladies and wrote passionate love letters to them while trying really hard to lure all the best artists and philosophers away from Rome and to Stockholm. The problem with this movie is that it doesn't know if it wants to be high camp or a serious period piece, so it splits the difference to varying degrees of success. If you can think of it as the lesbian love child of Monty Python and Elizabeth, your expectations will be zeroed in on a very fun 90 minutes of movie-watching.
---
Summer of Sangaile
Alanté Kavaïté, France/Lithuania/The Netherlands, 2015, 88 min, In Lithuanian with English Subtitles
Summer of Sangaile won't escape comparisons to Blue Is the Warmest Color, but Alanté Kavaïté's coming-of-age queer love story is less about the spectacle of the thing and more about the emotional nuance. It's dark in places but as light as first love's wings in others, and instead of leaving the theater feeling confused about whether or not you should be skeeved out by the very male director's very male gaze and also like your soul has been pummeled with a lead pipe in the conservatory, Summer of Sangaile will compel you to smile really big and shed three knowing, bittersweet tears.
---
While You Weren't Looking
Catherine Stewart, South Africa, 2015, 75 min, English
While You Weren't Looking tells the story of a longterm lesbian couple that still has the passion — boy, do they ever have the passion — but also the wandering eyes. And it pairs their story with that of their daughter, who struggles to come to terms with her own queer sexuality as she falls in love with a young masculine-of-center woman who hasn't enjoyed the same privileged upbringing as her. I can't tell you if this movie has a happy ending because it ends very abruptly, almost as if there's an entirely different movie here with additional footage that was left on a discarded hard drive in the editor's suite. What I can tell you, however, is that The Cancer doesn't get anyone, or alligators or ninja assassins or anything like that.
---
The Same Difference
Nneka Onuorah, 2015, USA, 78min
The Same Difference is a documentary that explores the idea of of gender roles and performative expectations in the queer community, focusing especially on communities of color. It's kind of like if Tumblr came to life to have a conversation right in front of your eyes, and I mean that in the very best way. The film is just over an hour and the time flies by. It's not happy or sad, but it's really interesting.
---
So, what's the future of lesbian cinema? According to the movies I screened for NewFest, more coming of age stories, more first-queer-love stories, and Canada continuing to lead the way in producing movies and TV shows where women sleep with women and don't get turned into zombies or swallowed up by tornadoes because of it. It seems like we're moving toward a place where one day a journalist will ask me what film lesbians watch when they want to be happy and I'll be able to answer with the name of a movie she's actually heard of.
If you're in the New York are and are interested in attending NewFest screening, tickets are on sale now. The festival starts on Thursday.