I'm gonna stick my neck out right now and wager that at least half of the people reading this article have dreamed of becoming a writer. Whether that means bestselling novels, thought-leading blog posts, copywriting, theatre, poetry or something else entirely, there are so many different ways to fashion a writing career — and so many channels for publishing your work — that getting started can seem overwhelming.
One wordsmith whose distinctive voice stands out among the crowd of online writers is Portland-based Alexandra Franzen (a name many of you will know.) A copywriter, coach, teacher, blogger and novelist, Alex is on a mission to make the world a better place through the power of words. When she's not creating business-boosting copy for her clients, she's encouraging her readers to follow their own passions and keep the heart and soul in their writing with workshops, online classes, and thought-provoking blog posts.
In this installment of Follow Your Arrow, Alex shares with us the story of her first five years as a self-employed writer, how her readers keep her going, and the importance of a good Netflix binge.
Alexandra Franzen, Writer
Age 30, Portland OR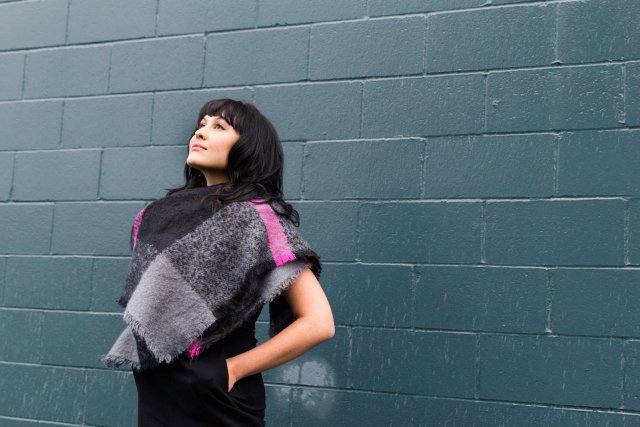 Hi Alex! Can you introduce your business? What's your mission? Who do you serve? 
While it may sound rather childlike and sugary-sweet, my mission is to remind people that they really can make a positive difference in the world.
Also: to remind people that words are very powerful. With one text, one email, one phone call, one blog post, story, or piece of advice, you could significantly change someone's day, week, month, or life.
Think about it. Because of something that you write or say, you could change the course of someone's day. That's real power. It's beautiful.
I try to inspire people to write, share, and use their words to create good in the world—whether that looks like starting a blog, a newsletter, a business, or just emailing a friend to spread some encouragement out of the blue.
Income-wise… like many professional writers, I earn a living doing a variety of things.
I work with clients on all kinds of writing projects: websites, TEDx talks, educational programs, book proposals, full-length manuscripts, and beyond.
I have a blog and I've written a couple of books of my own.
I teach writing workshops and make e-courses (like this one), which I sell through my website.
The bulk of my income comes from client-based work. These days, I work with six to eight clients at a time and projects begin at $1500. Having a steady stream of client-based work allows me to fund my own quirky "passion projects" and "obsessions" like writing and self-publishing an erotic novel ('cause why not?) or traveling to Seattle to learn more about a particular form of fitness training, just because it sounds interesting. My clients are amazing — mostly business owners from all kinds of industries — and I support them as sort of a ghostwriter / editor / writing coach hybrid-person. It's basically a job title that I "made up" myself!
How would you describe your approach to business? Are you super smart and professional, a big planner, are you just totally winging it? What personal qualities inform your approach?
Ooh. Interesting question.
I love financial security (knowing that I have clients booked out for a year in advance) but I also love freedom (knowing that I can close up shop and go to Montana for a road trip whenever I want).
These dual-desires (security + freedom) create a bit of a tug-of-war within myself and in my business. It can be tricky to have both. Every year, though, as I make tweaks and adjustments to my business model, I get a little closer to the balance I want.
What does a typical day look like for you? Do you have a routine? What kind of things do you actually do? 
Things I actually do:
– Wake up. Make coffee. Eat toast.
– Answer a few emails or work on a blog post for my site, usually while sitting at my kitchen table or on my big red comfy couch, which is my favorite "desk."
– Dive into a client project — one day, this might be editing someone's memoir, another day, ghostwriting a bunch of blog posts, another day, writing a media pitch or press release, or a podcast script. Always something different!
– Take a fitness class at my local gym.
– Smugly stroll back home in my post-workout sweat, feeling quite pleased with myself.
– Shower (or not, because sometimes I'm gross), get my laptop, then head to the local coffee shop. More client work — but now, in my "afternoon setting." (The baristas know me on a first-name basis. It's totally cute.)
– In the early evening, I might keep working if I'm on a roll. Or go for a walk. Or have drinks with a friend. Or call my mom. But honestly, most nights I go home, make dinner with my sweetheart, and then either read a book until I pass out, or binge-watch episodes of Gilmore Girls, which is my new TV obsession. (It's a soothing show about a mother and daughter who are best friends and all the charming things that happen to them in their small town. Nothing terrible ever happens and every episode ends on a positive note, usually with both gals having a pajama party, drinking cocoa or coming to terms with a simple, poignant life lesson. IT IS WONDERFUL.)
When did you know that this was what you wanted to do? And what were your early goals, your first steps? 
So, here's the stark, honest truth:
I still don't know what I want to "do" with my life and career. Not entirely.
I am a reasonably good writer, and I've been able to build a career as a self-employed wordsmith, which I really enjoy, but… but… you know. Is there more? Something else? Is this really my life purpose? Is it too late for me to become a country veterinarian like James Heriot? Like many people, I wrestle with these types of "who am I, really?" questions all the time.
That's not really an answer to your question about "goals" and "first steps," though. Ha! Let me try that again.
I've always been good with words and, from an early age, I figured that writing was something I could maybe, possibly pursue as a career.
I always focused on writing / storytelling in high school and college. I did theater, majored in English Literature and wrote columns and articles as a student journalist. That sort of thing.
After college, I worked as a freelance writer and eventually got a job working at a public broadcasting company. The public broadcasting company was an incredible place to work, filled with interesting people doing good things, but it just wasn't right for me. I felt trapped and frustrated there. Sitting in a beige cubicle for eight hours a day was just… not OK. So I hired a career coach, started to formulate a plan, hustled to line up more freelance writing gigs, cut my expenses, saved some money, and eventually, once I felt ready, I told my boss I would be leaving my job.
It was the best and scariest decision I ever made. I officially left my job on April 1, 2010 and I celebrate my entrepreneur-iversary on that day every year!
Why do you do this? What makes you spring out of bed in the morning? What's the best thing about the work you do? 
Best thing about being a professional writer is… receiving emails from people who have been impacted by my work in some way.
Over the years, I've gotten emails from people who have said things like, "You inspired me to quit my job and pursue my real passion," or "Because of one of your blog posts, I was inspired to write a love letter to my wife and she cried," or "I used to think I was a failure because my blog isn't that popular, but now I feel inspired to keep going and keep writing anyway. I know that my voice matters."
Those kinds of emails are… everything. I frequently sob right into my laptop. It is humbling, exhilarating, flat-out amazing to know that because of something that I wrote, someone else's life is now… different. That is what keeps me going.
I want everyone on the planet to experience that same feeling—that feeling of knowing, "I matter, I am helping, I am making a difference," whether you're connecting with an audience of 1 person or 10,000.
And the worst?
The worst part about my job is really just my own confusion, indecisiveness, and tendency to over-think things.
Like I mentioned earlier in this interview, as much as I love writing, I still have days where I feel very befuddled and foggy, like, "Is this really the career I am supposed to be pursuing? Am I missing something?"
Those days are rough. But I create those days myself! I am my own worst enemy, I suppose. I get through those days by getting back to basics: sleep, good food, sweat, snuggles, laughing, being in nature. Those kinds of simple pleasures usually quiet the stormy voices in my mind and help me to get back into a place of gratitude and contentment.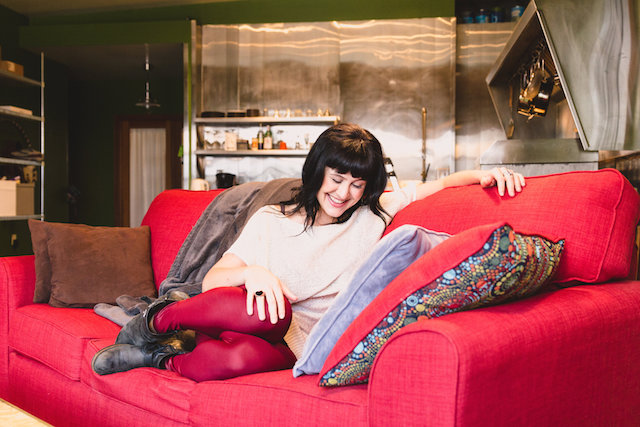 How do you market your business?
I rely on word of mouth, all the way.
Pretty much every single person who has hired me over the past five years has hired me because somebody they trusted (a friend, a colleague, a mentor) said to them, "You should hire Alex."
Many people do lots of fancy things with social media and whatnot to promote their work… and I think that's great! But it's not my style. I prefer to rely on good ol' fashioned word of mouth. So I blog and publish my writing online, I work with clients, I teach workshops and make e-courses, and then I trust that if people enjoy what I'm doing, then they will talk about me to other people. I leave it at that.
This laid-back approach to marketing might not be ideal for everyone or every business, but so far, it's working out for me.
What's the most valuable tool in your kit?
Coffee.
How does being LGBTQ impact on your business (if at all)? Do you mention it, make a big deal out of it, hide it, not really think about it…?
I identify as queer. I've dated women and men. Mostly women, if we're tallying up or something! Currently, I am in a relationship with a man and — as far as I can tell — he's the one I will spend the rest of my life with. Why? Because he loves RuPaul as much as I do. That's how you know… it's true love.
I've don't draw a lot of attention to my sexuality — but I've never "hidden" it either. I write openly about my real life and relationships. People who follow my blog closely will notice posts about women, as well as posts about men, sprinkled throughout the years.
But you'll also notice posts about running a business, rock climbing, breaking my leg, living with OCD, books I love, ideas for writing better emails, deep lessons I've learned from opera singers and martial arts masters, and so on.
Being queer is a part of my identity — but it's probably not the most interesting thing about me. It's there, subtly woven throughout my body of work, but it's not the "leading headline" or "top news story of the day."
Being queer has not negatively impacted my business in any way, so far as I can tell. Maybe there are people who detest me, but if so, I've never heard a peep from them! I have been fortunate. The Internet has been kind to me. Let's hope it stays that way!
What three websites, blogs, books or people do you rate for business advice or ideas about your work?
I love the book Die Empty by Todd Henry. I talk about it obsessively and recommend it to anyone. It will light a fire in your heart. I won't reveal any more. Just read it.
I always feel inspired by my friend and client Melissa Cassera. She's a former publicist who now works as a small business strategist AND she's pursuing a career in Hollywood as a TV writer. I love how she's balancing her business, her personal life, and her passion projects… all so gracefully! She's brilliant and hysterically funny.
I highly recommend listening to RuPaul being interviewed by podcaster Marc Maron. It is insightful and full of fascinating advice on how to live a courageous, creative life. The episode is not free (you have to buy it) but it's well worth the investment.
What's your hot tip for queer women who want to start their own business?
Even if your dream is very big, like world-domination-big… start small. Really small.
If you want to be a professional writer, start by getting one paid writing assignment or one paying client. Do your work, test things out, tweak your plan as necessary, and build from there.
Ditto if you want to be a painter, cupcake baker, life coach, tarot card reader, or marketing adviser. Start small and keep it simple.
Don't try to build an entire skyscraper today. Start with one room.
---
You can find out all more about Alex and keep up with her blog at alexandrafranzen.com.
Do you run your own business? Or dream of following your passion and setting one up? What do you do, how is it going, what are your fears, what are your goals? Let us know!
If you think your business (or side-hustle) should be featured on Autostraddle, drop a line to beth at autostraddle.com