1998: Sex and the City (HBO)

Miranda Hobbes, played by now-out-lesbian actress Cynthia Nixon, gets set up with a woman named Syd, played by Joanna Adler, because Miranda's co-worker assumes Miranda must be gay 'cause she's single. Just to be sure, Miranda kisses Syd in the elevator, then immediately declares, "Yep, definitely straight." Because that's exactly how it works! You peck somebody on the lips and then you can decide how you feel about sleeping with, romancing and partnering that gender forever! Good job, Darren Star!
---
2000: Queer as Folk (Showtime)
Queer as Folk featured two lead lesbian characters, Melanie and Lindsay.
Over on the safety of Showtime, Queer as Folk didn't waste much time getting its lesbian lovers, into bed — but Mel and Lindsay's sex life never got the same kind of attention as the male cast members. (To be fair, it's likely Queer as Folk's audience as as interested in Mel and Lindsay's sex life as The L Word's would've been about a gay cis male couple.) But we sure did get to see them be Moms a lot!
---
2000: E.R. (NBC)
E.R. had two lesbian characters at two different times: Kerry Weaver (Laura Innes) and Maggie Doyle (Jorja Fox). Kerry had two love interests, Kim Legaspi (Elizabeth Mitchell) and Sandy Lopez (Lisa Vidal).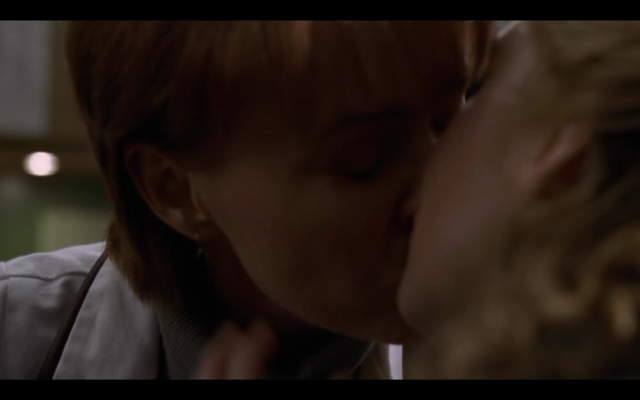 E.R. upped the ante by creating an actual lesbian character, Kerry Weaver, who would go through two relationships and all kinds of drama as her storyline progressed across several seasons. It was a truly groundbreaking turn. Her first on-screen kiss took place with Kim Legaspi, played by Elizabeth Mitchell.  "I will say that the chemistry that existed between Elizabeth and I was much better than the chemistry that existed with any of the guys they hooked me up with," actress Laura Innes told The Advocate. "It's great that there are gay and lesbian characters on shows like Six Feet Under and Queer as Folk, but there's nothing that compares to this battleship that is E.R. in terms of the mainstream nature of it, how many people it reaches."
---
2000: Talk To Me
This short-lived TV series featured an episode in which Janey (Kyra Sedgwick) and her friends attend an advertising party which is SUPER boring, so they dare Janey to go flirt with Teresa, played by Paulina Porizkova. She does, and she even plants a kiss on Teresa and feels guilty enough about it to go out on a date with her, and even enjoys the attention and gifts she's given. Soon Teresa learns that Janey is straight. Teresa turned out to be a one-episode character on what turned out to be a three-episode show… thus no visual evidence of the show's existence anywhere on the interwebs!
---
2000: Friends (NBC)
Friends had two minor lesbian characters — Ross's ex-wife Susan and her girlfriend Carol.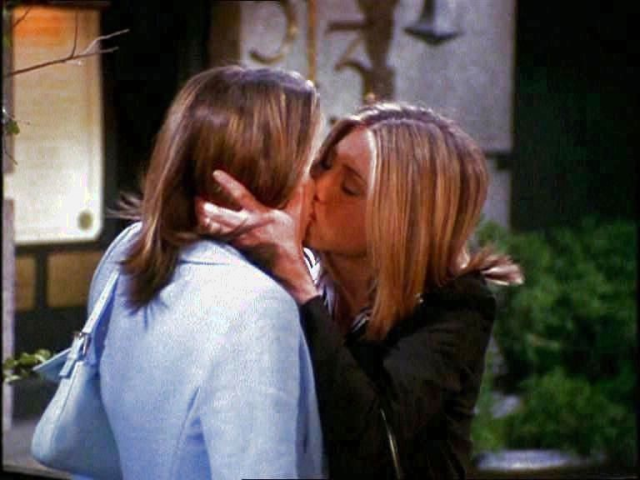 I remember this one all too well, because it was blown into THE BIGGEST DEAL OF ALL TIME despite the fact that it was a total non-event. Rachel Green (Jennifer Aniston) runs into her old sorority sister, Melissa Warbuton, played by Winona Ryder, and invites her to dinner later. Rachel confesses to Monica that once upon a time in college, she and Ol' Mel got tanked and made out, but Phoebe doesn't believe Rachel would do something SO outrageous, so to prove it, she presses Melissa about it at dinner, but Melissa feigns ignorance until Rachel plants one on her, which inspires Melissa to confess that she's BEEN IN LOVE WITH RACHEL ALL THIS TIME. Crazy lesbians harboring secret crushes ALL THESE YEARS! What cool idea these shows gave me of what it meant to be gay! Wheee! Phoebe, interested in "what all the fuss was about," then kisses Rachel and admits "Eh, I've had better." That part made me laugh.
Friends featured another brief same-sex kiss in a 2003 episode, between Ross and Rachel's babysitter and her girlfriend. It's kinda ridiculous considering that the show never featured any affection between Carol and Susan, who were recurring lesbian characters throughout the entire series.
---
2000: Sex and the City (HBO)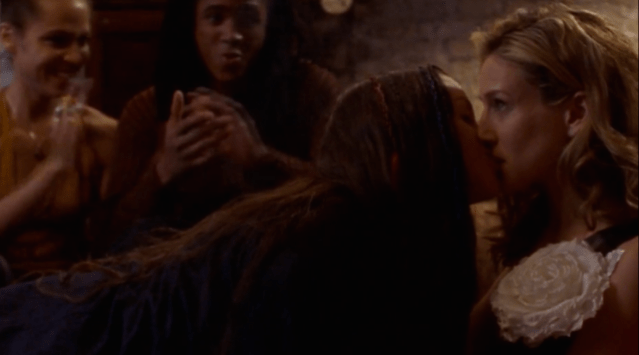 This was a really delightful episode in which Carrie Bradshaw dates a bisexual guy and CANNOT HANDLE IT. It's really absurd, especially (or perhaps predictably) on a show written by queer men. Eventually, Carrie goes to a party hosted by her new man's ex-boyfriend, which really blows her mind. Basically the whole episode is the four women being alternately confused and empowered by these crazy kats and their wild ideas about gender and sexuality! Obviously this party involves playing Spin-the-Bottle, because everyone at the party is bi and poly and pan and queer and JUST ABSOLUTELY WILD, and that's how Carrie ends up sharing a kiss with Alanis Morisette that inspires the extras to cheer enthusiastically and make suggestive facial expressions despite it being a pretty tame situation overall.
---
2001: Dark Angel (Fox)
Dark Angel featured one lesbian character, Original Cindy, played by Valarie Rae Miller. She was best friends with the show's lead, Max, played by Jessica Alba.

Original Cindy's ex-girlfriend, Diamond, comes back to town in the episode "Shorties in Love," and share the series' only lesbian kiss. Of the character, Sarah Warn wrote "By featuring such a complicated and sympathetic black lesbian character during its two-season run, Dark Angel offered one of the most identifiable and entertaining lesbian characters on network television before or since — if only for a minute or two each week."
---
2001: Sex and the City (HBO)

At last we get lesbian kissing and lesbian sex within the context of a same-sex relationship — only to have Samantha declare the relationship tedious and complain, "All we ever do is talk talk talk. The talking in our relationship has replaced the fucking in our fucking relationship! I don't want talk, I want passion! I want fireworks!"
---
2001: Spin City (ABC)
Mayor Charlie Sheen is intimidated when he finds out his new girlfriend Jennifer Duncan, played by Denise Richards, is bisexual. Caitlin Moore (Heather Locklear) tells Charlie Sheen to stop freaking out about it. But of course the insatiable bisexual trope rears its ugly head and Jennifer can't leave their lunchdate without giving Caitlin a lesbian kiss on the mouth.
---
2001: Buffy the Vampire Slayer
Buffy the Vampire Slayer had one lead queer character, Willow (Alyson Hannigan), one major lesbian character Tara (Amber Benson) and recurring character Kennedy (Iyari Limon), Willow's slayer girlfriend. 

In the scene "The Body," Joss Whedon allegedly fought with The WB to finally give Willow and Tara a liplock and also allegedly "snuck it in" at the end. It wasn't used in any of the episode promos, just all of a sudden, it was there. It was also a really depressing episode — if you've seen it, you know what I mean.
The distinct lack of romantic physical contact between the two girls, especially compared to what we see of the heterosexual couples on the show, already makes the show feel undeniably dated. That being said, Buffy was the first show to really go all out with a lead lesbian character in an actual relationship that lasted through many episodes, actual acknowledgment of the two girls having sex, frank discussions of sexual orientation, a non-catastrophic coming out, and not one but two eventual female love interests for Willow.
This is when things really started changing. As Kathy Belge wrote in Lesbians on TV: A Brief History, "2001 saw more girl-girl action than the previous ten years combined." Lesbian characters became increasingly common, showing up on The Wire, The Simpsons and All My Children. We got little storylines on The O.C. and Once and Again. In 2004, we got The L Word, filled with characters who often took off their shirts!
This isn't to say that things have changed completely — they haven't. Yes, we (finally) get to see women kiss women on television, but it's often very chaste compared to what we see between opposite-sex couples on those same shows. Pretty Little Liars is a good example of this double-standard: whereas we've seen disrobing and extended love scenes between the heterosexual couples, we don't get that with Emily and her female paramours. We'll keep pushing for representation and if history is any indication, we just may get it, one of these days.
Pages: 1 2See entire article on one page