Two and a half years ago, I sat in my therapist's office processing my sudden divorce and all of the feelings of anxiety and fear surrounding my new life. She asked me if I, at 34 years old, felt encumbered by pressure from people around me, society, or even just myself, to be partnered by a certain age; or if, generally speaking, I assumed any cultural responsibility for being at a certain place in my life because of my age. Fortunately for me, in that moment and in general, I had not. If my mother had conversations with me as a child, where she tucked a tendril of my hair behind my ear and told me that one day my prince would come, I don't remember it. I never understood the inclinations of my peers to pore through wedding magazines or dreamily talk about their future committed and/or married lives. As I aged and found myself interested in other people romantically/sexually, I generally approached every conversation about longer-term commitment or marriage with a certain level of discomfort and disinterest, because it felt like an overwhelming amount of pressure to change a dynamic that felt fine as it was, or to codify a relationship inflexibly. I always just wanted to feel secure. When I settled into my last significant relationship, I felt a certain degree of excitement about the idea of marriage, but it took time and a lot of self-convincing. In hindsight, I realize what that time and convincing was really about ​​— convincing myself that this relationship was right for me AT ALL, let alone right enough for marriage ​​— but it's that hesitation I come back to every time I become involved in a dynamic with a new person that feels like it could go somewhere.
It's a rather uncommon thing to be alone, I think, at this age. There is no mythical clock ticking inside of me, telling me to hurry up. While it is hard to divest myself of the social pressure one feels when everyone in your age group is deeply invested in coupling up, deeply invested in new love relationships, getting committed to one another/married, having or adopting children, all of my energy has gone toward finding comfort and security in being alone in all facets of my life. While I work so hard, basically every single day, to separate myself from these social pressures, which exist within the queer community as much as they do outside of it, there are fewer and fewer people like me living this kind of life. I'm in a position where my friends move through great relationship changes, including marriage and children, or exist in them from the outset; that is to say, they have, or are actively creating, roots. My roots are my own, in a sense, and every connection I have is unique and beautiful in its intentionality.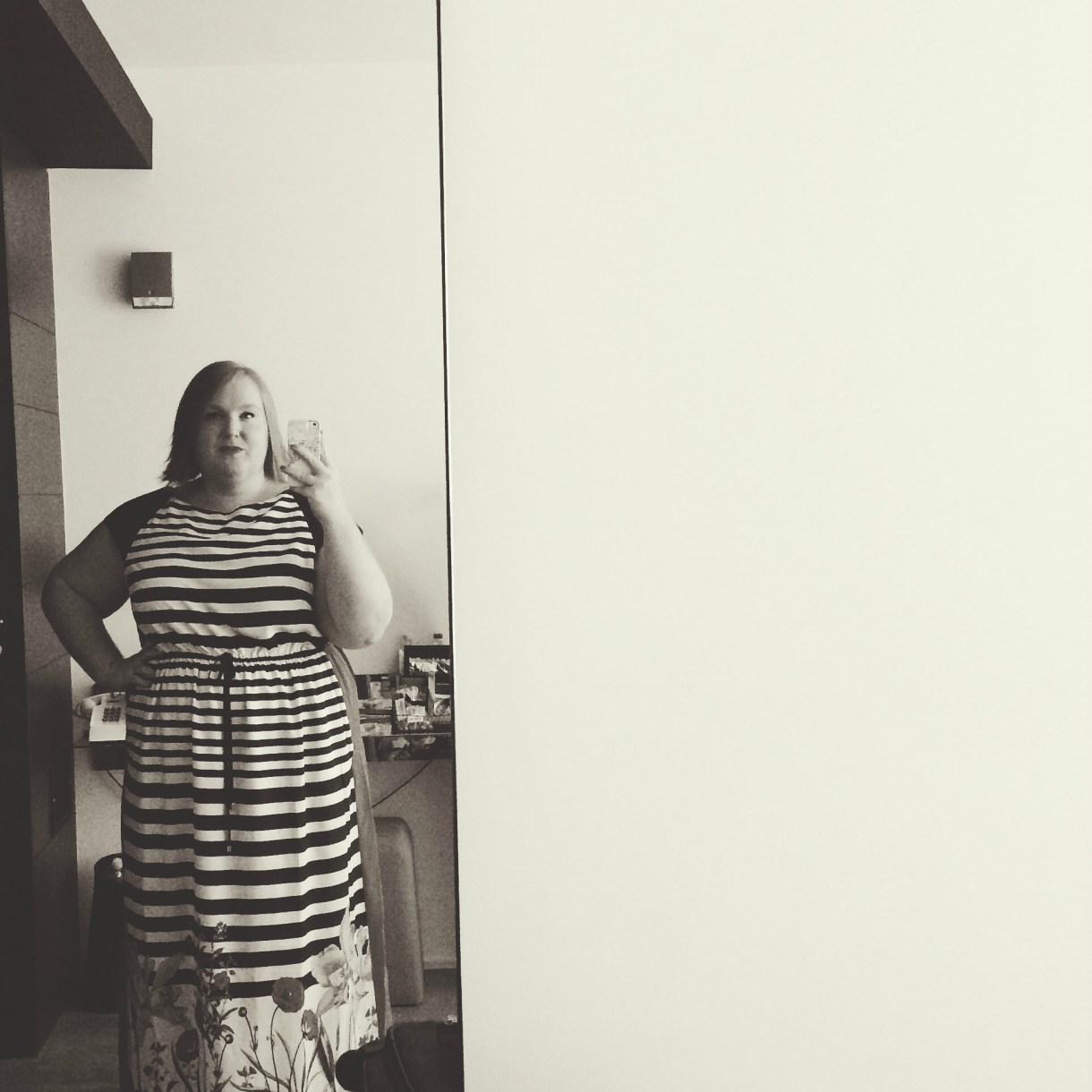 There are times when I feel like the cool, unattached single friend; I'm pretty much always available and I don't need to check in with anyone. There are times when I'm almost giddy about the fact that I belong only to myself, and that I don't feel weighed down by responsibility to anyone else. There are also times when I wish I could stumble in the door after work, throw my purse on the ground and fall into my partner's arms. Times when making a decision by myself brings me to tears. There are times when I crave physical connection in a way that could never adequately be satisfied by casual encounters or even the most sincere hug from a friend. There are times when I wish I could be sure of someone ​​— their presence, their confidence in me, their power to nurture me in challenging moments ​​​— in a way that only a partner could fulfill. It's incredibly hard not to feel beside myself with despair about that. And then there are times when coupled people are all but patting me on the head, assuring me that my time will come, as if this life I'm living is only the interstice and I am merely railing against, or running away from, inevitability. It's not that simple anymore, really. Every responsibility I carried in my 20s has shifted almost entirely to the other end of the spectrum; where I was once dedicated to socializing, I am now committed to getting enough sleep, paying my bills​ ​on time, and other boring forms of adulting. There are times when I'm just not really clear where​ or what​ I'm supposed to compromise.
I realized, when my marriage ended, I was terribly unrehearsed at what alone really felt like. They tell you that you should feel confident and comfortable being alone, and I was so far from that. Every aspect of my alone time was theatrical. A well-edited farce. While I was feeling terror and discomfort, I was telling the world I loved every second of it. ​"Look at me, world! I'm eating this steak and drinking this Prosecco by myself and it's faaaaaaaaabulous!​" It usually wasn't. I'd retreat to my bed afterwards and cry while watching Pride & Prejudice. Now? These activities are the founts from which I derive my energy, my confidence, my joie de vivre. Alone time is a treasured gift I'm almost always unwilling to surrender.
My Sunday nights are practically ritualistic at this point. I make myself a serviceable dinner. I make sure all of the dishes from the weekend are washed, dried, and put away. I probably talk to myself. I make sure that any paper mail I received that week is either paid and filed (because, let's be real, it's all bills) or shredded. I clean out my purse, refilling the tissues and disposing of all of the gum wrappers. I fill my purse with the requisite number of granola bars to stave off hunger/establish dominance among my fellow passengers in the event I get trapped in a tunnel going to or from work (if you live in DC, you know this is real). I make sure all of my laundry is clean, folded, and put away. I use a magnifying mirror to examine the smile wrinkles forming around my eyes. I read my weekly horoscope and whimper a little (it's always so bad). Floss and brush. Check the morning's alarms. Turn on a mindless television show or read until I fall asleep, sliding diagonally across my obscenely large and comfortable bed.
At 36 years old, these relatively normal ​​​activities feel far too personal to experience with another human being in my midst, and despite being in relationships for 12 of the past 15 years since I came out, most days I can't ever imagine being vulnerable enough again to welcome someone into my neurosis, no matter how tame those behaviors might seem. These ministrations are my own, an intimate dance I do with myself constantly to feel like a functional adult, operating with some degree of consciousness about my own feelings, needs and vulnerabilities. I'm the only person doing this for myself. ​​I'm so comfortable being alone, moving through my life hashtagging all of my ​"adventures​" with variations on #singlegal, that I often feel too protective of my own independence. Decisions, like what I'm having for dinner or how I'm going to squirrel away my recent pay increase or what color pillowcases I should buy, are easier to make alone. I can eat my salad directly out of the bowl I tossed it in, and have ​Edge of Glory​​ dance parties whenever I damn well please. But also, there is the reality that I am, quite literally, alone. A lot. The cumulative effect of this is almost palpable.
Were you to ask me in my 20s, after finding love for the first time at 22, if I could live without love, I would've felt strangled by anxiety. Now? My feelings are very much a mixed bag. The thing is, I don't exactly feel desperate, but I feel far less romantic about my daily goings-on than I do about the way being in love makes me feel. My internal monologue usually sounds something like, ​"Great job, self, you did the dishes and paid all of the bills!​" There is nothing romantic about that. Nothing. I don't really think that my daily routines would be interrupted by the presence of someone new, either, so I can't really construct a justification for seeking out a partner on that specific level. But there is longing. There is need. What I wouldn't give to be held by someone right now — as long as they didn't obstruct my independence or whatever. I think that if there is any age when one can be desperate about romantic connection, it is in these sort of ​"post prime​" years. My tempered desperation also has me thinking about potentially embracing the antithesis of romantic desperation, for a while, and to just be indifferent to love and sex altogether. Frankly, I'm so certain that's not where my feelings or needs are situated, even though it would make my life feel so much less complex. I don't want to feel guilty for being some kind of desperate. I am queer. I am sexual. I have desire. It's not wrong to want to engage that, even slightly desperately!
I fully own that one's late-30s are actually very prime, biologically speaking. And yet, it also feels decidedly…post harvest? If my 40th birthday is to be filled with gravestones and eulogies and jokes about being ​"over the hill​," then it must mean that now I am on that hill, looking out to the future before me and to the past that has ushered me to this point. Community with other single people brings a certain validity, or confidence, to my life, but there are simply not as many people with whom I can bond over my assorted realities, and even fewer people to whom I'm inclined to be attracted. So, more often than not, it just feels strange and lonely on this hill. We're all so much more weathered and complex, like adorable, beloved, and chipped teacups. Our functionality is barely disrupted, but you still notice. There's something askew. Perhaps we're all tired? The particular kind of energy I expended nurturing and loving my former partners was decidedly different than the kind I have to use to care for myself. It was replenishable. Caring for myself is not. It's hard work and always intentional, and when my energy is sapped, I have few people I can lean on to reinvigorate me (or bring me dinner in bed and kiss my forehead tenderly). The only person working their ass off to make me feel amazing right now is me, and I'm doing a better job than I've ever done in my entire life, but still I wouldn't ever call it amazing (and that's also ok, because life doesn't always have to feel amazing).
The restorative kind of energy, for me, is derived from intimacy. Intimacy makes me feel amazing, it energizes me. Kissing, hugging, closeness, deep/meaningful talks about life, politics, food, dreams, horrible television. Waking up and seeing my partner on the other side of the bed drooling on their pillow/with amazing bedhead/curled up in a ball/snoring/naked/bathed in moonlight is amazing. You can have closeness and validation and feel completely seen with friends, family, and sometimes even colleagues, but it's rarely amazing-grade. There is a specific kind of love, attraction-based intimacy that feels almost other-worldly; it is a magical combination of feeling both lost and found, a profound sense of groundedness and a sense of home in a situation that also feel fresh, reckless, and invigorating. I also have to acknowledge that I don't need or want that intimacy all the time. I quite literally couldn't handle it. But the spooning your person at 4 a.m. because you woke up and just wanted to be closer to them, the communicating without talking, your breathing syncing up, because you believe that there is this other-worldly connection between the two of you that can only be fully realized when there is as little space/fabric as possible between your hearts — that's very specific Amazing-level validation that only a person — My Person, presumably — can make me feel.
The reality is that achieving that kind of intimacy requires so much work for me now. Gone are the days when I found myself capable of, let alone desiring, to be intimate with someone I didn't know, barely trusted, and would likely not see again. I'm unwilling to embrace casual encounters at this point; they seem far too reckless for my old(er), (somewhat) weary soul, and they also seem more and more impossible given the ways in which I have grown more complex. So there is this void, but also there is an extreme tentativeness about filling it. Emotionally, I can do my best to tend to the gaps, and ​I ​ask my loved ones to chip in too, but the particular kind of intimacy I desire just doesn't exist in singlehood. I don't think I'm ever willing to give up completely on the quest to find that kind of magic, though. It will require more vulnerability and compromise than ever to get there, but I will forge ahead.
What I learned early on in adulthood is that I enjoy the work that makes me feel settled and secure in partnerships. As a nurturing person, a natural caregiver, it's easy for me to fall in step with another person and incorporate their needs into my life. I love deeply. While I'm much more reserved and hesitant about partnership and love now, it is also relatively easy for me to fall in love with someone with all the fibers of my being. But falling in love doesn't mean opening up every moment of my life or my living space to another human being, and I think that knowledge brings me great comfort, which it never had before. Becoming secure with being alone has relieved the frantic pressure to believe that every new person I meet might be the next person with whom I enter into a significant relationship, and instead it has provided me with the security and confidence to build a life on my own terms. There's a cultural misunderstanding, I think, about love. As I explained to a friend, I once believed that love would bring me to 100% completeness, whereas now I realize that 100% complete is my own personal, autonomous goal. Everything else is greater than.
The past two years have been about cultivating a life for myself that looks more like my childhood dreams, wherein I was always a glamorous single woman, than anything thus far ever has, and it has been both fascinating and devastating to reconcile those dreams with reality, which is a weird amalgamation of the life I'm building for just myself and the intricate needs that almost always go unmet. In my 400 square foot studio apartment, I have infinite space and freedom to be myself and do for myself the things that I only ever really had the opportunity to dream about. A relationship would be so much more, so much more of everything. I don't know when or if I'll ever be ready to take that on. But damn, what I wouldn't give to feel like I was moving towards it.