Feature image via New York Magazine
Style.com recently brought the queer internet to a screeching halt with a short piece offensively titled, "IS LESBIAN CHIC HERE TO STAY?" that began, "Lesbians! They're everywhere." The article claims that fashion is feeling the effects of an alleged recent spike in "high-vis lady love," and cites examples like "girls running around in Air Jordans and baseball caps."
Maybe the piece is meant to be tongue-in-cheek; maybe the writer knows it's silly to equate combat boots with lesbianism and was subtly trying to mock those who do. Unfortunately, I doubt it.
Visibility, no matter how you spin it, is an extremely complicated issue. We need to be able to identify each other in order to form relationships and communities, and sometimes we feel the need for people outside of our community to be able to identify us as well. But what we don't need is for people outside of our communities to define what makes a lesbian visible, to pick a certain gender identity they feel comfortable with and declare it "chic" and "hip" and then not only police our genders based on that ideal, but also appropriate it. Because the Style.com article isn't just talking about lesbians being chic; it's talking about how straight women are employing trendy lesbian signifiers as the newest hippest accessories.
And that's a real thing — Miley Cyrus's new haircut does make her look like a baby dyke, and here in NYC, it's becoming increasingly impossible to tell the hipsters from the lesbians. Septum piercings, carabiner key chains clipped to belt loops, undercuts, and all the other things that one used to be able to rely on to identify queers who don't fit otherwise fit into traditional lesbian gender categories are now just the latest greatest way to show how cool you are, for anyone. The Gap sells "Sexy Boyfriend Jeans," menswear-inspired pants that are on-trend in that they acknowledge the desirability of androgyny branded in way that isn't too butch to be hip. Goddess forbid The Gap make masculine jeans for female bodies without mentioning men in the branding.
But all this isn't really news, is it? Fashion's love affair with lesbian-inspired androgyny isn't unique to the runways of Fall 2012. In fact, the mainstream's fascination with the style known as lesbian-chic is cyclical.
As Riese and Alex noted back in 2009,"The term "Lesbian Chic" has been tossed around with relative abandon since 1993, when it was first popularly employed in response to heterosexual supermodel Cindy Crawford straddling lesbian k.d. lang on the cover of Vanity Fair." For example, New York Magazine published an article called "Lesbian Chic" in 1993 that said, "There have always been glamorous lesbians… but the short-haired 'bull dyke' is still many Americans' idea of what a gay woman looks like. Now the 'lipstick lesbians' and 'designer dykes' share the bar with the 'butch/femme' group; the downtown black leather crowd and women in Jones New York suits wander among them."
The year 1993 represented a shift in attitude, both from within and from outside of the lesbian community. A new generation was becoming visible to mainstream America, one that turned its nose up at butch/femme relationships and declared androgynous glamor as the sexiest way to be a lesbian. The New York Magazine article interviewed a smattering of lesbians, one of whom actually equated bull dykes with sleaziness, thus privileging the sexuality of those who embodied "lesbian chic." Though the article says, "In the nineties, it seems, there is room for every style," it also seems to be saying that the best style is that of the "designer dykes," which, incidentally, seems to be the easiest lesbian aesthetic for the mainstream to digest.
Lesbian chic reappeared in 2004 with the debut of The L Word. That year, The Advocate published "Lesbian chic, part deux"in which lesbian writer Kate Nielsen describes the allure of "The postmodern lesbian: not totally butch and not totally lipstick chic but definitely demographically desirable." Nielson identifies The L Word as a way for television to harness that special power of lesbian chic by featuring slender, glamorous actresses with alternative lifestyle haircuts having beautifully choreographed sex scenes that are just tame enough to be palatable to mainstream viewers. She acknowledges the fascination with lesbian chic from the previous decade, saying, "Haven't we been through this already? Yes, we have. But that was then, this is now. We have to remind people how cool we are if they're not actually hanging out with us. You know, out of sight, out of mind — "don't ask, don't tell."
Not everyone saw it as a reminder of how cool lesbians are — for many, this seemed to be the first time they were hearing it at all. Guy Trebay, a man, published an article in The New York Times that same year saying that The L Word "showed that — far from being frumps doomed to Manolo Blahnik deficiency — lesbians are a powerful presence in fashion, in both predictable and unexpected ways. The old stereotypes have not faded. But they have slipped into something decidedly cool." This point of view represents a steadfast popular opinion that the old stereotype of lesbians — read: butch —  isn't cool.
Since the debut of The L Word, lesbian signifiers have slowly and steadily made their way into mainstream fashion. But it's still this very highly-policed, very appropriate way of being a lesbian that wins a nod from fashion. The cast of The Real L Word doesn't look all that much different from its predecessor, right down to the obsession with tall, skinny eyeliner-wearing futches.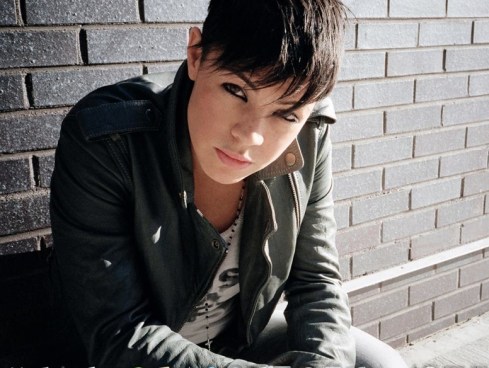 So while the lesbian chic obsession is a form of heightened visibility, it also serves to erase other, equally valid ways of being a gay woman. The Style.com article that brought lesbian chic back to our attention was only talking about the lesbians whose style is palatable for high fashion. And just like the reflections on lesbian chic in decades past, it re-defines and re-packages lesbianism as that which is indicated by a certain style. It also describes lesbian chic as a trend that has recently been invented, and seems to be likewise saying that lesbians have only recently been discovered. If we're not making waves with a hipness that is sexually appealing to all demographics, regardless of our actual sexual availability or interest, it seems we aren't noticed at all.
But honestly, I don't think this is all negative. It is certainly easier than it used to be to buy clothes that fit my own gender identity, which is somewhere in between femme and androgynous. I actually really like The Gap's "Sexy Boyfriend Jeans" (I just can't afford them). And lesbian designer Alicia Hardesty can launch her super awesome clothing line "Original Tomboy" and count on fashionistas of all gender expressions to appreciate the dykey aesthetic of clothes that re-define what it means to "dress like a girl."
It's important, though, to not let mainstream ideas of what a lesbian should look like influence our ways of identifying each other. It's great that a specific kind of lesbian can enjoy applause from high fashion, but the rest of us have valid ways of showing our sexualities, too. Let's not forget about the beautiful "bull dykes" just because fashion wants us to, and let's not forget that femmes are just as gay as a dyke in skinny jeans and a leather jacket. We can appreciate that lesbian chic is back in vogue, but let's not abandon those whom "chic" does not include.