On the comprehensive list of gay rites of passage, "watch Foxfire" is listed somewhere between "fall for a straight girl" and "run a seven-season marathon of Buffy." The film adaptation of Joyce Carol Oates' novel has a big cult following among queers, and for good reason.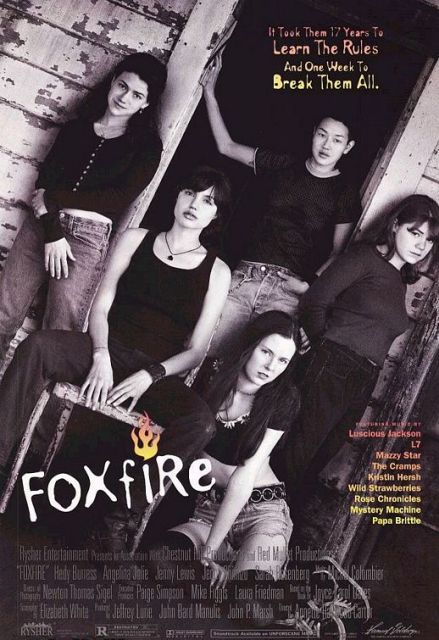 The '96 indie film centers around drifter Margaret "Legs" Sadovsky (a then-unknown Angelina Jolie) and her band of quasi-feminist thieves. Among the gang's members are Rita (rocker Jenny Lewis), Goldie (model Jenny Shimizu), Violet (Sarah Rosenberg), and Maddy (Hedy Burress)–a silent, stoic-type becomes Legs' closest confidant. As the girls rail against suburban patriarchy to the sounds of The Cramps and L7, lesbian subtext abounds! Maddy and Legs have enough eye sex to fuel one space shuttle or 20 Faberry fanfics. There also is a seven-minute topless tattoo'ing montage set to Mazzy Star's "Into Dust."
But realtalk: Aside from casting, Foxfire is sort of…terrible. While I bawled as the final credits rolled, I quickly realized that I wasn't weeping because of the plot. I was mourning the loss of Angelina Jolie's tomboy swagger (RIP).  The dialogue is cringe-worthy at worst and dated at best. Also, the intermittently-spersed electric guitar solos make the movie a little less Revolution Grrrl Style Now and a lot more ABC After-School Special. If your friends give you shit for digging this gem out of the $5 DVD bargain bin, the only excuse worth making is that you're doing "herstorical research" on Jenny Lee Lewis' transformation from doll-faced teen into indie rock goddess and Jolie's off-screen romance with Shimizu.
When I picked up the novel on which the film was based several years ago, I was hooked by page three. Oates' writing is so neurotic–heavy on detail and light on punctuation–that it deceives you into reading more, page after page after page:
Among the men though there's a girl, it turns out, a young girl possibly fourteen or fifteen years old, so there's a brief noisy debate about whether she should be 'allowed' to compete and she's 'allowed' at least provisionally, a tomboy sort of girl in a T-shirt, jeans, sneakers, ashy-blond hair in a ponytail hanging halfway down her back…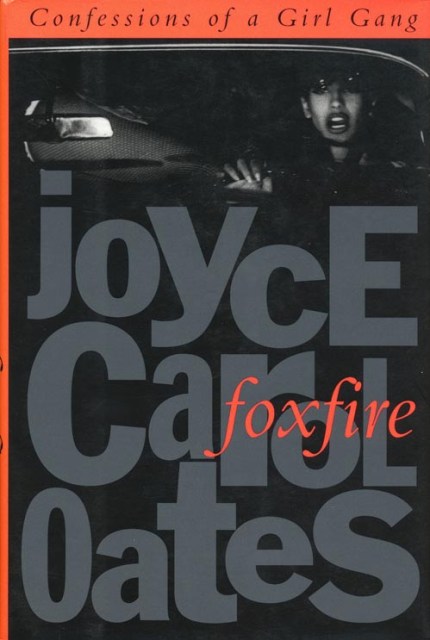 While Oates' Foxfire:Confessions of a Girl Gang has a "group of girls take on The Man" premise that's similar to its cinematic adaptation, the setting is worlds away. Instead of taking place in the Portland, Oregon during the 90s, Foxfire was originally set in 50s Upstate New York. The gang is living in a more intolerable place and time, immediately upping their stakes. In the novel, Legs, Goldie, Maddy, Violet and Rita aren't even suburbanites; they're working class kids with absent parents who Oates describes as hailing "from the wrong side of the tracks." They aren't watered-down riot grrrls. They're the female answer to The Outsiders, but with better hair and high-waisted denim.
I loved the book so much that I immediately felt like I'd been cheated out of a damned good adaptation of a solid American novel. But 16 years after the first adaptation, the novel is actually getting a do-over at the hands of  Laurent Cantet! Meet the new and improved Foxfire gang:
If production stills are any indication, Cantet's Confessions seems to honor the original work. The only thing I love more than a blue collar is an orange scarf–those play an important role in the book.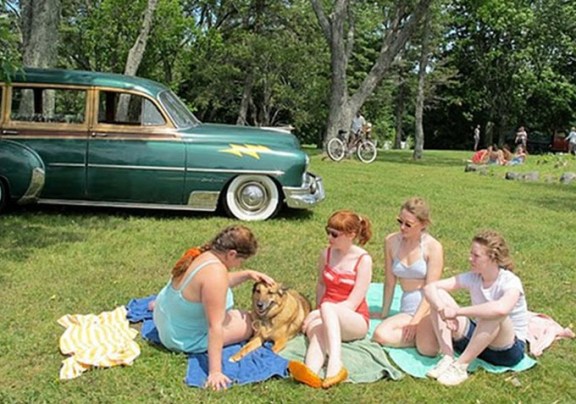 I absolutely love the meticulousness of the classic automobiles, the Foxfire gang's dog, and even the casting in the newer adaptation. Just by looking at the production stills, I know who has been cast as "Legs" Sadovsky and Maddy Wirtz. Filmed in 2011, Cantet's Confessions–like the original–consists of a cast of relative unknowns.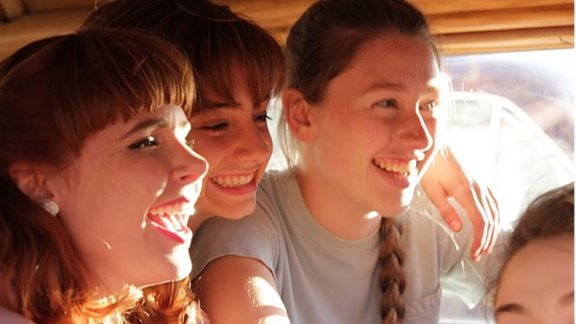 When Confessions premiered at TIFF several months back, it received so-so reviews, including one from The Hollywood Reporter:
Foxfire remains a potent and occasionally touching depiction of feminism avant la lettre, and even if this gang is not always credible, there is at least one standout performance from Admanson as the uncompromising and crafty Legs (a part originally played by Angelina Jolie in a little-known 1996 adaptation). The actress's scraggly frame, large eyes and Joan of Arc haircut are in sharp contrast to her character's commanding persona, but she remains someone you'd gladly follow.
If you skip ahead to 2:05, you can watch a clip from the film here:
It remains to be seen whether Cantet's Confessions will go down in girl-girl history like its predecessor, but its young actors are going to give Jolie and Shimizu quite the run for their money. Foxfire: Confessions of a Girl Gang is set for wide-release in January.