Happy Friday, weirdos! – Our fun "when I knew I was a lesbian" twitter game is still marching valiantly forward. Tell us "when YOU knew" you were queer by tweeting @autostraddle using the tag: #wheniknew. We'll publish all on autostraddle on TOMORROW.
Got more to say? You can also enter by e-mailing your (400-word or less) story to wheniknew [at] autostraddle dot com. Deadline for the stories is Saturday August 8th at midnight EST! We'll publish some and two lucky sharers will get prizes that include the ellusive Really Papi T-shirt and a book of hot lesbian erotica.
Anyhow! Back to things you DO know, lesbians & allies! We proceed valiantly forward with our 'When I Knew I Was Gay' series with a this-just-in Part Three! First catch up on Part One and Part Two, which kicked ass.
Also, Jeanine won 'So You Think You Can Dance.' And to that we say — hey! We totally called it in our Wednesday Televisionary! Yay Jeanine!


TEGAN & SARA: Project Report on Tegan & Sara with lots of photos!
THREE RIVERS: Alex O'Laughlin is interviewed about his new show Three Rivers which also stars lesbian lady-lover Shane (Kate Moennig): "We have tight scrubs. We have wet skin when we scrub in. We make eyes at each other over the operation table. There's going to be lots of love affairs and stuff like that would happen in a real hospital. It's going to be really exciting."
AUTOSTRADDLE: Riese, CEO of Ideas for Autostraddle is interviewed over at Talk With Tim. It's the best interview of all time, if you don't read it and stuff you're gonna regret it!
LADY GAGA IS CONTROLLING YOUR MIND: Lady Gaga is a poster-girl for Illuminati mind control, a puppet who embody exactly what the public represents in the eyes of the elite: mindless drones, mannequins, remote controlled robots, hypnotized degenerates incapable of thinking coherently. Whether she's a willing actor or a result of Monarch programming is up for debate but the large-scale impact of such stars is a bigger issue. Her persona and symbols are projected to the world and are part of the world-wide programming project the media corporations are conducting to mold young minds.
BOIS BOIS BOIS: Something is just funny about the way this drag king article is written. Like check out this sentence: "And that is what she wants. She is a lesbian and wants to be desired by the same sex and finds that she is very comfortable dressing as a man, even offstage … But Maksimuk wants to set the record straight (no pun intended) — dressing up in drag isn't about sexuality, it is about gender identity."
WHEN NOT PLAYING A LESBIAN ON TV, Jessica Capshaw (a.k.a. Bette's hot teaching assistent/Callie's second girlfriend) is a friend to the environment. (@treehugger)
WOMYN: Jezebel asks, using the case of a YouTube makeup maven,  Why do we freak out over a woman just 'cause she's normal looking AND successful? Sidenote omg Susan Boyle got a makeover.
STATISTICS SUCK: 51% think homosexuality is a choice, 48% of Americans say homosexuality is a sin. Also this columnist seems to think that the APA study debunking ex-gay therapy still leaves room for ex-gay therapy to be productive because they are not treating sexuality, but "behavior." Sexuality-related behavior. (@usa today)
THE MIDWEST IS THE NEW NORTHEAST: I wish this came about 7 years sooner, when I was a young gay who refused to attend public high school. The first online gay school in the world is (surprisingly?) in Minnesota. (@edge)
OUR FUTURE: Coming out early: the fight to help LGBT youth – "Kids are coming out earlier than in previous generations … and gay organizations are only now paying attention." (@365gay)
THE GREAT FIREWALL: The Chinese government raided Les Plus Magazine, which sucks, because it looks like a rad publication. (@xtra)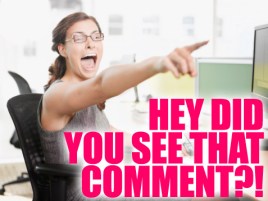 i. Tinkerbell Takes the Cake (from the Roundtable Part Two)
Bren: I think you are too young to know about strap-ons, Tinkerbell. One day when you're older your mama will explain.

Ella: Tinkerbelle, thank you so much for sharing your story of Littlefoot love. The voices of trisexual Tinkerbelles are so often silenced in our modern society.
ii. Lady Gaga Has Feelings wait strike that, reverse it:
Nosidam: [on Gaga's performance video] Oh! It's an elephant. Why is it so hairy? I thought it was the luck dragon from Neverending Story.
Call/Answer:
Autumn: ok im the first to admit that i super love lady gaga, but sometimes i seriously think shes crazy.
Intercaine Katrina: i think that this is because lady gaga is seriously crazy.
from Alex:
We love infographics! Here's a flowchart depicting the History of Communications in the Past Century. (from Good Magazine)
+
+

Auto-Straddler of the Day