Today in "America," it's Thanksgiving and many Americans are celebrating by eating a lot of food and watching television, often with friends and/or family or frenimies. If you are one of these people I want you to think long and hard before you bite into that turkey drumstick today. I want you to ask yourself: "Would it be okay for Adam Lambert suck on this drumstick during morning television?" Your answer is your business, just think about it. Is all I'm asking.
We have some treats for you in any event, and I'm not just talking about mashed potatoes. Firstly, for all the smarties we have Viewing Turkey Day Through Academic Prism: There is, in fact, a surprising amount of scholarship on the subject of Thanksgiving, a uniquely American celebration marked by rituals that lend themselves to a wide range of interpretations. (@miller-mccune)
THANKSGIVING: Look girls! I bet you didn't know about this movie What's Cooking which features a lesbian storyline during Thanksgiving, 'cause I think possibly it sucked. But look, it's not easy finding a lesbian-themed film or teevee scene for the autostraddle show, which I blame mostly on Ilene Chaiken's ignorance of the seasons, which I have lamented many times before, as I have only wanted to see Angelica's face light up on Christmas morning since the day she was born eight years ago or whenever. Well this lesbo-storylined film is called What's Cooking with Kyra Sedgewick and Juliana Margulies and that woman who always plays the Jewish Mom. She's so good. Out of central casting, that one.
A scene from before the couple meets all the family:
Trailer:
EVANGELICAL GLORY: "Gimme that Christian Side Hug"
Oh, abstinence-only evangelists. Only you could bring us this gem of a video. Luckily, Feministing is here
REALITY CHECK: Hey fun fact turkey-eaters! "[At The] Pine Ridge Reservation somewhere between 13,000 and 40,000 Oglala Sioux [are] spread across an area the size of Delaware and Rhode Island combined. Unemployment is 89 percent, the few jobs in the tribal bureaucracy or the Prarie Winds Casino. The youth suicide rate is ten times the national average. One in three women is a victim of rape. Life expectancy is roughly equivalent to Somalia's. Plagues of alcohol, drugs, domestic and gang violence … to grow up here is to be forever aware of what was lost, or to bludgeon onself into forgetfulness." The full article of "Ghosts of Wounded Knee" is in Harper's December issue, or online for subscribers only.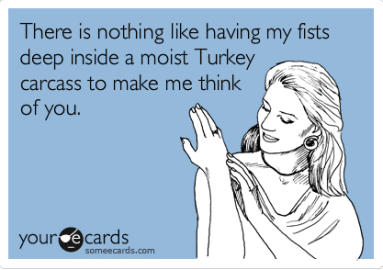 THANKS BUT NO THANKS: "If you're not already at the airport trying to smash your way to the front of a ticket line, you're probably not visiting relatives this Thanksgiving. You need an excuse besides "they are annoying." The AP has a bunch!" (@gawker)

GENDER: Sinclair Sexsmith talks about Femme Invisibility – "One of the bottom-line issues about femme in/visibility, for me, is that it is a form of gender discrimination. When someone refuses to recognize a femme as queer, that person is saying, straight women are feminine, dykes are not, therefore your gender presentation trumps anything that might come out of your mouth about how you identify or who you are, and I am more right than you are about your identity." (@sugarbutch)
PHOTOFINISH: Here's a new one: bad retouching is now being blamed on the economy. (@models.com)
UNEMPLOYMENT: Hey-o! You're not the only one! Turn that frown upside down and see how much we're all alike with this handy unemployment map: the geography of a recession. (@american observer)
NUDITY: Bare breasts don't result in big box office sales. Really we need a study to show us this? We can see bare breasts wherever we want, obvs, and sex is all over the damn place. We go to the movies to see um … good movies? Or to be entertained? What do you think — does the promise of a steamy sex scene get you in the seat? I think a good sex scene that works within the story can make a great movie even greater, but for sex alone, there's um, sex.