feature image via Tom Craig/Harper's Bazaar
Our friend and yours Kristen Stewart has graced the cover of Harper's Bazaar's September issue, thus marking the third time she's been the magazine's cover story. In the accompanying interview, our favorite sulky celesbian opens up about her experiences dating in the public eye, her increasing openness about her sexuality and her evolving views on fame.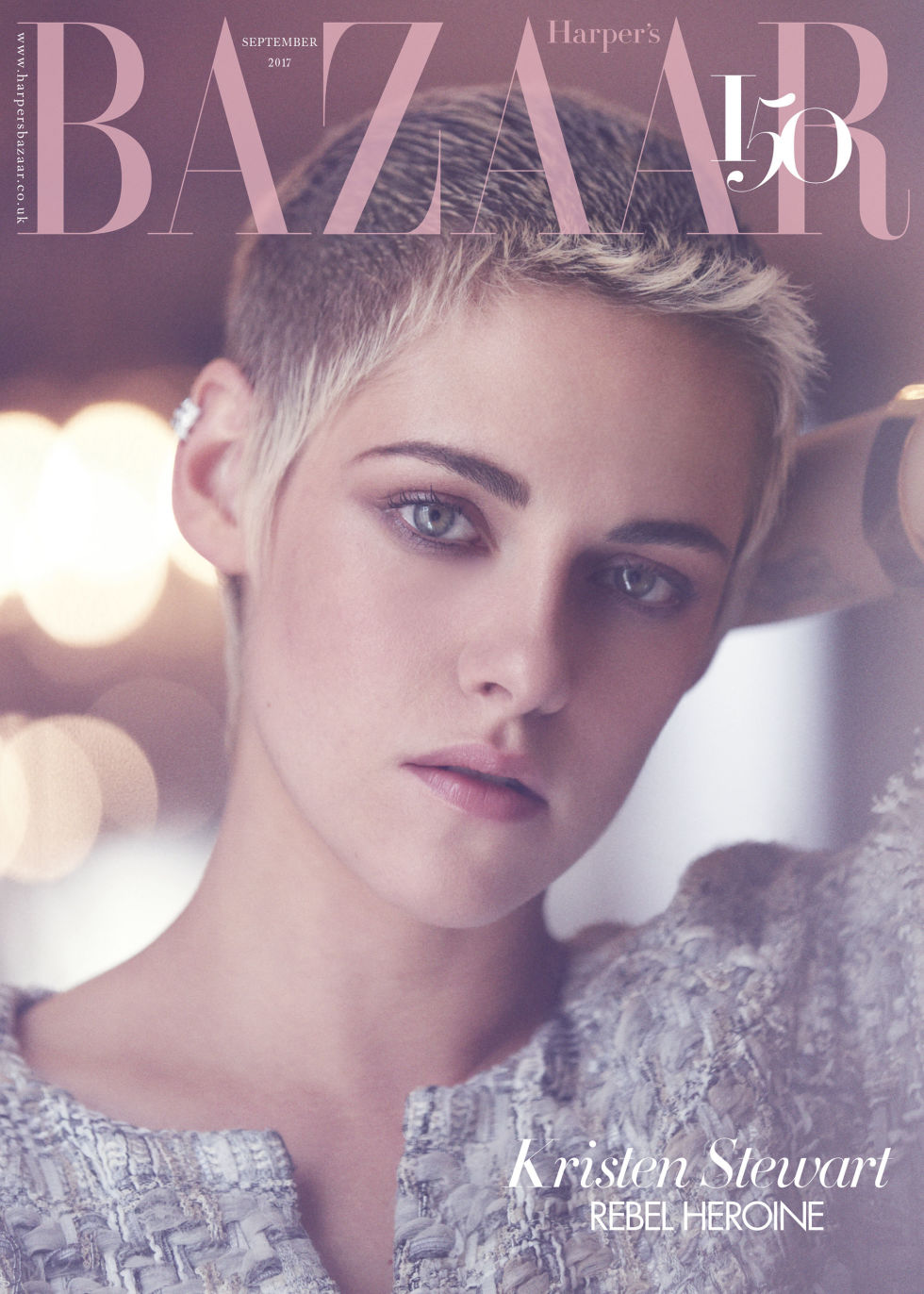 Every single day in my Google alerts, I receive at least one questionable tabloid article about how Kristen and former Twilight costar Robert Pattinson are secretly conspiring to get back together (despite having not dated each other for several years and being in apparently happy relationships with other people). Still, the press are obsessed with getting Bella and Edward back together, and what Kristen's fluid sexuality means for her past, current and future relationships. When asked if she'd ever date men again, Stewart appeared completely open to the possibility. "Yeah, totally. Definitely… Some people aren't like that. Some people know that they like grilled cheese and they'll eat it every day for the rest of their lives. I want to try everything. If I have grilled cheese once I'm like, 'That was cool, what's next?'"
Lest one dismiss her past relationships with fellow celebrities as being manufactured or discarded as easily as grilled cheese sandwiches of the past, Stewart is happy to clarify. "I've been deeply in love with everyone I've dated," she insists. "Did you think I was faking it? I've always really embraced a duality. And really, truly, believed in it and never felt confused or struggling. I just didn't like getting made fun of."
Stewart has a well-documented history of being uncomfortable with her notoriety, as her relationships, style and sexuality have been painstakingly dissected by the public for most her adult life. "Fame is valued quite ridiculously. So then there's this idea that you're beholden in some way, and I resent that. And it comes across like I'm ungrateful or something but, actually, I just find it weird to talk to the general public as a whole. Like, you can relate to a person, you can relate to an individual, but addressing the world at large is something that just perplexes me."
As a child actor, Kristen was widely dismissed as "a total tomboy," a label she struggled to feel comfortable with. She was teased in school, "…and it actually really hurt my feelings, like badly. Like, I remember being in the sixth grade [aged 11] and [people would say] 'Kristen looks like a man. You're a boy', or whatever, and I was so offended, horrified and embarrassed. Now I look back on it and I'm like, 'Girl, be proud of that!'"
When Harper's asked if the sullen actress feels that she suffers from Resting Bitch Face, she replied in the affirmative. "Completely. I'm really not introverted — I'm just not acting all the time, which is what it would take to look like how people expect famous people to behave." She also expressed frustration with how often she's been described as a bitch by journalists, particularly male journalists: "Men cannot say 'bitch' anymore, I'm sorry. Say something different. Say, 'You're rude,' say, 'You're a dick,' whatever. Just to say, 'Oh that bitch.' You can't say that because there's nothing I could say to you, there's no retort that would be equal to that, therefore it's demeaning and literally on par with… something homophobic or something racist."
Stewart also explains her feelings on being a woman in the age of Trump's America, which are cautiously optimistic. "It's obviously terrible what's happening but at the same time, it feels good to be part of a wider female community that is finally standing up for itself. I've never felt such a strong sense of community. So it's brought us together. The catalyst for this is regrettable, obviously, it's shitty. But at the same time I think that you need something to stir things up in order to get people to come together and define their opinions and force them to be heard."
The September 2017 issue of Harper's hits newsstands on August 4.