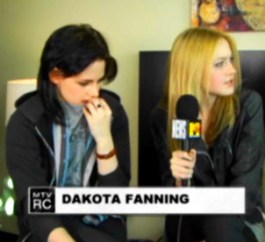 KRISTEN STEWART: Kristen Stewart reminds us of how we would do interviews if, you know, our rascally tomboy phase had garnered us early roles in amazing indie films and gradually lead us to get cast as the romantic lead in a multi-bajillion dollar vampire franchise while never actually developing any real social skills. [Actually she reminds us of how we would conduct interviews if we didn't have cocktails/xanax beforehand.]
Kristen breaks all the rules your mother told you about! She slouches, she plays with her hair, she keeps her hands in her pockets, she refuses eye contact, she plays with her bracelets, she chews on her t-shirt, she crosses her arms and at one point she almost bites her nails! AND WE LOVE IT.
First up is the The Runaways, where along with Dakota Fanning, she speaks to MTV about their kiss ("not a big deal"), nudity ("I was not naked. I was wearing really unattractive nude body suits, like moleskin") & drugs ("it's the story?").
+
The Hollywood Reporter describes the movie as a "guilty pleasure" and further elaborates: "it bursts with energy, youth, excess, female empowerment, sex, drugs and rock 'n' roll. It's an instant hit worldwide with its cast of young stars, but is it any good? Surprisingly, yes. It just must be met on its own terms."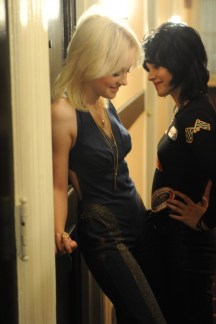 Everyone is all abuzz about the lesbian kiss at a Roller Rink which is too bad, 'cause that's supposed to be OUR BEAT. WE'RE THE LESBIAN KISSMONGERS, MAINSTREAM ASSHATS!  The Toronto Star reports:
While Jett is coy about whether the bisexual romance on-screen was real or fabricated — "The Runaways never played a roller rink,wp_postsshe responds with a smile — Currie is more forthcoming.
"We loved each other as friends. Back then, Bowie had just come out. So had Elton John. And that was the groovy thing to do. Back then, there was this bisexuality thing that was going down and, hey, why not?"
That the real-life rockers' friendship endures — they reconciled more than a decade ago — is a minor miracle considering the volatility of their adolescence, vividly portrayed in Canadian director Floria Sigismondi's electrifying, in-your-face account of attitude, ambition and self-destruction.
Joan Jett dates ladies now. That's a fact right? People know this, yes? Okay. Here's her song about bisexuality, music video starring Carmen Electra.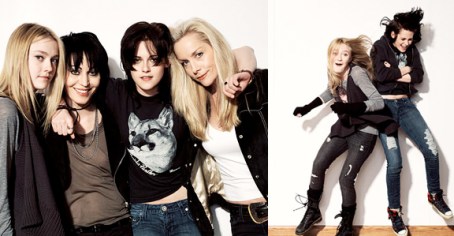 Kristen is also interviewed about her other Sundance debut, Welcome to the Rileys, which MTV really liked: "You can quibble all you want with her portrayal of a 16-year-old runaway turned stripper and prostitute. But you cannot walk away from a viewing and say the actress doesn't fearlessly expose herself physically and emotionally, and doesn't do so with astonishing maturity and believability."
+
We didn't see The Runaways 'cause we don't live in Utah and can't afford to fly there. Kristen Stewart is like the new tomboy queen you guys. We're not saying she's gay, 'cause we think she's probs not gay, but man, she is also so gay. It's just like the biggest tease of all time since Ellen Page, who will probs have another new movie soon, and start the cycle all over again. Except Ellen Page probs really is gay. If she'd come out I'd have something to write about today. We figure we can talk about how cute she is about three more times before it gets old right?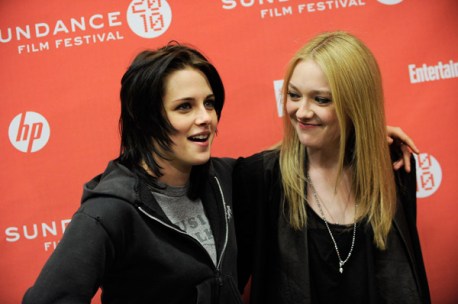 TEGAN AND SARA: Tegan & Sara will host NewNowNext Music next Sunday night, Feb. 1 (or Monday morning, depending on how you look at it) at midnight. You should probably put that on your calendar!
+
JANE LYNCH: Glee actress Jane Lynch will marry her girlfriend, Dr. Lara Embry, this May! (@radaronline)
TEEVEE: Heather looks at the week ahead in TV, including Rosie O'Donnell doing Oprah today and tonight; Cherry Jones guesting on 24 (Fox, 9 p.m.) & a probs girl-on-girl action-free episode of Heroes. On Wednesday, our bisexual friend Emily will most likely continue to not make out with girls on The Real World DC (MTV, 10 p.m.) and we'll probs cry again if they talk about eating disorders. Tuesday is Ellen's birthday and:
8 p.m., Discovery Health, Transgendered & Pregnant: For transsexuals Cai and Emily, it was love at first sight. Unaware they could conceive a child due to sex change hormones, they are now expecting. Follow this young couple as they prepare for their most challenging transition yet – parenthood.
Friday will see a "chaste lesbian kiss" between Lucretia (Lucy Lawless) and Illithyia on Spartacus: Blood and Sand (Starz, 10 p.m.) and the second episode of Caprica (SyFy, 9 p.m.) (there was lots of girl-on-girl action in the pilot!). (@afterellen)
MUPPETS: The Muppets Take Conservatism? Economist, Please: "The Economist is working my last nerve. After debating if women have it "immeasurably better" than they used to and the rise of "female power," they've turned their attention to the political persuasions of the Muppets." (@jezebel)
BEST HEADLINE EVER: Amber Rose Kills a Bear and then Smears Orange Crayons on Her Face (@lezbhonest)