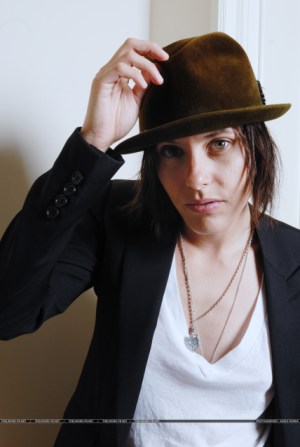 Shane, otherwise known as "Kate Moennig," has been cast in Showtime's Ray Donovan pilot as "Lena," who is "second in command" to the titular Private Investigator. From TVLine:
Promising "a novelistic look at contemporary Los Angeles," Ray Donovan stars Schreiber as a professional trouble-shooter who is regularly called on to solve the complicated, confidential and controversial problems of L.A.'s elite.
Other announced cast members for the pilot include Jon Voight as Ray's father Mickey Donovan, Paula Malcomson as Ray's wife Abby, Elliott Gould in the recurring role of Ray's mentor and confidante, Dash Mihok and Marsan as Ray's brothers, and Pooch Hall (The Game) as Daryll, a boxer in training.
I'm sure you were worried — I was — that Kate would retreat from playing further lesbian roles out of fear of being typecast. It's fantastic to hear that she has embraced being typecast.
In fact, in one of the pilot's very first scenes (and this is an Autostraddle exclusive), Lena (described as "dark, intense") wakes up in bed with another woman, gets called in to work, and tells her bedroom companion, "I have to work. Get dressed." HALLELUJAH, LADIES, OUR GIRL IS BACK!