Remember how I said Samira Wiley arrived on Will & Grace for a three-episode arc to turn Karen's bisexuality from a running joke into a swoon-worthy storyline? Boi, was I wrong. In last night's season finale, "Jack's Big Gay Wedding," the writers not only forgot bisexuality exists; they did so by making a reverse "Puppy Episode." You know, Ellen's iconic coming out episode from 1997. Arguably the most important moment in lesbian TV history and categorically one of the most important moments in LGBTQ pop culture history.
See for yourself.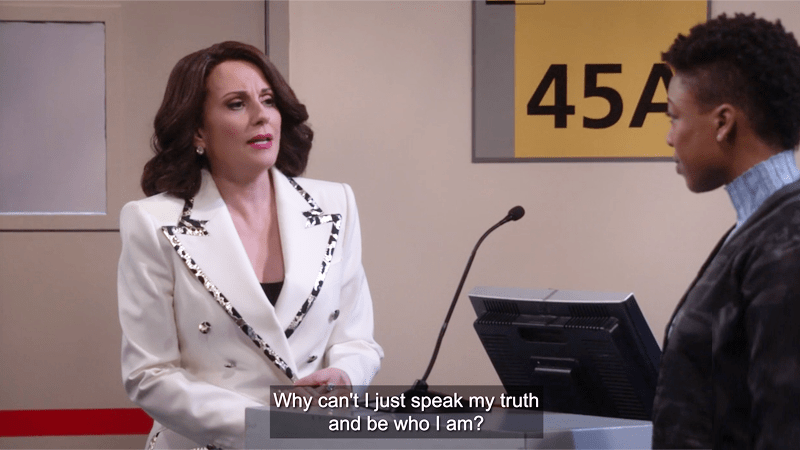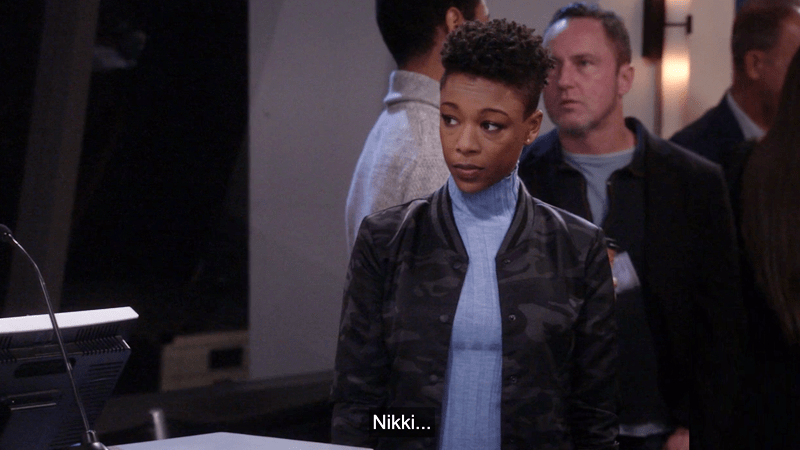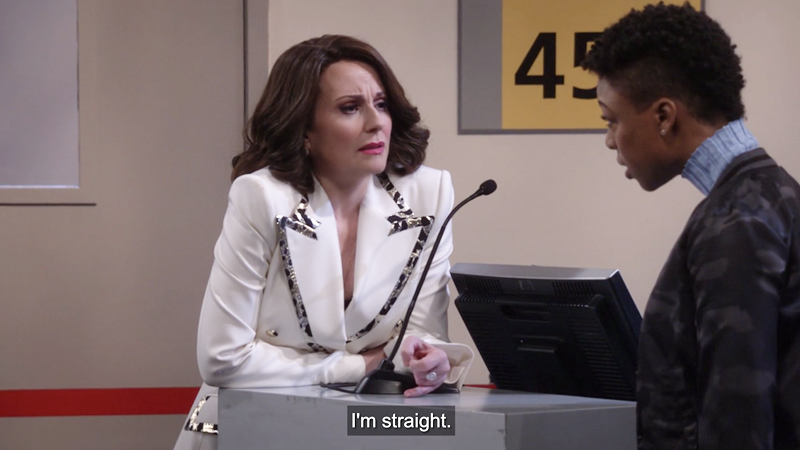 The gang just happened to be in an airport because they were trying to fly out to Spain for Jack's wedding, but their flight was cancelled and while Karen was hanging out at the bar waiting to either fly to Europe or see her best friend get married in Terminal 4, she told the bartender, "I'm a lesbian now. It's just that after my marriage ended, I didn't know who I was or what I wanted. And then, Nikki came along and told me. And now I am exactly who I'm supposed to be. I think. I don't know."
"Did you ever think that maybe you're not gay? You're just lost?" the bartender asks her like your Southern Baptist grandpa at Thanksgiving.
And that's when the Reverse Puppy Episode kicks into high gear. Nikki has joined the gang in the airport thinking she's going to fly with her girlfriend to Spain; alas, Samira Wiley got Samira Wiley-ed again.
I'm not sure I can describe how bummed out this episode made me! When it started happening on-screen, like three words into it, I sat up straight and leaned forward and said "sweet Jesus" because I thought they were going to have Karen come out as bisexual for real, in a tribute to Ellen. But no. In the world where Will & Grace has always and continues to exist — rich, cis, white, gay make New York City — the battle for equality was won when gay marriage became legal and now what's funny is the idea that people have to come out as straight. It'd be antiquated enough to laugh at (not with) if LGBTQ people living at the intersections of various marginalized identities weren't having to fight as hard as ever for equality.
I don't do this job because I like to play around in call-out culture's sandbox. I love stories. I love TV. Ellen's coming out was so formative to queer women of my generation that when I interviewed Russian Doll's Lizzy Henderson a few months ago, we talked about it at length. I singled out this storyline because it felt like Will & Grace had woken up and was rewriting its history of ignoring queer women and erasing bisexuality. Turns out it's as stuck in the past as ever.