[UPDATE (11/2/2010 4:10PM EST): Okay, so there are more details coming out of this whole situation, and it appears that the mail bombs sent from Yemen were not actually intended to reach the synagogues in Chicago, but were designed to explode in mid-air on the cargo plane. It definitely changes the whole ballgame, in terms of the extent to which synagogues were directly targeted, but it's still kind of a creepy gesture, no? Also in the news is that several other mail bombs have exploded in Athens, and that another one intended for the Chancellor of Germany's office  was intercepted.  No connection to the Yemen mail bombs is suspected so far.]
In one of the first few scenes of basically the best movie ever made, Annie Hall, Alvy Singer walks around Manhattan with his friend Rob, tweaking out because he thinks one of his tennis buddies is an anti-Semite, and he says, "We were walking off the tennis court, and you know, he was there and me and his wife, and he looked at her and then they both looked at me, and under his breath he said 'Jew.'"
Rob tells Alvy that he's being paranoid. Alvy continues to freak out, saying, "Well, I pick up on those kind of things. You know, I was having lunch with some guys from NBC, so I said … uh, 'Did you eat yet or what?' and Tom Christie said, "No, didjew?" Not, did you, didchoo eat? Jew? No, not did you eat, but Jew eat? Jew. You get it? Jew eat?"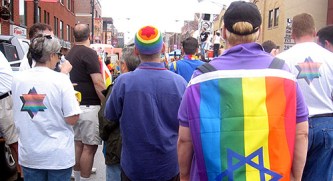 Right now, many people in Chicago's Jewish community are wondering not only if Al-Qaeda meant to say it didn't like Jews by trying to send a bomb to a Chicago synagogue, but if it meant to say that it also hates LGBTQ Jews in particular. We're certainly not going Alvy Singer-style "paranoid," but we are scratching our heads.
Now, as we probably all know, Al-Qaeda is not really a fan of Jews. In fact, I'm pretty sure they hate Jews. Mailing packages with bombs addressed to synagogues is kind of a dead giveaway. Really, I'm pretty sure they are just not fans of humanity in general, since they've killed people of all religions, sexual orientations, shapes, sizes, colors. However, the recent mail bombing attempts by Al-Qaeda, one of which was directed at Congregation Or Chadash, a Reform LGBTQ synagogue on the North Side, have made many of us wonder if Al-Qaeda is particularly not a fan of LGBTQ folks. There are so many "whys" whenever such a crazy scheme is unveiled. Why go after Jews? Why go after Jews in Chicago? Could it also be that they aren't Bears fans either? Why go after a congregation of LGBTQ Jews in Chicago?
As interviewed in The Advocate, the Rabbi of Congregation Or Chadash, Larry Edwards, expressed a similar sentiment, saying that Or Chadash "received [the news] rather calmly . . . Immediately, you kind of think, 'well, [representing the gay community], maybe that makes us an additional target . . . It could be totally random, somebody went on the Internet and picked a couple of synagogues."
I've never been to Or Chadash, and I don't know anyone who attends regularly (although I almost went with a friend to one of their services last year), so I don't have much of a connection to the congregation. Nevertheless, many Jewish people around the city who are not affiliated with either of the two targeted synagogues feel a huge sense of relief that these attacks were not successful. There will probably be an extra sense of caution in the next few weeks at Jewish centers around Chicago, as would be expected, even though Jewish community and religious centers have long had high security standards year-round due to a history of being targeted by psychos.
Many of us feel that this timely foiling of a terrorist plot gives us a lot for which to thank G-d (and Saudi authorities), and that the best thing to do now, regardless of the attack's intended targets, is to continue being who we are and doing what we do, while standing proudly behind our communities and supporting each other — whether it be our LGBTQ community, our Jewish community, our LGBTQ Jewish community or our broader community of human beings. According to both Jewish and non-Jewish texts, an attack on one of us is an attack on the rest of us; crazy attacks like these emphasize how distinctions between Jew and non-Jew, gay or straight, can have very little meaning when it comes to having solidarity and empathy with other human beings in the face of baseless hatred.
The cameras and reporters were all at Congregation Emmanuel this past Saturday morning, the larger non-LGBTQ congregation that hosts Or Chadash. One congregant gave the following thoughts: "The real tragedy of this is if it causes us to hate. We should stand together strong . . . If they keep you from doing what you need to do – and I need to pray, and be here, and be here with my people – then they have won."
Let's not let them win.