Portia de Rossi appeared on Oprah today for an hour long tell-all to promote her memoir, Unbearable Lightness. She took the viewer back to 1997 when Ally McBeal was the hottest show on TV and cracked open the behind-the-scenes anxiety surrounding her eating disorders (she was both anorexic and bulimic since her modeling career began in the early 90s) and hiding her sexuality. The most striking thing about Portia's story is how universal it is to anyone who's struggled with feeling ostracized or different or sick — even if you're not gay or you've never had an eating disorder.
She realized she was gay at 18 after continually developing feelings for her girl friends:
"The thing that made me think I wasn't [heterosexual] was I developed very strong feelings for my best friends, for my girl friends, that were stronger than friendship. And I had a series of mini-heartbreaks throughout my teens because my fantasy of what life could be like with my best friend wasn't shared with my best friend. My best friend wanted to get married to a man and have kids and I just wanted to be with them. And that's when I thought something was definitely different about me. So really it took until I was about 18 when I realized I have to date other lesbians if I was ever going to fulfill that fantasy."
On dieting, she warns that perpetual dieting is a form of an eating disorder and something as simple as going on a "diet" can gradually spiral out of control and take over someone's life. In addition to being anorexic and eating as little as 300 calories a day, Portia details binging and purging after work on her very first day of Ally McBeal. Although David E. Kelley never suggested the women in the cast (Calista Flockhart, Courtney Thorne-Smith) ought to be certain size, Portia looked around at her co-stars and felt that being extremely thin was a necessity.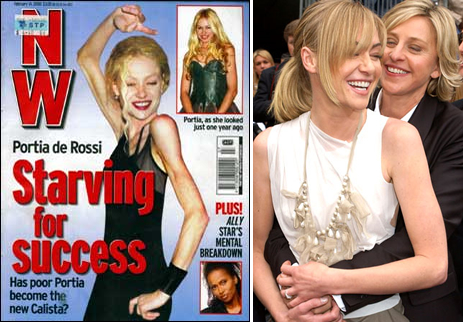 Portia also takes Oprah back to when she was 15 and first changed her name from Amanda Lee Rogers to the most exotic sounding thing she could think of — "Portia de Rossi." She was inspired to change her name while competing against a fellow runner with the exact same birth name and set out to "make a name for herself" separate from anyone (including her family). Looking back on life, Portia identifies the name change as the first indicator of not being OK with who she really was. This story is later book-ended when she describes yearning for a sense of family and belonging, her reason for taking Ellen's last name. In a twist, Portia actually met Ellen in 2003 when she was at her heaviest – 168 pounds – and takes comfort in knowing Ellen is attracted to her no matter her weight.
.
Although her story begins when she is a teenager in Australia, it's quickly brought to the present when she theorizes if every gay person came out, no matter their profession – actor, teacher or doctor – the recent suicides would not be happening.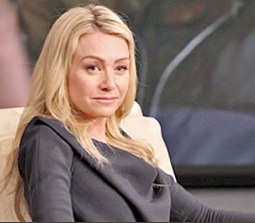 The most insightful and universal truth comes in the final moment of the interview, when Portia speaks of her mother's acceptance, shrouded in homophobia:
"She didn't really know how devastating it is for a parent to say 'I accept it, that's the way it is and it's fine but don't tell anybody. It's a strange message to send somebody. There's a very fine line between being private and being ashamed."