An 8.9-magnitude earthquake hit Japan on Friday. The earthquake was centered off the eastern coast of Honshu, Japan's most populated island, 230 miles northeast of Tokyo.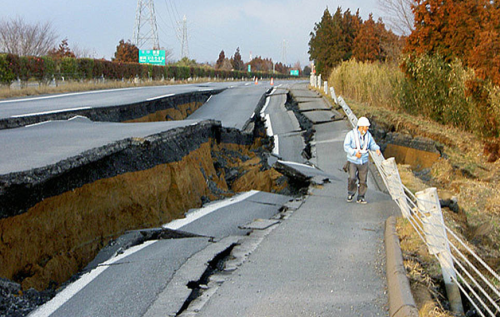 It was the strongest earthquake ever to hit Japan and one of the largest earthquakes to hit anywhere with the last century. The United States Geological Survey said this earthquake was the most severe since the 8.8 earthquake that hit Chile last year, killing 400 people and less severe than the 9.1-magnitude Northern Sumatra earthquake that spawned the 2004 tsunami.
The death toll is expected to rise as missing persons reports come in. Thus far the official death toll in Japan is around 300, 200 of which were found in northeastern port city Sendai. A ship carrying 100 people was swept away by the tsunami. [UPDATE: Media now reporting 1,000 feared dead]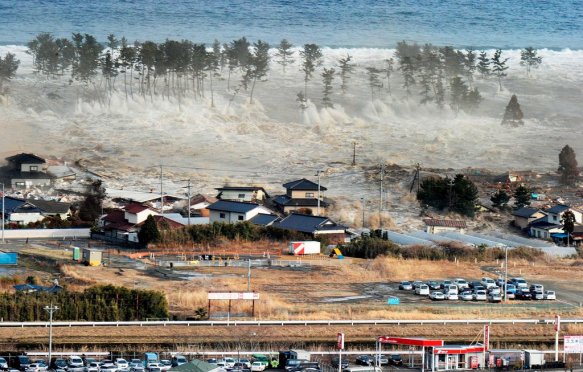 Tsunami waves hit Hawaii early Friday, and officials predicted waves of up to 6 feet although the waves that eventually came were not that high. It seems so far that everyone was evacuated safely — tourists to higher floors of their hotels, residents to higher ground more inland — preventing any potential damage or loss of life.
The tsunami reached California's coast on Friday morning around 7:30 am, hitting beaches in Crescent City (near the Oregon border), shaking some 35 boats loose. The beach-area residents evacuated to higher ground and later gathered to watch waves crash against 30-foot bluffs. Damage to fishing boats was also reported in the harbors of Santa Cruz. From The LA Times:
Local residents reported that about three dozen boats were "crushed" in the harbor and that surging waters significantly damaged or destroyed most of the docks. Ocean water surging up Elk Creek north of the harbor reportedly lapped up to front doors of the community's cultural center.
Officials were warning residents to expect higher surges throughout the day, one resident said by telephone.
Officials discussed possibly shutting down the BART between Oakland and San Francisco and at stations down toward Daly City but decided around 10:20 am that such a thing would not be necessary. A few coastal school districts south of San Francisco cancelled classes, beaches were closed all along the coast and near-shore highways have been shut down.
A blogger living a block from the beach in Pacifica in California wrote as the warnings rolled in:
I didn't see anything telling to me to get out of Pacifica. So I stayed. It was warm inside my bed. My son was still sleeping. I got up to look outside my window. All seemed calm. A man seemed to be walking along the sidewalk. The sky was gray. But that's normal. This is Pacifica…
A few minutes before 7 a.m., I heard the banging on the door. A tall man in black told me they are issuing a voluntary call to evacuate. I thanked the man. He smiled and then headed to the next door…
At 9 a.m., I walked toward the pier in the Sharp Park area. The waves were definitely higher than usual. The pier was empty. I was later told by a fisherman that the pier is closed. Along the pier, I found at least two TV crews and dozens of people, dog walkers, joggers and spectators, strolling along the coast. As I walked back to my house, I saw at least two patrol cars, one from Pacifica and another from South San Francisco. Warning signs are posted everywhere. The weather, by the way, is sunny and slightly warm.
President Obama says that "The United States stands ready to help the Japanese people in this time of great trial."
When the earthquake hit Chile last year, many wondered why, considering the Chilean earthquake was more severe than Haiti's, that Haiti had been destroyed and Chile, although impacted, was not demolished. Chile's buildings were stronger, for one thing, but government corruption, poverty and luck also played a role.
Japan was similarly braced for the impact:
From seawalls that line stretches of Japan's coastline, to skyscrapers that sway to absorb earthquakes, to building codes that are among the world's most rigorous, no country may be better prepared to withstand earthquakes than Japan.
Had any other populous country suffered the 8.9 magnitude earthquake that shook Japan on Friday, tens of thousands of people might already be counted among the dead. So far, Japan's death toll is in the hundreds, although it is certain to rise.
Over the years, Japan has spent billions of dollars developing the most advanced technology against earthquakes and tsunamis. The Japanese, who regularly experience smaller earthquakes and have lived through major ones, know how to react to quakes and tsunamis because of regular drills — unlike Southeast Asians, many of whom died in the 2004 Indian Ocean tsunami because they lingered near the coast.
More importantly, Gawker reports:
Fox News says it will be preempting this afternoon's Glenn Beck show in order to cover the earthquake. Are you going to let Japan push you around again, Glenn Beck fans? I thought we won WWII?!
Because of the threat of tsunami warnings — brought upon by Japan's 8.9 magnitude earthquake — the cast and crew of Breaking Dawn had to evacuate from their their production location of Tofino, part of the Vancouver Island beach area. As a result, production on the film has been halted. Here's the official statement from Summit Entertainment: "Due to the tsunami advisory, filming of The Twilight Saga: Breaking Dawn has been delayed. All cast and crew were evacuated to the movie production's base camp. Everyone is safe and sound."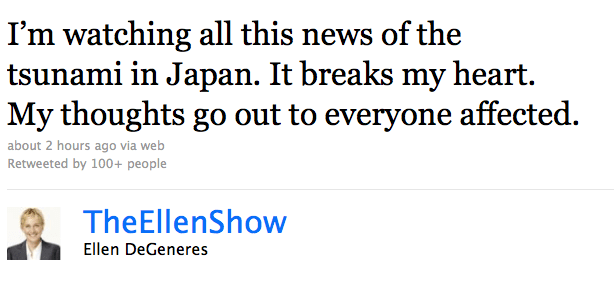 If you want to help, The Huffington Post offers the following suggestions:
Visit Redcross.org or text REDCROSS to 90999 to donate $10 from your phone.
To donate or learn about other ways you can contribute to the International Medical Corps efforts putting together relief teams and providing supplies, go to Internationalmedicalcorps.org.
The Japan Earthquake and Tsunami Relief Fund was launched at GlobalGiving.org to garner funds for relief organizations helping victims and has already raised thousands, particularly from concerned Twitter users around the world.
If you have loved ones abroad, the Google Person Finder will help you connect with people who may have been displaced.