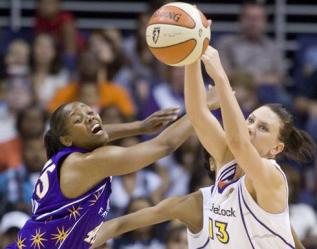 Today, the WNBA kicked off its 14th season with last year's champions, the Phoenix Mercury, beating the Los Angeles Sparks 78-77.
Guess who's a fan? It's none other than former U.S. Secretary of State Condoleeza Rice! Now that she's not busy sending Americans to war in Iraq under false pretenses or participating in the corruption of U.S government loves women's basketball so much that she'll be contributing a column to The Daily Beast called Why I Love The WNBA. It's pretty much the best thing she's ever done in her life:
Teaching at Stanford, I have seen how intercollegiate athletics promotes the development of focused, confident, young women. It isn't easy to balance academics and athletics, and I've had both male and female athletes do it well. But nationally, women's athletics has had fewer problems with academic standards than big-time men's programs. Some say this is because women are not subject to the siren call of professional athletics. For too many male athletes, college is just a pit stop on the road to the NFL or the NBA.
Probably true. But I want to see women put their talents to work at the next level. I want them to be able to make a living at what they do best and still long to do when college is done. That is why I want the WNBA to succeed—along with the LPGA. I also hope women's soccer will return and that one day women's professional softball will be born.
I haven't really tuned into the WNBA since 1997, the year the league held its first season, but I was a huge fan and look how I turned out. At 10, I latched onto the Houston Comets and cheered on its star players. There was Cynthia Cooper, the Michael Jordan of women's basketball; lip-sticking wearing Tina Thompson; future lesbian Sheryl Swoopes; and fast and furious Kim Perrot, may she rest in peace.
I've only dabbled in the WNBA since then, but it's still going strong. The intrepid league has survived a string of obstacles: the demise of some franchises (Cleveland Rockers, Charlotte Sting, Sacramento Monarchs, Houston Comets, Portland Fire, Miami Sol), the relocation of others (Detroit Shock–>Tulsa Shock, Orlando Miracle–>Connecticut Sun, Utah Starzz–>San Antonio Silver Stars), and an impending 2003 strike that delayed a season.
Thirteen years later twelve, teams are still standing.
More of a track and field fan? There's something for everyone. It's just been announced that Olympic sprinter Marion Jones has made the roster for the Tulsa Shock. You can watch her in one of the WNBA's five season-opening games today. See the full WNBA game schedule at the official WNBA website.