The Guardian recently asked a provocative question: is it a good time to be a lesbian?
I have made it my personal quest to answer, even if only for a moment of blinding optimism, with a resounding "yes." And it isn't too difficult, since it's Tuesday Good News Day (a sequel to Sunday Funday for this week, since the Lord's day wasn't enough to hold in all of the rainbows and unicorns) – and the bottom line is, statistically, things are looking up.
The verdict is in: they like us. They really like us!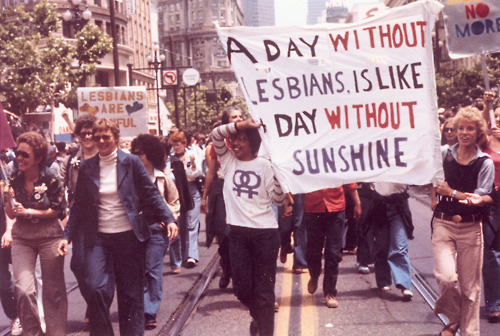 In the U.S., Same-Sex Households Are "Skyrocketing"
The last Census, taken in 2000, recorded the amount of same-sex couples. Now, new Census data is revealing that in the past decade, a bunch of gay people have fallen for one another and consolidated their belongings into one apartment or other form of residence.
This good news is going to be even more good next week, when data collected by the Charles R. Williams Institute on Sexual Orientation and Gender Identity Law and Policy at the UCLA School of Law will be released, revealing the results of the most detailed study counting same-sex households.
+ In Illinois, the number of same-sex households increased by over 40 percent.
+ Maryland and Virginia experienced a doubling of same-sex couples sharing households.
This goes hand-in-hand with interesting correlating data that there was no drastic increase in heterosexual households. Data suggests, then, that people feel more comfortable or open about their sexuality than they did in years prior and are more likely to report accurately. Along the same lines, most same-sex households with children are in rural areas, also suggesting that that data points at people who were once in heterosexual partnerships and now live with a same-sex partner.
It also means more heartwarming stories like this are out there:
Chris Megargee and Barbara McKeefery, who have been together for 24 years and are now grandmothers, said they have always been treated warmly by their neighbors, both in Cape St. Clair outside Annapolis, where they raised two boys, and on Kent Island, where they now live."We were the first gay people most of them had ever met in person," said McKeefery, 59, an optician.
"We live a golden life," said Megargee, 58, who runs a promotions company from her home. "Among the people we deal with in our daily lives — our families, at work and in our neighborhood — we are treated just like anyone else in modern-day America. We are very open about who we are, and we have no issues or concerns whatsoever."
+ But In Nevada, the numbers trump the rest. They've experienced an 87 percent increase in gay households since the 2000 Census.
People Love Gay People More Today Than Yesterday
+ "Four out of five New Jersey voters are now in favor of legal recognition of same-sex unions."
In the breakdown, it came to this: 81 percent want legal recognitions for LGBT couples, and same-sex marriage is supported 47-42 percent. Legal civil marriage is preferred over civil unions. NJ Governor Chris Christie is trying very hard to ignore this news, but it comes as resounding proof that New Jersey residents want to live in an equal state.
+ An LGBT group at University of North Carolina's Wilmington campus created a list of gay-friendly churches for the queer locals. 
+ In Australia, a majority of Christians support gay marriage.
 + People in Utah have come to accept gay people more in the past ten years.
Attitudes in Utah are changing. As I noted in this week's Sunday Funday, the HRC is kicking off their LGBT rights awareness tour in Salt Lake City, and they did some research to start strong. What they found was even stronger: by a large margin, Utahns support protecting queer people from discrimination in housing, employment, and public accomodations. 70 percent or more of respondents know gay people and don't give a damn about it.
Unfortunately, they still don't support gay marriage and are divided over gay adoption. But victory there could certainly be the next "change of heart" for these Utahns! So chin up. The times, they-may-be-a-changing-slower-than-we'd-like-but-still.
Gay People In Other Countries Feel Bold, Are Into Cruises
+ There's a mass lesbian wedding going on in Taiwan.
Its purpose is to raise awareness and support for gay marriage in the country, where 25 percent of people consider same-sex relationships "unacceptable." 60 lesbian couples will be participating, and over 1,000 tickets have been sold. The event is predicted to be wildly successful and, in my opinion, overwhelming to any lesbian who attends in all of the best ways. Bring tissues.
(The event also takes place at an overnight party. So don't bring underwear.)
+ Homos can get wet together now, on a new gay and lesbian Argentinian cruise that begins in Buenos Aires.
+ Israel's "Strictly Come Dancing" (a.k.a. Dancing With The Stars) featured its first same-sex partnership on the floor this year.
And in the best tradition of all good news here, I'd like to follow it with this adorable photo of loving animals, courtesy of The Telegraph: