Happy Sunday Funday, y'all! This week I got my permit and also drove a car around a parking lot so basically, I run the world now. But in case that isn't impressive enough for you, here's some badass news about a lot of dope people to remind you how amazing the world is! And I bet they all know how to make a three-point turn. Or at least how to pull out of my mom's parking spot.
Laverne Cox Just Won An Emmy Just Sayin'
Laverne Cox, Executive Produce of "Laverne Cox Presents: The T-Word" for Logo and MTV, just won a motherfuckin' Emmy. Cue a photo of her and the cast!
Loretta Lynch's Confirmation Was Historical and Very Delayed
It took five months, but the Senate finally moved to #FreeHolder and #ConfirmLynch this week, giving us a brand-spankin'-new Attorney General who wasn't trying to GTFO and also making history by confirming the first-ever African-American woman to the post! Wheeeee!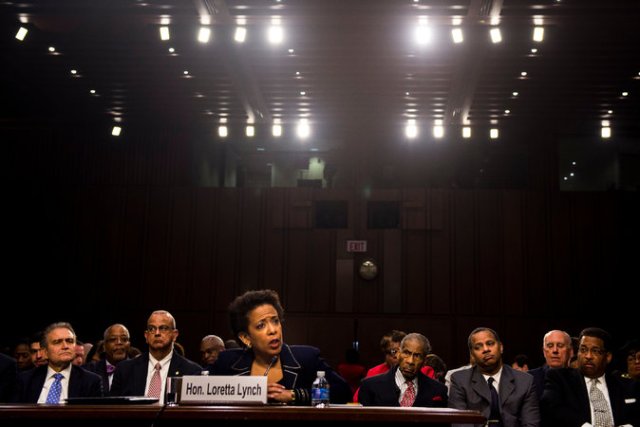 C0mpanies That Should Have Liked Gay People Before Today
+ An Oregon bakery that refused to bake a cake for a lesbian couple won't be having a lot of cake or eating it now that they owe them over $100K in damages.
+ An Atlanta franchise of Alpha Graphics gave two lady brides some trouble when they went to get some invites, so now they're getting designed and printed for zip, nada, zilch — you get the picture.
Conchita Wurst Is Unstoppable And You Can, Too
Conchita Wurst thinks you're unstoppable. I really wish one of my many middle names was "Worst," side note.
Anti-Sexism Ghost Will Haunt Your Wildest Dreams In A Good Way Where It Makes Them Better
I've never felt this emotionally connected to a troll account.
BOOOOOOOOOOOOOOOOOOOOOOOOOOOOOOOOOOOOOOOOOOOOOOOOOOOOOOOOOOOOOOO!!!!!!!!!!!!!!!!!!!!!!!!!!!!!!!!!!!!!!!!!!!!!!!!!! @BradyWinkels

— Anti-Sexism Ghost (@AntiSexismGhost) April 13, 2015
Big Freedia Is In Indiana Helping This Brewery Help LGBT People
Three Floyds Brewery in Indiana threw the best gay rights party ever. And they even named a beer after Big Freedia! Who knew I'd end up wanting to go to Indiana after all.
"We're fighting the power of the governor of Indiana over the freedom of religion act, or whatever it's called, that basically makes it legal to discriminate against anyone," Floyd told an interviewer. 

To those who say he should cancel the event, Floyd says, "I tell them, 'Look, Dark Lord Day is the biggest 'fuck you' to that law. We're fighting back, and the best thing to do is come here and support us."

Big Freedia is thrilled to lend a hand. "It's an opportunity to share my music and to get fans into the culture of bounce music and the message to let everyone be free to express yourself, be who you are, and live life to the fullest extent possible," she said.

The brewery is taking the protest one step further by developing a beer tribute to the androgynous singer. The Big Freedia Ale, which will debut on Dark Lord Day, is a pink daiquiri-like Belgian brew.

"People should expect to have a belly full of Big Freedia beer and to get those asses bouncing," says Freedia.

This Is A Snowboarding Pug
Oh, sorry, I didn't have much to say here.