With all the horrors revealed to a shocked world this past Sunday in the HBO Scientology documentary Going Clear, there was one that stood out to the staff of this fledgling queer website: an ingenious business model. After last week's passing of the Religious Freedom Act in Indiana, which gives ordinary human beings permission to pretty much do whatever they want to anybody because religion, our minds were made up.
We are proud to introduce Scissorism, a cult-like religion that gives queer women the official "non-profit" status they've already been living for so long.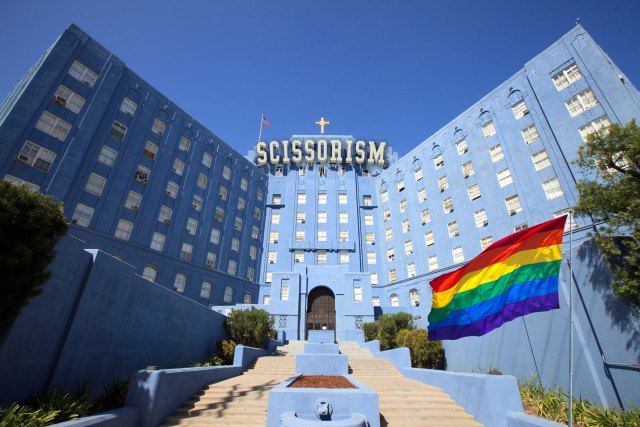 Honestly, the idea of becoming a religion has been on our minds since 8: The Mormon Proposition, a documentary film that explained how the Mormons convinced a ton of people to avoid the apocalypse gay marriage would surely rain down upon us by giving the Mormon Church millions of dollars. This worm of an idea blossomed into a caterpillar and then became a beautiful butterfly a few months back, when A-Camp Co-Director Robin Roemer read (or so the legend goes) Going Clear: Scientology, Hollywood, and the Prison of Belief and informed our CEO Riese, "I've been reading a ton on cults this year so I know we are a cult, DON'T LIE!!!!!"
Riese raised the issue with her team of Thetans.
"I think we've had this train of thought before," argued Managing Editor Rachel Kincaid. "The cult one? Which isn't bad, I'm just noticing how often this theme recurs for us."
"We have some cultish qualities," Riese reluctantly acknowledged.
"But none of the money that often comes with them," Rachel pointed out while drinking tea in her underwear in a cold Milwaukee bedoffice (combo bedroom/office). "Which I agree seems like a raw deal."
"The only element of being a cult leader I've attained is having a hot young girlfriend," noted Riese.
"Which, mazel tov," Rachel commented.
"Thank you," said Riese while watching aforementioned girlfriend singing along to Drake on the couch while eating gummy fruit snacks from a tiny pouch.
"Hannah Hart could be our Tom Cruise," Laneia suggested while balancing two slices of bread against each other to make an Apple Damn Sandwich in her 32 square feet of tax-deductable office space.
"That's what I was just thinking!" affirmed Yvonne while attempting to get her dog to stop barking.
"Do you want me to e-mail her?" asked Heather while tweeting with one hand and fixing her bicycle with the other. "Maybe Stacy has her info."
"Robin can ask her," responded Riese, in Hebrew.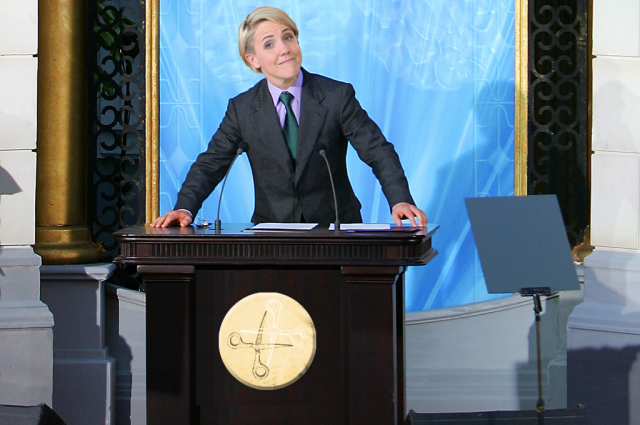 This initial meeting of the minds was just the beginning of what would become a full-scale vision, the kind that occupies several IMAX screens and rivals the heart-pounding thrills of a good episode of Treehouse Masters. We imagined sitting on piles of money we could then safely distribute to feminist and queer causes, including the funding of Carmen Rios's trip to Mecca (the Drake tour), debuting a glossy magazine and getting Words With Girls on the air.
The theology was a no-brainer: you do you, be nice to people, don't talk shit about women's bodies, don't link to Bustle, don't use the word "problematic" or else the goddesses will cry (that's code for "your water bottle will explode in your bag"), memorize the HTML for adding an image to a comment and do not covet your best friend's wife or girlfriend.
A pantheon of goddesses have assembled themselves for worship: our Lordess Ellen DeGeneres, Jasika Nicole, Wanda Sykes and Rachel Maddow. Religious texts would include This Bridge Called My Back, Sister Outsider, Bad Feminist, Susie Sexpert's Lesbian Sex World and OMG I'M GAY. We would immediately apply for state-sanctioned religious holidays such as The Day Orange is the New Black Comes Out and International Autostraddle Brunch Week. Worship services would feature a gospel choir lead by Dannielle Brooks and Samira Wiley, dance performances by Kaylah Wilson and Alex Vega, inspirational speeches from congregants and that part where they pass around a plate and everybody puts a bunch of money on it.
Scissorsism intends to revolutionize the field of religious cults. For starters, members will not be obligated to discard their present religious affiliations, because that's mean, most religions are pretty rad, and Riese's Mom would be unimpressed if her daughter abandoned Judaism just before Pesach. However they will need to profess their devotion to Scissorism regularly enough that nobody starts to feel insecure.
Rather than being reminded of how Jesus died for their sins, Scissorists will be reminded how Heather recapped for 80 straight hours for their sins and Riese sacrificed her mental health, social life, financial well-being and youthful disposition for their sins. Rather than being asked to believe in a G-d they cannot physically see, Scissorists will be asked to believe that Kristin Stewart and Alicia Cargile are girlfriends, even if they won't admit it to the press for some insane reason.
Rather than being helpless when a wedding venue discriminates against us because we're gay, we'll now have the power to discriminate against them in return, which could get really creative. For example, Laniea's Institute Of Midwifery and Ritual would only be open to Scissorists and Jasika Nicole will sew dresses out of driftwood for Scissorists only.
Rather than being subjected to endless "audits," followers will instead be granted free and confidential therapy, 24/7, because lesbians love talking about their feelings. This will take place in the Super Powers Complex to be constructed in rural Tennessee with a satellite campus in Indiana. Rather than gathering information to use against you shall you choose to deflect (Because what kind of monster would dare to deflect, amirite?) (please don't leave us) (everybody always leaves please don't leave), we'll gather information about your ex who broke your heart, just in case she tries to fuck with you later.
Followers who wish to advance beyond the present highest level in Scissorism — an A+ Gold Membership — will be able to, with the introduction of A+ Diamond Immortal Championship Level. At this level, Heather Hogan will tell you how great you are every single morning, reminding you that you exist at a transcendent and possibly immortal state of relative superiority over the rest of humynkind. You'll also get a certificate printed on cardstock.
We intend to proceed rapidly with various legislative initiatives, such as a requiring schools to acknowledge the existence of homosexuals in all their textbooks, even math. Queer students who feel erased or invisible would be free to leave the classroom in favor of silent prayer or chanting Indigo Girls lyrics to the sun goddesses. Imagine a world where kicking a trans woman out of the women's restroom or refusing to grant a couples membership at Lucille Roberts to a snazzy pair of femme lesbians was protected under the law as encroaching on the religious freedom of our people. Imagine the ability to strike with lighting every bitch who asks a butch lesbian if she's in the right bathroom. Imagine a world in which family members who refuse to accept their daughters' Scissorism will be declared Suppressive Persons.
Sisters, we have already imagined that world.
And sisters, it is glorious!
That world is so close at hand that Mal Blum is already writing it a theme song. Rabbis are already producing hummus and Franzia in line with the strict dietary guidelines set forth in The Book of Rachel.  Our West Hollywood Studio is already putting the final touches on a script celebrating our Creation Myth, which happens to also be true.
Will you come into the light with us, sisters?
Will you surrender to a higher power and walk barefoot over hot coals into the dusty recesses of our caffeinated hearts?
Because if you do, you will be rewarded with many riches in this life. (For example, you will be able to walk on water, enabling you to bypass whatever lies beneath the water at a Dinah Shore pool party. )
Recruitment will be an early goal we expect to achieve swiftly by sending Scissorists door-to-door with pamphlets extolling the virtues of cunnilingus and communal farming. We will erect folding tables offering FREE STRESS TESTS in shopping malls and subway stations, offering hope and a hoodwink to women who are stressed out about the patriarchy.
Many aspects of the Gay Agenda have been stalled by things like our inability to wage war on an entire class of human beings and our overwhelming desire to be courteous and accepting towards those who trespass against us. Fortunately, Scissorism offers exemptions, if you will, from such constraints. Aside from the financial benefits of brainwashing an entire sexual orientation into taking out second mortgages on their homes in order for us to buy more shipping labels, develop an app and provide camperships to under-privileged LGBTQ folks, another key benefit of Plan Religion is to justify declaring an all-out war on men, as our kind have always wanted to do.
Empowered by founding documents like Valerie Solanas' SCUM Manifesto and incoherent rants from MRAs on reddit about what the lesbians are up to, Scissorists will be encouraged to CRUSADE CRUSADE CRUSADE, unleashing buckets of lesbian feminist rage upon masses of innocent cis men (if you are a bisexual with a feminist boyfriend or a queer with a really nice Dad, you will be required to slaughter an animal or a tofurkey and mark your door to have your man passed over when the Amazons arrive with axes). At this point, we feel we'll be in prime position to do what so many feminists have dreamed of doing for years but were unable to because they weren't a non-profit: create a world run by women, inhabited by women.
We call it "the land of Lactaid & Honey" and it will be celebrated by L. Riese Bernard engraving the Autostraddle Comment Policy on two large pieces of rock and lifting the stone tablets into the air atop the San Bernardino Mountains.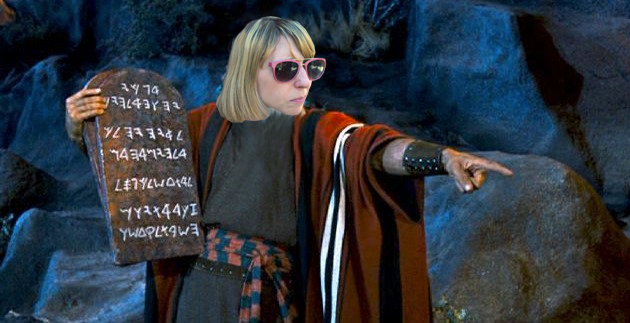 Most importantly, the financial influx we expect to experience as a non-profit religious institution with 2.6 million brainwashed members will finally enable us to do the one thing our followers have been praying for for so long: host an A-Camp on the East Coast. Mazel Tov!
---
Although we've yet to ask the IRS to cement our religious status, let alone receive confirmation of this ideological conviction, we suggest you get in on the action and join A+ or purchase a sweatshirt featuring our religious motif now if you don't want to end up burning in eternal hellfire with Ted Cruz and everybody who's ever said anything bad about us on the internet. We're sure it'll all work out eventually, it did for the Scientologists!