Had enough bad news today? Well guess what chickens: IT IS NATIONAL SANDWICH DAY! Excitement abounds!
I am a Sandwich Enthusiast, officially. This is basically the best day of my life. Surprisingly, I wasn't aware such a holiday existed, but you guys are clearly on top of things, because this has been happening since this morning:
+++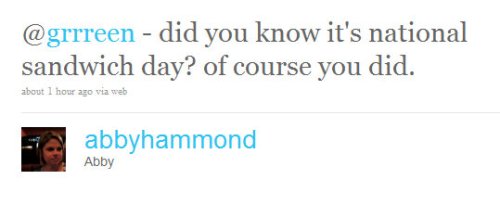 I accidentally already celebrated National Sandwich Day when I had a California club from Jason's Deli for brunch. It was good but I do wish I'd replaced the croissant with maybe an onion roll or whole wheat.
Some people say things like, "What's the deal with sandwiches?", which is silly because obviously sandwiches make everything better. Even Liz Lemon understands 'the deal' with sandwiches.
+
You should never mess with a person's sandwich. Ever. Remember The One with Ross's Sandwich? Yeah you do.
Hey so why don't you have a sandwich today? There are easily around 49489234792 varieties of sandwiches to choose from! If you're a fancy vegan, you should check out these sandwich, wrap and pita ideas on Healthy Happy Life. (I will resist the urge to debate the merits of wraps and pitas.) Carnivorous types can peruse thirteen pages of sandwich 'recipes' on Serious Eats. Also Riese has some yummy suggestions.
Go ahead and tell me about your favorite sandwich / sandwich place. Do you have a fond sandwich memory from childhood? Is eating raspberry jam on a peanut butter and jelly sandwich pretentious? (no) Oh! And don't forget about Scanwiches! This is the best holiday ever.