Happy Sunday Funday, dark chocolate peanut butter cups! It's been a long week, and I've missed you like hell. Luckily, I'm back (and maybe better than ever) with a fuckton of queer news that will slap a smile onto your face!
This is What a Feminist Fitness Video Looks Like
Sport England's latest advertisement was built on an all-too-novel idea: to actually show, um real people exercising. The fact that those real people are women who represent a vast array of ethnic backgrounds, ages, and body sizes is a nice bonus, too. Oh, also, it's set to "Get Your Freak On." I'll just let you take it from here.
https://www.youtube.com/watch?v=aN7lt0CYwHg#t=34
Hedwig and the Angry Inch: See it for the Children
Broadway's gayest show, Hedwig and the Angry Inch, has raised $400K to date for LGBT youth.
We're Winning Things! All Over the World!
+ A federal judge has ruled that Michigan must recognize the same-sex marriages that went down last year, like it or not, so nyah nyah nyah nyah nyah nyahhhhh.
+ The Oscar noms sucked, but this is a friendly reminder that totally gay duo Tegan and Sara are on that nominee list right now.
+ Every single-use bathroom in Austin, Texas is now gender-neutral.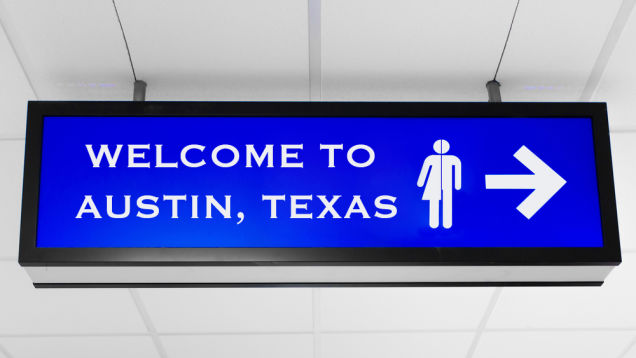 + Speaking of Texas, don't mess with Travis County clerk Dana DeBeauvoir. A proposed law would strip her of her salary and benefits if she granted same-sex couples a marriage license, but she's really not scared at all.
"I'm not intimidated," Travis County clerk Dana DeBeauvoir told LGBT news site Towleroad Thursday. She added that Rep. Cecil Bell's bill, called the Texas Preservation of Sovereignty and Marriage Act, has little chance of passing, and that court rulings in favor of marriage equality would most likely override it.

"I believe the courts would still support any clerk that acted under the direction of either the Supreme Court or the Fifth Circuit," said DeBeauvoir, a Democrat whose county includes the liberal stronghold of Austin. "I feel like there's no danger in me performing this duty, especially in accordance with a court order."
+ Thailand's new constitution will recognize a third gender. "There are not only men and women," a spokesman said, "we need to protect all sexes. We consider all sexes to be equal."
When You Thought Kids Cuddling with Dogs Couldn't Get Cuter…
I'm into dogs, but not babies, but some of you are into both, which means you were probably into Theo and Beau, a toddler and a big ol' dog that cuddled incessantly for your viewing pleasure on the Internet. And just when you thought, wow, that can't get any better, THEO'S BABY SISTER CAME TO TOWN.
Ellen Ain't Got Time for Your Homophobic Nonsense
When a Christian pastor spoke out against Ellen DeGeneres for "celebrating her lesbianism," he probably didn't expect to get owned by her so badly on television. But alas, he did. That's my girl.
Beth Ditto Hearts Sleater-Kinney
Beth Ditto spilled her guts about Sleater-Kinney's part in her feminist awakening in the latest issue of Dazed magazine, and you can read some choice pieces of it online:
To see the band cross over into the mainstream really is revolutionary because it's a place that women don't often get to occupy very often. Usually it has to do with beauty or their voice, or some kind of visual, but this is an entire band and it's true that their status in the rock world really is iconic. They're not just punk rock, they're rock 'n' roll. It's a man's world and they do it so well. And they didn't depend on anybody, they did it all themselves. Every sound that comes out of them is totally theirs.

Tori Amos Covers: The Playlist
Tori Amos has covered a lot of songs. When Bitch rounded some of them up into one playlist, I of course thought of you.

Ruby Rose is in the Building
Guess who finally made her way to Litchfield!
Oh, and guess who was caught saying a ton of cute adorable stuff about her fiancee in OUT magazine?
It was definitely love at first sight. And the funny thing is that I was really dressed up and she was wearing sweatpants, a sweater, and really dirty converse. I was floored by this incredibly classy woman… I thought, Oh My God, I need to marry her!
Ruby Rose, you're a total winner right now.
Vienna is About to Be Make-Out Central
A lesbian couple was kicked out of a Vienna cafe for kissing, because it's clearly highly inappropriate. A kiss-in protest is being planned in response – and over 2,000 people plan to attend.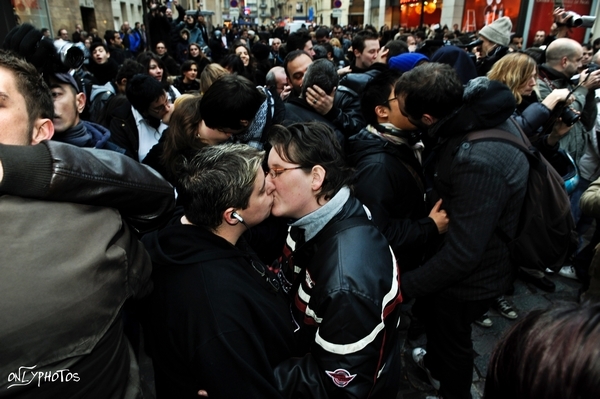 YOU CAN BUY A PUSHEEN PILLOW DOOD
This Dog Rides the Bus by Herself
2-year-old black lab mix Eclipse is an independent woman. She even takes the bus to the park — all by herself. The people of Seattle basically can't deal with how cute and amazing it is to watch her sit on the bus, get off at the right stop, and rinse and repeat. Neither can I, so here's some pics.