I'll be the first to admit that the Autostraddle It Gets Better video was not the most hard-hitting of all entrants – I think at one point someone just yelled BREASTS. So, no, we're not in the same league as City Councilman Joel Burns. BUT there were still some pertinent and meaningful points made, even besides the time Design Director Alexandra Vega did a backflip. Miss April Sarah Croce pointed out that "gay people have to go against the crowd and then they learn that it's not a bad thing" – essentially, that being gay forces you to learn coping mechanisms and life skills and how to deal, things that you might not have ever had to do if you were straight and could skate by on that one particular brand of privilege. The proof? The fact that lesbians make 6% more than their straight counterparts, even when all other factors are controlled.
Experts have offered up a few different theories on this – for instance, that straight women on some level expect to be provided for by a higher-earning man, and so don't pursue high salaries quite as hard as a lesbian might. Aside from the "uh, WHAT?" factor of that idea, it's proven wrong – even lesbians who were once married to a man exhibit the same pay difference. It's (surprise!) not about men at all; it's about us.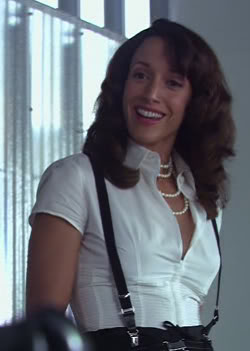 Jezebel agrees:
Maybe by the time they reach the workplace, some gay women already have experience bucking gender stereotypes, so they're less likely to play what editor Joanne Lipman calls the "passive 'good girl'" at work. But again, nobody knows for sure why the lesbian pay gap exists — and finding out might tell us a lot about how both gender and sexuality impact people's careers.
This makes a lot of sense; women in the corporate world or in any industry at all often report feeling trapped between conflicting ideas of what a woman is supposed to be and what a successful businessperson is supposed to be; there are certain qualities, like "meek" and "proactive" that are just mutually exclusive. Lesbians (and other queer womyn!) do have a leg up in this department; if you've figured out you're gay, you've had to make your own peace with the fact that you aren't going to be The Woman Society Wants You To Be.
But I would argue that it goes a step farther; it's not just about ideas of femininity, it's about how you exist in the world. The emotional reserves of strength and self-reliance and fuck-you that you need to build up in order to exist as a happy healthy queer lady are pretty significant; by the time you reach adulthood and a working life, you're like a fortress against patriarchy and the old straight white men who want to pretend you don't exist. The study notes that it's surprising we make more given the homophobia we have to face; as far as I know, no other marginalized or protected-status group is statistically better off at anything in the work world than their more privileged counterpart. (In 2008, black men earned only 72% of what white men did; a female MBA grad will earn $4,600 less than her male counterpart.) I think that although we face homophobia in the workplace, it's experienced differently than racism or sexism because gay people tend to have fewer visible markers of their identity, and the homophobia they've experienced over the course of their lives has made them tough enough to handle anything the work world throws at them, and determined enough to not give up on what they want.
There's a lot of bad news in the world; the fact that wage gaps exist at all is one of them. But for now, let's sit back and enjoy the fact that at least one of them is in our favor.