Leading up to the election, it seemed as if this one might offer something of a reprieve from the flood of never-ending election-induced depression cycles for those of us concerned about LGBT equality. We knew that the House was probably going to turn crimson, and the Senate was looking questionable, but for the first time in years, no one was trying to deny us rights that we already didn't have by writing it into a state constitution. I wasn't quite delusional enough to assume that the tide had categorically turned, but it was nice to not have our equality up for a vote, for once.
Except it kind of was, indirectly, in Iowa.
Last year, the seven justices of the Iowa Supreme Court unanimously invalidated a state law limiting marriage to one man and one woman, determining that the law violated the Iowa Constitution. This is a thing that judges do, often: they look at laws and they look at the state or perhaps the federal constitution, and if the two are inconsistent, the constitution wins and the law must fall.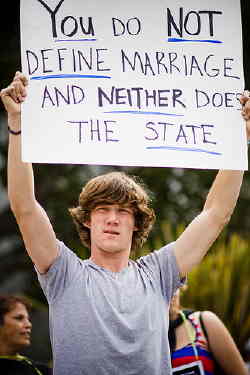 Shockingly, not everyone was thrilled with the outcome. This is also a fairly common reaction. With every court case, you have at least two opposing viewpoints — someone is going to leave not happy. But our judicial system is sound, and generally we have faith in it. The unhappy people go home to try again another day.
In this case, that meant the most recent election cycle.
Although the governor appoints Iowa Supreme Court justices with the assistance of a judicial selection committee, these justices are subject to retention elections — meaning that Iowa voters can remove justices. This process is known as "merit selection." In theory, merit selection ensures that a justice does not remain on the bench if he or she is accepting bribes or has become incompetent or is simply not doing the work. In reality, until a week ago, no Iowa Supreme Court justice had been removed from office since this became the process in 1962. This election cycle offered voters a chance to rally against an unpopular interpretation of the state constitution. No one involved was even pretending otherwise.
NOM (National Organization for Marriage) and friends flooded the state, aggressively campaigning against the three justices up for retention this year. They were successful. All three justices were voted out; each needed a simple majority to maintain their respective positions, but only secured the support of about 45 percent of voters. Iowa will soon have three new Supreme Court justices.
This does not directly impact the status of marriage equality in Iowa. Getting rid of judges does not change the effectiveness of prior rulings. However, it may have significant implications for equality across the country, in that it sends a strong message to any judges who might be inclined to rule in a manner inconsistent with popular opinion. Presumably, most judges like their jobs; if keeping a desirable job depends on the approval of the majority, judges may be less willing to protect the rights of minorities.
Iowa is not the only place where these sorts of campaigns were launched — according to the New York Times, similarly situated state Supreme Court justices across the country were targeted for rulings on abortion, taxes, tort reform and health care. The difference, though, is that in Iowa the campaign worked. Against us, people will mobilize. Fantastic.
Those who support judicial elections claim that voter approval ensures that people have control over their judges and the system is more democratic than simple appointments; others have thoughtfully deconstructed these arguments. I'd encourage you to remember the last time you knew anything about the judges running for office. Perhaps you are all more informed than I, but the first time I saw the names of most judges running in my state was on the ballot, and at least 85 percent of the races were uncontested. Democracy in action?
As a practical matter, judicial elections give the majority control over the space where minority interests are to be protected. Our federal and state constitutions establish the fundamental rules for our governments; judges are tasked with interpreting these rules and ensuring that the government follows these rules. When the majority can threaten and remove judges because they dislike a judge's interpretation of the rules, it is the minority who suffers.