Welcome to Insta Crush, a brand new column on Autostraddle dot com where every other week we feature a queer Instagram account we love. I strongly believe that the way we all connect on Instagram is forging and fostering community in new and interesting ways, and I want to highlight the people contributing to that endeavor.
Insta Crush is not about how many followers an account has or how ~influential~ they are; the goal of this new regular feature is to introduce you to different aspects of queer community on Instagram and connect you to accounts that might make you smile, laugh, reflect — you know, accounts that make you feel seen.
Is Instagram as a social media platform perfect? Absolutely not. Will it last forever? No way. Is it useful, cool, comforting, and fun right this very moment? I think it is.
In 2013 I spent a year interviewing a different Autostraddle reader every week; we called it Straddler On The Street and the goal was to help us get to know each other, amplify a wide variety of voices, and foster community. Consider Insta Crush the 2019 version of Straddler On The Street. Much like Instagram itself, these interviews are a little slice of queer life.
For our very first Insta Crush column, I am thrilled to feature 420OldFatLesbians. Sue and Lee are a retired married lesbian couple who live in Maine and smoke a lot of weed. They started their Instagram account just a few months ago, but they've already amassed a huge following thanks to their hilarious videos that are, well, exactly what you'd think based on their name. They are down to earth and kind — they often comment on other accounts wishing folks happy birthday or complimenting a beautiful nature photo.
420OldFatLesbians are the role models we've been waiting for — here are their thoughts on the gayest strain of weed, what you shouldn't do while high, and being proud to be yourself.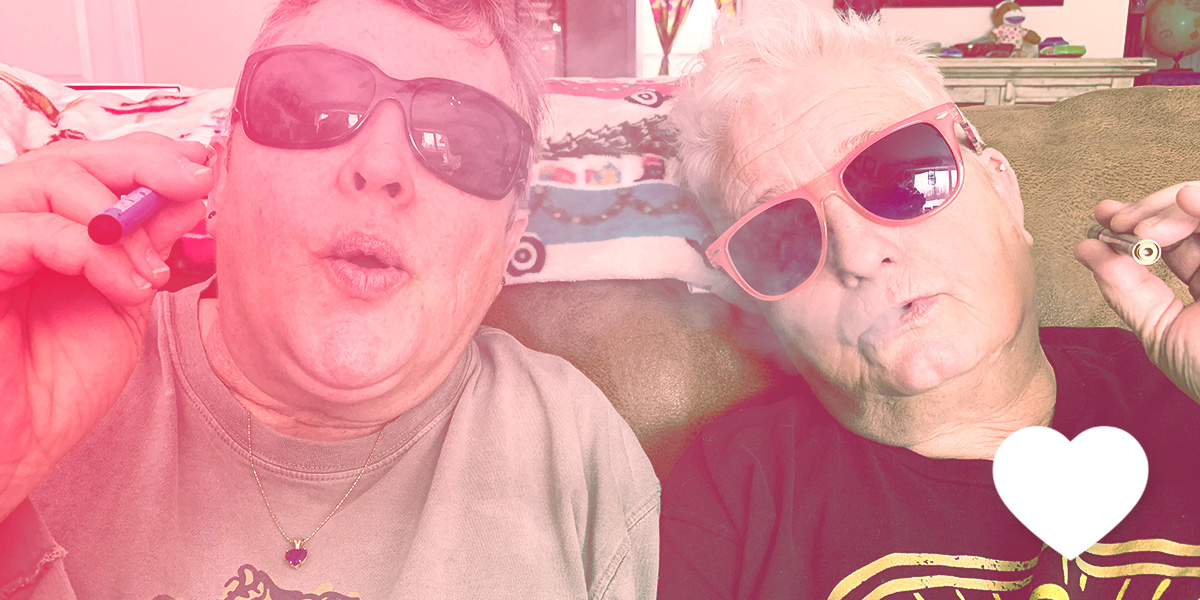 Why did you start your account?
After we moved to Maine and retired for the most part we thought it would be fun to have an Instagram account — we wanted to help remove the stigma behind being fat, being old, using cannabis and being gay!
Did you realize you were going to become role models to tens of thousands of queer people?
No — but it is very uplifting! Hopefully the message they take away is that it's okay to be who you are.
What is your favorite thing about being a 420 old fat lesbian?
Retirement and moving at our own pace.
Indica or Sativa?
Indica.
Blunt of joint? Vape pen or edibles?
Joint, vaping, and good quality edibles.
What's one thing that you think is fine/good sober but amazing/the way it should be when high?
Walking in the woods — enjoying nature and its beauty!
What kind of snacks do you prefer when stoned?
Popcorn is the best! Now that we are eating more heart healthy since Lee's heart attack — choices are limited.
What do you recommend NOT doing while high?
Driving!
What is the gayest strain of weed? (Our staff thinks it's Girl Scout Cookies.)
Maybe Purple Punch or "Cherry" Bomb, lol.
What is the most brilliant thought you've had while stoned?
We had the idea of trying to make it to all the National Parks in our lifetime — so that's our plan — we started last year!
Have you ever solved any very complicated issues while stoned?
Oh shit! Lol — we usually partake after we've done all our responsible stuff for the day. We do low-dose throughout the day for pain when needed.
Do you have any favorite Instagram accounts to recommend?
Instagram accounts close to our hearts are the people who have helped us on this journey! Lovely accounts in their individual ways! @rolling_thrulife and @xs.weed.
Who are your favorite lesbians (old, fat, and 420 friendly or not!)?
Hmmmmmmm…that's a good question. Some personal friends and Lily Tomlin, Holland Taylor, Ellen Page, Sara Gilbert — to name a few. The list goes on.
What does the future of your Instagram account look like? Do you have any hopes or dreams about what comes next?
Since it's only been a little over two months, we haven't looked into the crystal ball yet. We are waiting on Lee to finish cardio rehab, then maybe traveling to a few events, maybe opening a weed retreat — still thinking about our options.
Do you have any advice for younger queers who are inspired by you?
Well, just try to be the best version of yourself as you age. Do not concern yourself with what other's think because if people don't accept you, move on and hold your head high and be proud of who you are!
---
If you have a suggestion about which Instagram account we should feature next on Insta Crush, leave a comment here or DM me at vanessatakesphotos.