Welcome to Idol Worship, a biweekly devotional to whoever the fuck I'm into. This is a no-holds-barred lovefest for my favorite celebrities, rebels and biker chicks; women qualify for this column simply by changing my life and/or moving me deeply. This week, I'm spilling my guts about one of my original gut-spilling inspirations: Alanis Morissette.
Header by Rory Midhani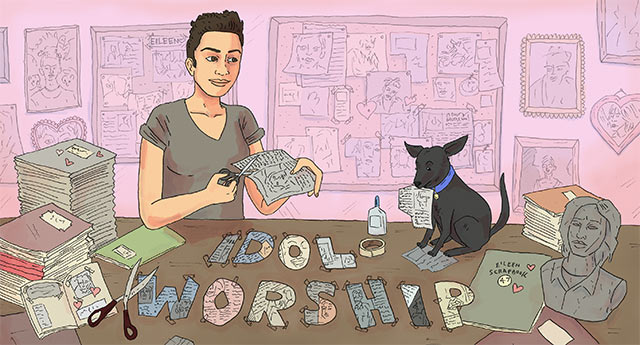 When I hear Alanis Morissette I think about my mom. I don't think she would get that if I told her, and I never really have, but my friend Amanda and I always had this recurring joke with each other about growing up with newly-divorced moms pre-divorce-era, and what it was like riding in the car. There were two options: "Torn", by Natalie Imbruglia, and "You Oughta Know," by Alanis. Chances are, when you were about six, either one was on the radio. And your newly-divorced-mom pre-divorce-era knew all the words.
Growing up, I felt like not a lot of people "got" my family. My mom struggled to make ends meet; we changed schools frequently just because we needed to find new places to crash when the landlord finally gave up on us. Nobody's parents in suburban New Jersey were divorced (yet) and when people asked Carmen Rios in 1995 "where her dad was," she burst into tears on the spot. (Spoiler Alert: I never really knew, nor could I fathom why everyone else always did.) Popular culture certainly didn't know: in a sea of shows about happy and slightly less happy families, still absent was mine. We were doing okay, like the little troopers we were, like the Three Musketeers we had deemed ourselves (a name my mother, to this day, uses to refer to my brother, myself, and her – collectively), but our stories were missing. And there was something in the grungy, frustrated, self-indulgent melancholy of nineties women that struck me, always, as being the most relatable and normal thing out in the world for me to consume. While other girls were listening to Britney Spears, I was still stuck on the reflective stuff, still singing Alanis Morissette to myself in my mother's car.
And it didn't end there.
I went to college in 2008, and there I met Josh. "You Oughta Know" was my song before I'd ever drank a beer and found MY SOOOOOONG!, and that's saying something. We used to play it just to listen to it, just to remember it, just to feel more like anyone had ever walked in our shoes before that day. Growing up, I couldn't grasp what a "self-fulfilling prophecy" was, but I did understand my own romanticization of what had brought that song into my life. I was convinced, when I dated men, that ultimately those relationships would be broken. I was convinced, for a short time into dating women, that those were destined to be that way, too. If my mother's song was "You Oughta Know," mine was "Hands Clean," the tidied-up version of Alanis' angst that broke later that decade. I internalized and conceptualized of a relationship where my feelings lingered past the ending line, where I was stuck singing stupid songs in stupid cars, where all I was for a while was someone hung up on one moment where everything changed. I was right about the self-fulfilling prophecy, and I was right about the song – it fit just as good in my headphones as the others had in my mother's car.
Being 23 though, everyone else knows and loves these songs, too. If I could count on my fingers every time I'd listened to "Hand in My Pocket" and thought "holy fucking shit this is my LIFE STORY right now," when I was unemployed, I would have had enough hands to cut off and sell on some weird black market to eat dinner for years. Even if I came of age in the 00's (which, by the way, how fucking lame is that) there is a part of me that sits squarely in the decade before, the part of me who grew up hearing these sounds and seeing these images and will never be a different person because of them. Once you've seen clashing plaids in one outfit, you're done for life. You're never going to be whole again.
It was like that even moreso with the music, which I still cling to and now I listen to because it's winter and I just want summer, and the nineties felt like an endless summer where the boys had hair like Pauly Shore and the girls wore bikinis on the beach and everyone lived in California. I didn't get, as a kid, that the angst was about inequality, or inherent gender poison, or the way it feels to be rendered an object and an invisible force to the very sex people want you to be attracted to. I didn't get that Alanis was a revolutionary in her own right, or that she was singing about the complacency of an America in prosperity or the recovery of an entire generation from the prudes who reigned before them. I didn't even know she was actually smoking a cigarette with that other hand, because I was too busy watching Dogma into my later years to think about anything but how fucking long her hair was. I watch her videos now and I see all of these classic signs of a volatile politic inside of a polite body and I cringe to think I ever thought all girls were like that, but then I pat myself on the back for being that idealistic.
What if we were all raised by Alanis Morissette? She has this philosophy that, to this day, describes me to the bone: make mistakes, feel something, be honest about it, and recover. Get naked about your feelings, and with your body, if you want, and know that you're going to be okay on the other end. There was always the idea, inside of her words, that eventually she was going to recover, and she was going to be fine, she was going to brush her hair and maybe put some wispy eyeshadow on and be okay. And you were, too. My mother always knew she was going to make it, and she told me women could and would do anything, and the nineties felt like that to me, maybe because I was a kid, or maybe because nobody had the Internet and thus most of our formative experiences actually weren't public showcases later integrated into our "personal brands". The nineties felt like being forgiven and starting over no matter how many fucking times you'd been back to the starting line. You live, you learn. Thank you, India. Isn't that so fucking ironic? (It's not, but be honest, you didn't know what it meant, either.)
I think what brings me back to nineties music, again, and again, and again, and again, is always that vibe: nothing really matters. You're all you have and this is all you're working with and you know what, slugger? You gave it your best fucking shot, and that's what counts. We're all infinite. We all have a second chance. There are no economic problems weighing on our institutions, no wasted moments going to war, no worries outside of whether or not you're using Pantene Pro-V or something. Alanis Morissette made so many mistakes, and she accepted her own futility at trying to stop herself from becoming one as well, and she threw in the fucking candle. In 2005, Alanis released "Everything" and cut all her hair off, y'know, to keep up with the times, and I remember vaguely staring at the screen thinking I know her from somewhere and not placing it at first. But the words rang back to my mother's car, to everything she'd probably wanted that whole time, that any of us wanted, that I still want.
I blame everyone else, not my own partaking
My passive-aggressiveness can be devastating
I'm terrified and mistrusting
And you've never met anyone as,
As closed down as I am sometimes.

You see everything, you see every part
You see all my light and you love my dark
You dig everything of which I'm ashamed
There's not anything to which you can't relate
And you're still here

What I resist, persists, and speaks louder than I know
What I resist, you love, no matter how low or high I go
Having been in feminism for over twenty years now (it starts at birth, you know), I've spent so many days trying to "put my finger on it" (ugh, that's what she said) that it almost is laughable that I never put it right here. Or, right there I guess. On those ten years I spent being born, being new, being unaware, being dumb, being innocent, knowing I had second chances, knowing my mother's life was a second chance, knowing I was her second chance. The nineties always feel formative to me, but my life wasn't a Sugar Ray song or a Jewel song or any of that – it was, it is, an Alanis Morissette song. It's mistakes and learning how to forgive myself, which, at some point, became a lot harder for me and the people in my life than it used to be for the people who raised us. Being imperfect was all the rage in the nineties, and people were open and honest about their imperfections and their flaws and the things we didn't realize yet we had the capacity to "fix," or maybe had never contemplated having to fix at all. The nineties were gritty and human and fleshy and raw, and nobody got famous from autotune and everything was heavy and sincere and even girls were allowed to tell the truth about how they were feeling.  I spend all of this time putting my hands up in the sky and trying to get free but really, I've been free inside the whole time, mostly because I was raised by revolutionaries.
Revolutionaries, and a really good FM radio.